Browsing articles from "January, 2012"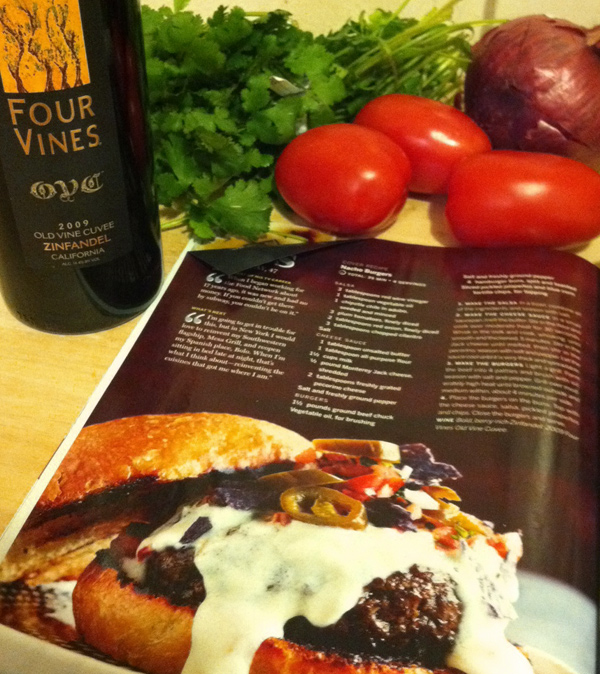 I raised the bar tonight… Bobby Flay's Nacho Burger, complete with the suggested wine pairing. Darn tasty, but my photo isn't quite as beautiful as the professional…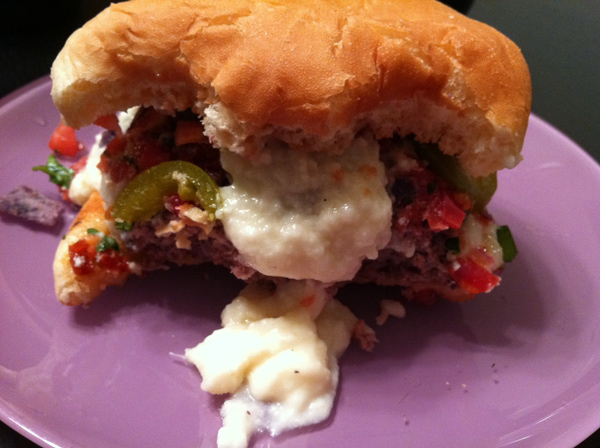 It's hard to find words to describe this recipe. It's THAT good. This combines three of my favorite things that are green into a flavorful, creamy dish. Don't leave me alone with this dish. Please. It's not healthy to eat 4 servings as one giant serving for just yourself…Wait, what? You say we suddenly live in a world without calories and weight gain? I gotta go–I need to get to the market and buy more asparagus and sage.
penne with asparagus, sage, and peas
adapted from Food & Wine Magazine
serves 4
Ingredients
1/2 pound penne
2 tablespoons extra-virgin olive oil
3 garlic cloves, minced
1 pound thick asparagus, cut into 1-inch lengths
2 cups Swanson vegetable stock (Swanson's is best, trust me! Worth it.)
2 cups (10 ounces) shelled English peas or frozen baby peas, thawed
1/4 cup fat-free half and half
2 tablespoons unsalted butter
1 tablespoon chopped fresh sage (gotta be fresh here)
1/2 cup Parmigiano-Reggiano cheese, plus more for serving
Salt and black pepper
Cook the pasta until al dente.
Heat the olive oil in a large skillet over medium. Add the garlic and asparagus and cook over low heat until the garlic is fragrant, about 3 minutes. Add the vegetable stock and boil over high heat until the liquid is reduced by half and the asparagus is tender, 5-8 minutes.
Add the peas and cream to the pan and boil over high heat until thickened, about 3 minutes. Add the penne and toss until coated and heated. Remove from heat and add the butter, sage, and half the cheese, stirring until melted. Season with salt and pepper. Plate up and sprinkle more cheese on top, if you'd like.
It's been quite an indulgent holiday season. To say the least. I started out my holiday baking season by making a Cookies and Cream Cupcake recipe I'd been eyeing from Annie's Eats, then moved on to decorating traditional sugar and gingerbread cookies. There were my favorite coconut cookies I made for my roomie (and fellow coconut lover) to take on her three week vacation. Not to mention our second annual Christmas Cookie Baking Party, during which I made Cinnamon Chocolate Cookie Crisps and PB White Chocolate Chex Mix. Oh and then all the other sweet goodies received as gifts at work, the dozen cupcakes I got from Magnolia Bakery, and all the cookies waiting for me at home in PA…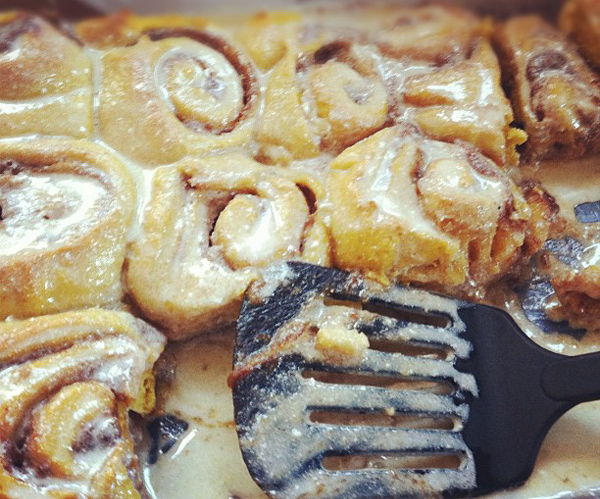 …and these Pumpkin Cinnamon Rolls I made on Christmas morning.
With that said, I've been more than ready to get back into the swing of healthier eating since I've been back in Los Angeles. The new issue of Everyday Food had arrived, and although I'm not a fan at all of the new logo (before and after), There are a lot of recipes I'm excited to try. Here's what I started with.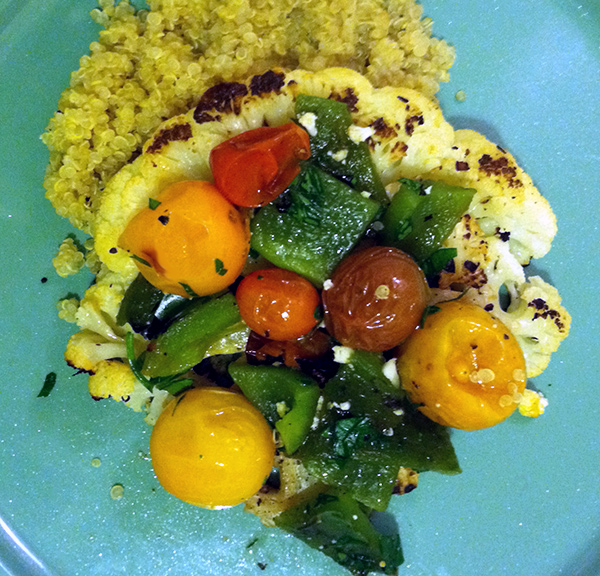 This is a nice, hearty recipe for dinner. I also spiced the leftovers up the next day by drizzling a little balsamic vinegar and sprinkling with a bit of parmagiano reggiano cheese.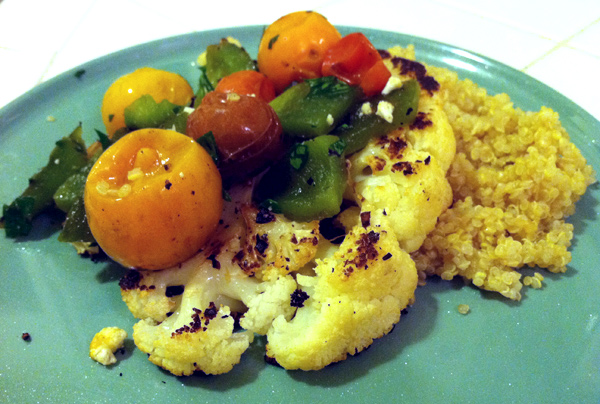 cauliflower steaks with roasted pepper and tomato salad
adapted from Everyday Food Magazine
serves 4
Ingredients
1 large head cauliflower, trimmed
3/4 pint mini heirloom tomatoes
2 large bell peppers (any color)
1 tablespoon white wine vinegar
1 tablespoons chopped fresh parsley
2 garlic cloves, minced
1 cup quinoa
Extra-virgin olive oil spray
Preheat the oven to 375 degrees.
With stem side up, cut the cauliflower into four 3/4-inch-thick "steaks." Cut the end pieces into florets and save for another use.
Spray a rimmed baking sheet with olive oil. Arrange the tomatoes on the pan. Spray with olive oil, season with salt and pepper, and toss. Roast until the tomatoes collapse, about 25 minutes. Transfer to a bowl.
Meanwhile, roast the peppers over a high gas flame. Use tongs to turn them until they're blistered and charred on all around, about 10 minutes. Put the pepper in a bowl and cover with plastic wrap. Allow to steam for 10 minutes, then rub with paper towels to remove the charred skin. Remove the stem and seeds, roughly chop, and add to the bowl with the tomatoes.
Toss tomatoes and peppers with vinegar, parsley, and a few sprays of olive oil. Season with salt and pepper.
Spray a large skillet with olive oil and heat over medium. Add the garlic and cook until fragrant, about 30 seconds. Place cauliflower steaks in the pan, two at a time. Cook for 5 minutes until golden brown, covered. Flip steaks over and cook for another 10 minutes, covered.
While cauliflower is cooking, prepare quinoa according to package instructions.
Plate the quinoa, top with a cauliflower steak, and spoon on roasted pepper and tomato salad.
One of my problems with some food magazines is that the recipes are too difficult. Time consuming, and utlizing expensive ingredients, often I find myself sadly drooling over the photos because that's about as close as I'm going to get to eating what's pictured.
Below is, finally, an exception to that scenario. This pizza uses basic ingredients and is fairly quick. Double the béchamel sauce, if you'd like, and save some of it as a quick sauce to toss with any combination of pasta and vegetables for tomorrow night's dinner.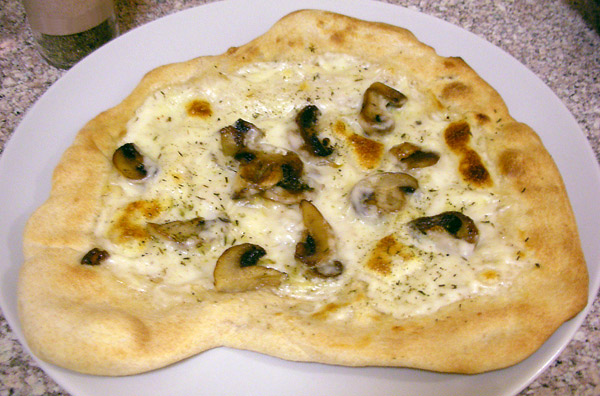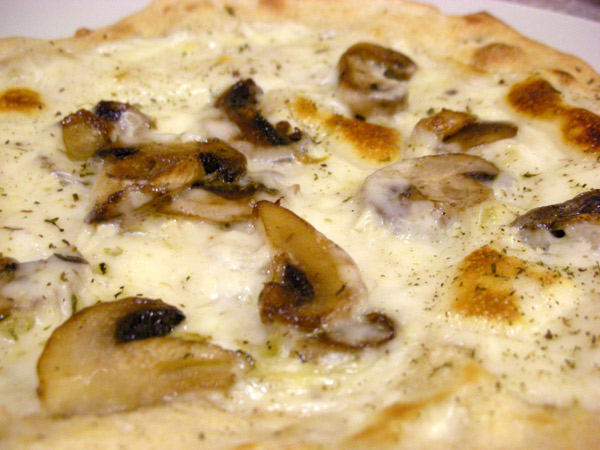 mushroom and goat cheese béchamel pizzas
from Food & Wine Magazine
serves 4
Ingredients
2 tablespoons unsalted butter
3 tablespoons all-purpose flour, plus more for dusting
1 1/2 cups milk
2 oz fresh goat cheese, thickly sliced
Nutmeg
Salt and black pepper
1 lb pizza dough
2 tablespoons extra-virgin olive oil, plus more for brushing
1 garlic clove, smashed
1 lb assorted fresh mushrooms such as porcini, white button, or cremini, thinly sliced [I just use white button]
1 teaspoon thyme
Preheat oven to 500 degrees. Oil a large baking sheet. In a medium saucepan over moderate heat, melt the butter. Stir in 3 tablespoons of flour until it forms a thick paste. Gradually whisk in the milk until smooth. Bring the sauce to a simmer over moderately high heat, whisking constantly until thick, about 4 minutes. Reduce the heat to low and cook, whisking often, until there is no floury taste, about 10 minutes. Be careful not to burn the sauce. Remove from heat and stir in the goat cheese until melted. Season with a pinch of nutmeg, salt, and pepper.
Cut the pizza dough into 4 pieces. Lightly flour a clean working surface and roll each dough into a circle, about 6 inches in diameter. Dust the dough with flour and let sit for 15 minutes until slightly puffed.
In a large skillet, heat 2 tablespoons of olive oil. Add the garlic and cook over moderate heat until golden, 2 minutes. Add the mushrooms, cover, and cook, stirring occasionally until tender and browned, about 15 minutes. discard the garlic. Season the mushrooms with salt and pepper. Crush the dried thyme leaves between your fingers to release their oils and stir into the mushrooms.
Stretch the doughs out until they're 9 inches in diameter and place them on a baking sheet. Brush the edges with olive oil and spread béchamel sauce in the center. Scatter mushrooms on top.
Bake for 5 minutes until the edges are crisp and the sauce is bubbling. Cut into wedges and serve!
About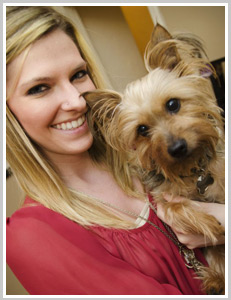 Healthful cooking can happen
to anyone. You don't have to know a lot about cooking or be a foodie to prepare and enjoy nutritious homecooked meals!
Read more...
FeastieBar