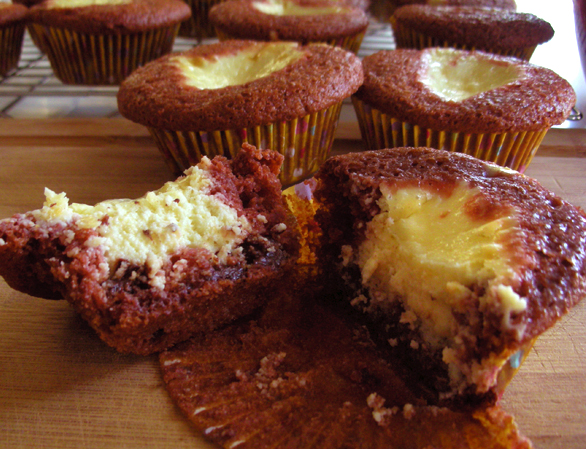 It's been quite awhile since I've baked anything since I've been out of town so much recently. This past weekend the weather forecast was not looking good. I decided to take advantage of the time indoors by finally firing up my oven again.
My mom used to make chocolate cream cheese cupcakes, also called black bottom cupcakes. Red velvet and cream cheese are such classic flavors, so I thought these might work out pretty well together. I overlooked one little thing while creating this recipe… While whisking everything together in the final steps, I noticed some bubbles… and remembered: baking soda + vinegar = explosion. After a few moments of minor panic, everything worked out just fine, but the bubbles reminded me of lava, and the cupcakes remind me of tiny little volcanos… of deliciousness. I give you: Red Velcano Cupcakes!
These cupcakes are dense and moist with a decadent cheesecake filling. By using 1/3 less fat cream cheese and applesauce instead of vegetable oil, you'll save 60 calories and reduce the fat by 50%! If you want to take it even further, use fat free cream cheese and each cupcake will be less than 200 calories!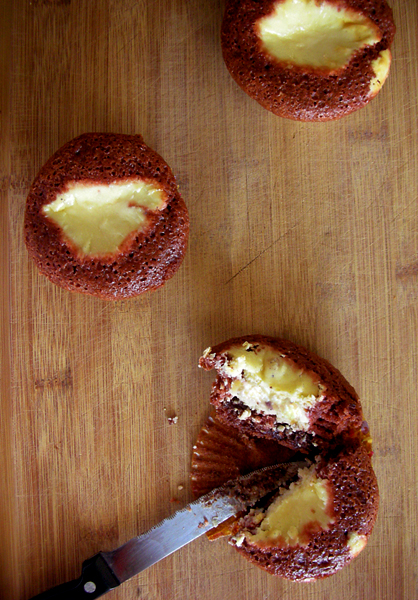 cheesecake red velvet cupcakes
Ingredients
Filling

1 (8 ounce) package 1/3 less fat cream cheese
1 egg
1/3 cup sugar
1/8 teaspoon salt
1/2 cup semisweet chocolate chips

Cupcakes

1 1/2 cups all-purpose flour
1 cup sugar
2 tablespoons unsweetened cocoa powder
1 teaspoon baking soda
1 teaspoon salt
1 cup buttermilk OR alternative*
1/3 cup unsweetened applesauce
2 teaspoons distilled white vinegar
1 teaspoon pure vanilla extract
25 (or more) drops red food coloring
Preheat oven to 350 degrees. Line a 12-cup muffin pan with cupcake liners.
Beat all the ingredients together for the filling, except the chocolate chips, until light and creamy.
In a large bowl, whisk together the flour, sugar, cocoa powder, baking soda, and salt. Add the buttermilk (or alternative), applesauce, vinegar, vanilla, food coloring, and whisk together. My cupcakes didn't turn out as red as I'd liked, so add more food coloring if you'd like a deeper color.
Fill the cupcake liners with 1/4 cup of the batter. Spoon two teaspoons of the cream cheese filling into the middle of the cupcakes. Evenly sprinkle the chocolate chips into the center of the cupcakes.
Bake for 12-15 minutes, until a toothpick inserted into the red part of the cupcakes comes out clean.
* If you don't have buttermilk, you can easily make some! Add 1 tablespoon distilled white vinegar to a liquid measuring cup. Fill with milk to the 1 cup line and let sit for 5 minutes. Voila! Buttermilk!
Per cupcake: 219 calories, 6g fat, 25g cholesterol, 358mg sodium, 37g carbohydrates, 4g protein
http://www.nowyourecook.in/2012/04/02/lighter-indulgence-red-velcano-cupcakes/
©Melissa Klotz - www.NowYoureCook.in