I'm moderately adventurous when it comes to trying new foods, however, I was always reluctant to try Indian cuisine. It all looked like reddish brown orange mush to me. Okay… it still kind of does. But it's tasty! Curry powder lends a nice warmth and spice to dishes. The only problem is, a lot of traditional Indian food is loaded with butter and oil. Below is a much lighter version. If you've never had curry, give this a try! I use a lot of curry powder for a bold flavor, but you can try 3-4 teaspoons of it if you're weary.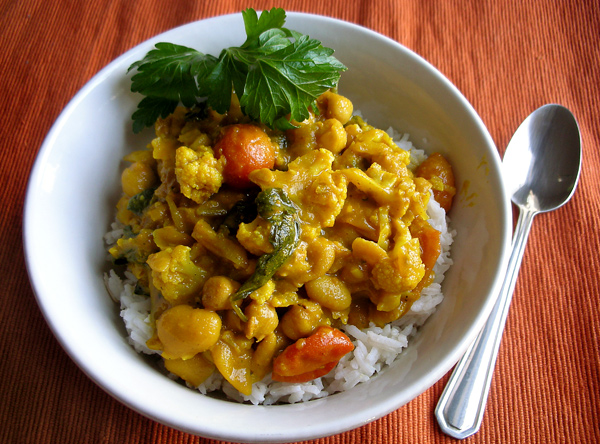 simple chickpea curry

adapted from Everyday Food Magazine

serves 4

Ingredients
1 pint cherry or grape tomatoes
1 cup chopped raw cauliflower
1 cup jasmine rice
2 teaspoons extra-virgin olive oil
1 large yellow onion, diced
4 garlic cloves, minced
1 tablespoon fresh ginger, peeled and minced
2 tablespoons curry powder (2-3 teaspoons if you'd like a milder taste)
2 15.5oz cans chickpeas (garbanzo beans), rinsed and drained
1 pint cherry or grape tomatoes
1 cup chopped raw cauliflower
2 1/2 cups baby spinach
1 tablespoon chopped fresh cilantro
Preheat the oven to 375 degrees.
Spray a rimmed baking sheet with olive oil. Arrange the tomatoes and cauliflower on the pan. Spray with olive oil, season with salt and pepper, and toss. Roast until the tomatoes collapse, about 25 minutes.
Cook the rice according to the package's instructions.
In a medium pot, heat the oil and onion over medium high until soft and golden brown, about 10 minutes. Add the garlic, ginger, and curry powder, stirring until fragrant, 30 seconds. Add the tomatoes, chickpeas, and 2 cups of water. Bring to a boil over high heat. Cover and reduce the heat to medium and simmer for 8 minutes.
Add the cauliflower and cook until warmed through, another 8 minutes. Lastly, add the spinach and cilantro, stirring until wilted.
Divide the rice into 4 portions and top with the curry. Eat!
About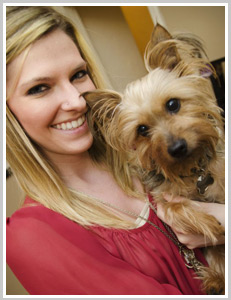 Healthful cooking can happen
to anyone. You don't have to know a lot about cooking or be a foodie to prepare and enjoy nutritious homecooked meals!
Read more...
FeastieBar