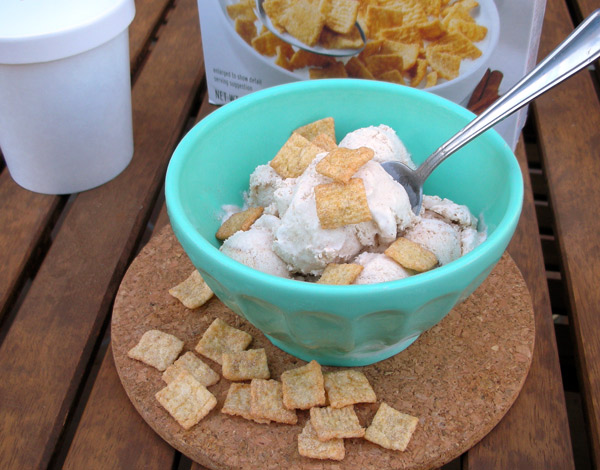 This weekend was scheduled to be lazy and unscheduled. My guy and I have both been going nonstop since Coachella. This weekend was to be filled with Marvel movies, eggs benedict, and ice cream. And that it was.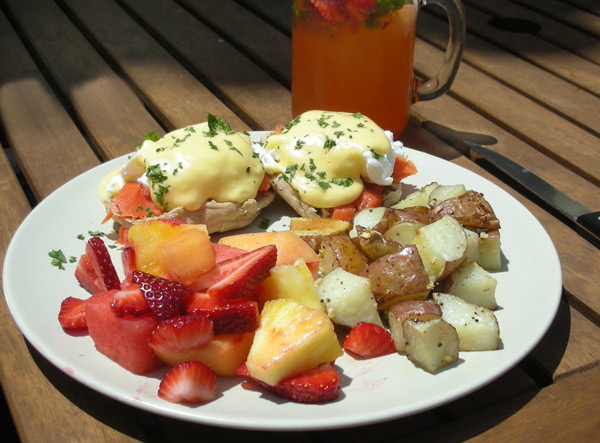 I'm officially obsessed with ice cream making. I've made 7 pints so far, and I would've had 9 had I remembered to put the freezing canister back into the freezer on Saturday (oops).
Right now I'm only playing around with the basics, but I've got my mind set on a fun ice cream + cookie recipe from Jeni's that's a tad bit more creative. That's the one I couldn't make because I left the canister out. But I'll make it soon!
Now… I know this blog is supposed to be about uncomplicated, unfussy recipes using healthful ingredients and minimal equipment, but… sometimes I will stray from that. Now, aside from splurging around $50 for a self-contained ice cream maker, basic ice cream recipes actually are uncomplicated and unfussy. But not exactly healthful (that's on my to do list!)… hey, everything in moderation!!
Over the past few years, the trend in food has been to take something classic, especially from childhood or a food thought to be All-American, and reinvent it. Well, one of my very favorite things when I was a teenager was breakfast cereal. I know I ate my fair share of it as a child, but as a teenager it became even more of a staple. Breakfast, dinner, after-school snack, midnight snack; they were all perfect times to eat cereal. I loved cereal so much that I think at one point my AOL Instant Messenger screenname was something like "cerealg0ddess." One of my most preferred varieties? Cinnamon Toast Crunch.
Milk + Cereal = Yum. Milk + Cereal + Heavy Cream + Ice Cream Maker = Cinnamon Toast Crunch Ice Cream!
I took a little hint from Momofuku Milk Bar's famed Cereal Milk, and "steeped" the milk with Cinnamon Toast Crunch to infuse cinnamon flavor. And I could've probably stopped there, but it seemed more appropriate to add a cinnamon syrup and cereal pieces.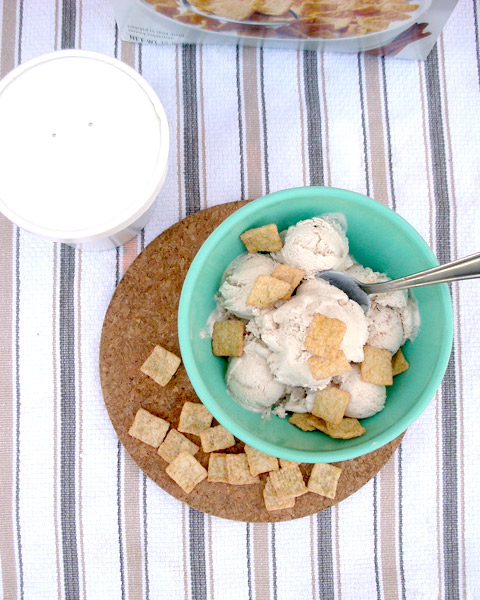 cinnamon toast crunch ice cream
makes 1 quart
Ingredients
Ice Cream:
1 cup whole milk
3/4 cup Cinnamon Toast Crunch Cereal, plus extra for layering into ice cream
2 cups heavy cream
2/3 cup sugar
1 teaspoon vanilla extract
Cinnamon Syrup:
1 cup water
1/2 cup sugar
1 tablespoon cornstarch
2 tablespoons cinnamon
1 teaspoon vanilla extract
Add the milk to a small bowl. Dump in 3/4 of a cup of Cinnamon Toast Crunch and stir into milk to saturate. Allow the cereal to "steep" for 20 minutes in the fridge. Stir occasionally.
Meanwhile, make the cinnamon syrup. In a small saucepan over medium-low heat, stir all ingredients together until thickened. Syrup should be slightly thicker than maple syrup. If it's too thick, add water in small amounts until it's thinned out. Cool completely in the fridge.
Drain the milk through a fine mesh sieve (or a strainer with small holes), into a saucepan. Press the cereal against the sieve with a spatula to get all the milk out of it, and be sure to scrape all the cinnamon-y milk from the bowl. Stir in the cream and sugar. Heat over medium until the sugar has completely dissolved.
Pour the mixture into a bowl and chill in the refrigerator until completely cool.
Freeze the milk mixture in an ice cream maker according to the manufacturer's instructions. In the last 5 minutes of freezing, add about 1/4 cup of the cinnamon syrup.
Pour a small amount of the syrup into the bottom of an airtight container. Sprinkle with cereal pieces. Pour half of the ice cream on top. Repeat the process once more. Lightly press a piece of parchment or wax paper into the surface of the ice cream. This will help prevent freezer burn. Cover with the lid and place in the refrigerator for a few hours until solid.
Let sit at room temperature for 2-3 minutes before serving. Sprinkle with additional Cinnamon Toast Crunch!