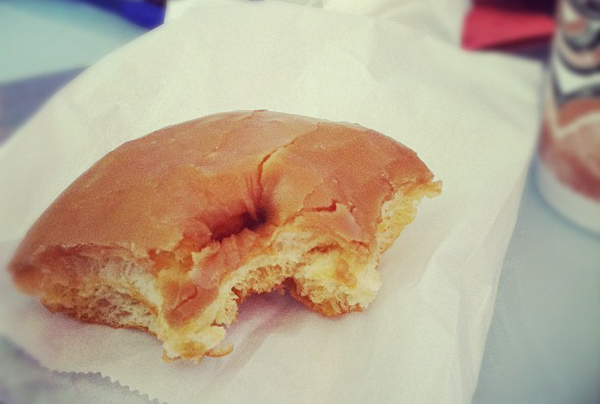 Happy National Donut Day! There are no Dunkin Donuts or Krispy Kremes in my area offering free donuts, so I had to pay for this sucker. I considered going to Waylynn Lucas' popular shop fonuts, but her donuts are like cupcakes in donut shape. I prefer my donuts yeast raised, light and airy. So I opted for the local generic donut shop on the corner.
I've been keeping things pretty quiet this week. After the heavy food filled weekend that was Memorial Day, I've been sticking to kale salads and veggie burgers. A little boring, but it's allowing me to be creative with oil-free salad dressing recipes. I'm thinking about doing a little round up on them next week. I considered buying a bottle of dressing at Trader Joe's over the weekend, but their nutritionals are crazy. I think the Tuscan Italian dressing I used to get was 110 calories per 2 tablespoons, while the light dressings were still 50 calories per 2 tablespoons. I'll make sure to run the stats on the ones I've been making and post them along with the recipes, so you can see how out of control that sounds compared to making a quick and easy homemade dressing.
This weekend I'll be testing and shooting some new recipes and heading down to San Juan Capistrano to see my lovely friend Sarah get married!! What are you up to?