featured on tastespotting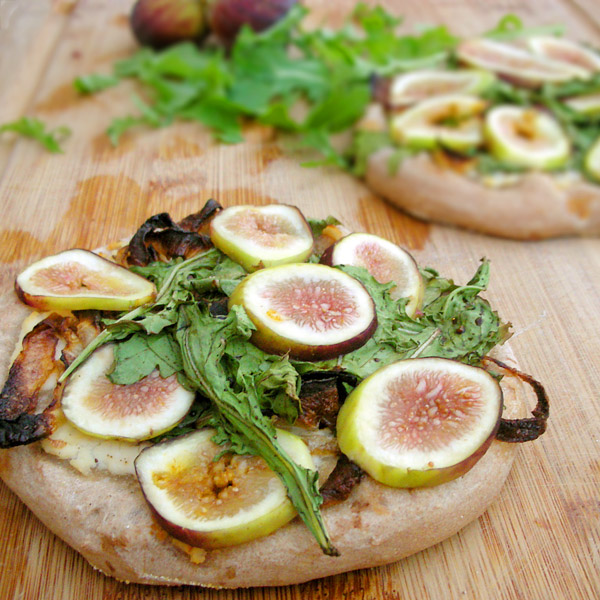 Oh August. Why are you here already? I think August and September are my least favorite months. I'm 100% sure it's because summer is coming to an end and school is about to start. Even though I've been out of school for four years. Those 16 Augusts and Septembers have scarred me.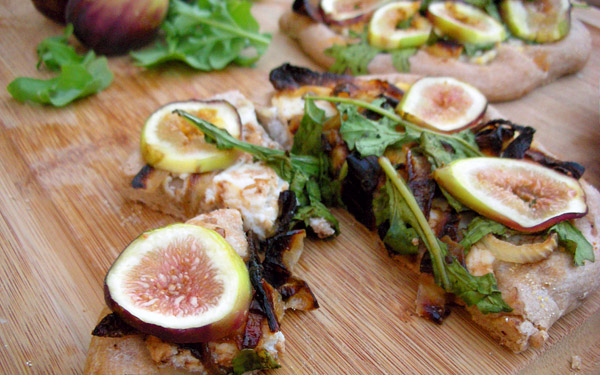 It's summer and it's hot. (At least that's what I hear about other parts of the country. It's a cool 70ish by the time I get home from work, so our apartment is usually nice.) Why, oh why would I post a recipe that tells you to preheat your oven to 450 degrees? Because it's so hot out that it's probably already 350 degrees in there. Just kidding! Because this is a great recipe that allows you to take advantage of the fresh figs that are in season. And it's a light dish that's perfectly suited for warm weather. If you really don't want to be fiddling with the oven at such a high temp, use a whole pita or large tortilla and bake for 5-10 minutes, based on how crispy you want your pizza. Most of the ingredients are staples, so the only things you may have to buy are an onion, figs, pizza dough, and ricotta. If you don't have arugula, substitute fresh baby spinach. If you don't have ricotta, maybe you'd like to substitute mozzarella. Or make it even lighter by just sprinkling some goat cheese over the top. Play around!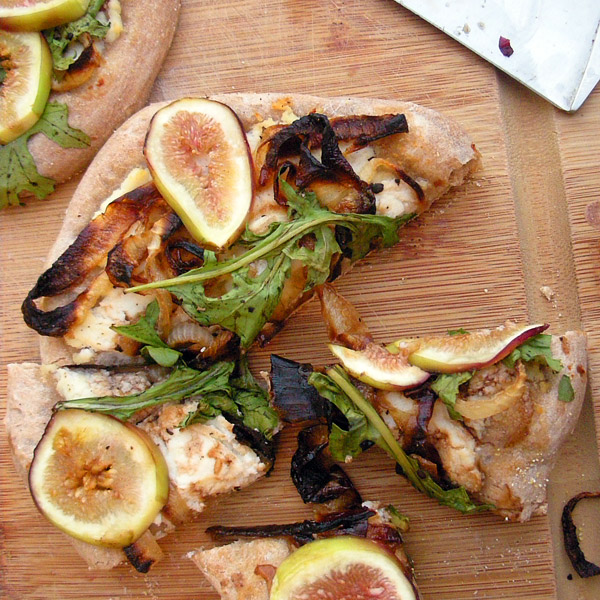 caramelized onion and fig pizzas
Ingredients
olive oil
1 yellow onion, sliced
cornmeal
8 oz whole wheat pizza dough (Half a package of the kind from Trader Joe's)
3 figs, sliced
1/4 cup fat-free ricotta cheese
1 tablespoon balsamic vinegar
1 cup arugula
1/2 teaspoon thyme
salt and pepper
Preheat the oven to 450 degrees.
Spray a large pan with olive oil. Turn heat to medium high and add onions. Stir frequently for about 20 minutes. The onions should first soften, then begin to turn brown as they become softer. If they start to get brown and crisp around the edges, reduce the heat. You can also spray them with a little more olive oil. This can take some time and patience, but the end product is well worth it! Obviously (and unfortunately) I haven't perfected this (look at the sad onions in my photos).
Sprinkle some cornmeal on a baking sheet. Divide your dough into two portions, and using your hands, stretch and work the dough into a circle about 5 – 6 inches in diameter. Place it on the baking sheet. Evenly divide the ricotta amongst the two pieces of dough and spread, leaving a thin border for the crust. Lightly sprinkle with salt and pepper. Top with the caramelized onions. Bake for 15 minutes.
In the meantime, prepare the arugula by tossing with balsamic vinegar and lightly sprinkling with salt and pepper.
When the pizzas are done baking, top with the arugula. Layer the figs on, sprinkle with thyme, then pop back into the oven just for 2-3 minutes to warm the figs.
http://www.nowyourecook.in/2012/08/06/caramelized-onion-and-fig-pizzas/
©Melissa Klotz - www.NowYoureCook.in
Looking for something to do with your leftover pizza dough? How about mushroom and goat cheese bechamel pizzas?