featured on tasteologie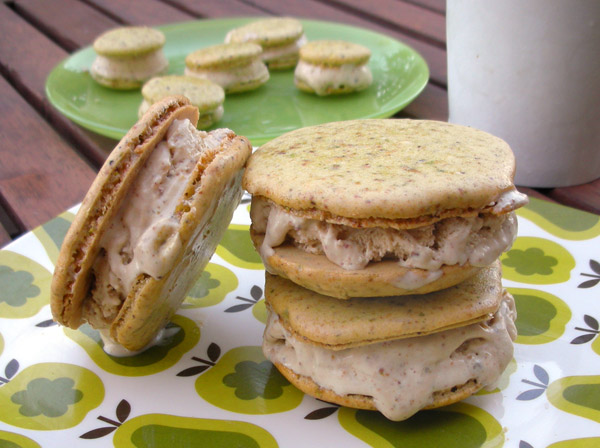 Well okay, now I've done it. The other day I was complaining about how it's not really hot here in SoCal, but every other state is complaining about it being boiling. Well this week where I work it's been averaging 104 degrees outside. Eek. I appropriately scheduled this recipe.
This weekend I'm redeeming my birthday gift from Josh, a trip to the Outside Lands music festival in San Francisco! I think I'm most excited to see Stevie Wonder, Metallica, Bloc Party, Beck, and Norah Jones, but there's also a TON of food, wine, and beer.
We'll be pretty busy Friday through Sunday, but we've also got all day on Monday to explore the city. I absolutely will not miss Bi-Rite Creamery. It was ranked one of the Top 10 places in the US to eat last year by Yelp and has a gazillion reviews. And hello, what better way to top off my Ice Cream Obsessed Summer 2012. I may have to buy their cookbook as a souvenir.
But for now, Jeni's remains my favorite ice cream cookbook. Which leads me to these pistachio ice cream macarons.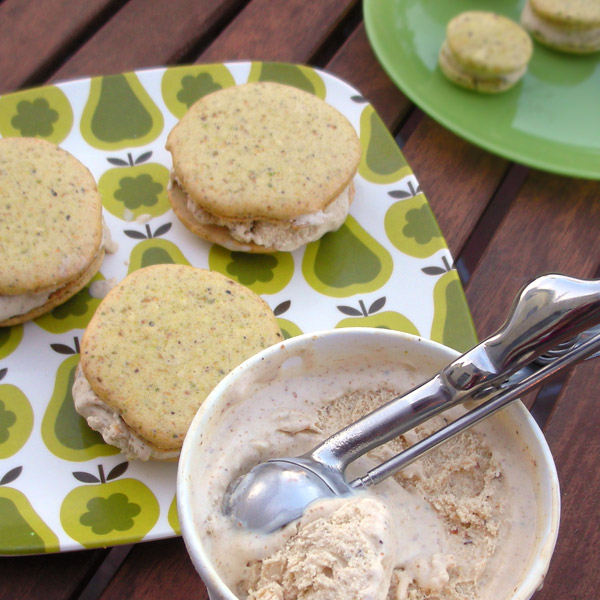 This isn't the quickest recipe. It's definitely not something I'd expect you to throw together on a weeknight after work. However, if you break it down into the two components, it's less intimidating. Start with the ice cream since that's going to require time to freeze.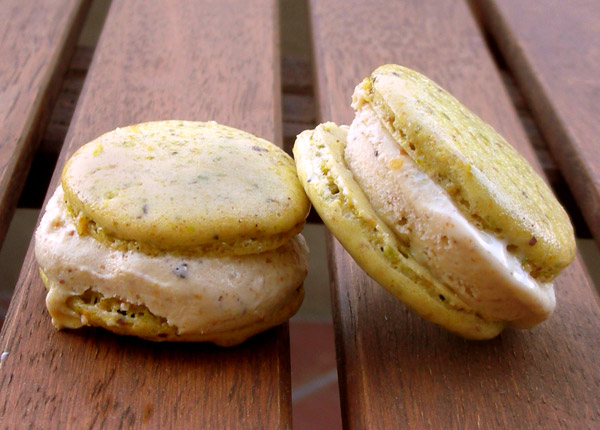 pistachio macaron ice cream sandwiches
adapted from Jeni's Splendid Ice Creams At Home
serving size varies
Ingredients
Roasted Pistachio Ice Cream:
1/2 cup unsalted pistachios, shelled
2 cups whole milk
11 tablespoon plus 1 teaspoon cornstarch
3 tablespoons cream cheese, softened
1/2 teaspoon fine sea salt
Preheat the oven to 350 degrees. Spread the pistachios in a single layer on a baking sheet. Toast for 10 to 12 minutes, until fragrant. Grind in a food processor until the form a smooth paste.
In a small bowl, mix the cornstarch and 2 tablespoons of the milk until smooth.
In a medium bowl, whisk the cream cheese, pistachio paste, and salt until smooth.
Fill a large bowl with ice and water.
Put the rest of the milk, cream, sugar, and corn syrup in a pot over medium-high heat. Bring to a rolling boil for 4 minutes. Take it off the heat and gradually whisk in the cornstarch mixture. Bring back to a boil and cook until slightly thickened, about 1 minute, stirring with a spatula.
Whisk the hot milk mixture with the cream cheese mixture until smooth. Pour into a 1-gallon Ziploc bag and place into the ice bowl. Let it cool down and become cold, about 30 minutes. You can also put the entire bowl into the fridge to speed up the cooling process.
Pour the ice cream into your ice cream maker. While it's on, add the almond extract. Freeze according to the manual. Pack the ice cream into pint containers or an airtight plastic container. Cut a piece of parchment paper a little bit larger than the container and place it directly on top of the ice cream mixture and cover with lid. This will seal out all the air. Freeze until firm.
Ingredients
Pistachio Macarons:
8 ounces (1 cup plus 2 tablespoons) unsalted shelled pistachios
2 1/2 cups powdered sugar
3/4 cup egg whites, from about 6 eggs
1/4 teaspoon fine sea salt
1/2 cup plus 2 tablespoons sugar
green food coloring (optional, I used neon)
Decide how many sandwiches you'd like. This recipe says it made 6 sandwiches, but I had enough batter to make many more, and decided to make mini ones. You're going to use a guide to create the large sandwiches, and for the smaller ones I freehanded them, about 1 inch wide.
Line several baking sheets with parchment paper. To make normal sized sandwiches, trace a glass with about a 3-inch opening onto the parchment paper, leaving about an inch between them. Make sure you trace an even number.
In a food processor, grind the nuts with 1/4 cup of powdered sugar until fine, like a flour. Add the rest of the powdered sugar (2 1/4 cups) and pulse until combined. If there are any chunks of nuts, strain the flour through a sieve to remove them.
Using a stand or electric mixer, whip the egg whites and salt until frothy. With the mixer still on, add the sugar 1 tablespoon at a time. Continue to whip the meringue for 5 minutes, until it's shiny. When the beaters are removed, medium-firm peaks should form.
With a rubber spatula, fold the nut flour into the egg whites, 1/3 at a time. Add the food coloring.
If you have them, use a 1/4 inch tip in a pastry bag. If not, use a plastic bag and snip off a tiny bit of one corner when you're ready to pipe. Fill the pastry bag. Starting in the center of the circles you traced, pipe in a spiral until you reach the edge (I think of snail shells).
The cookies need to air out for 30 minutes.
Preheat the oven to 300 degrees. Bake the cookies for 18 to 20 minutes. Halfway through, rotate them. When finished, they will rise a bit and look crisp. Cool the cookies completely, then freeze.
Assemble the sandwiches:
When the cookies are hard, pull the ice cream out of the freezer to soften, 5 to 10 minutes. Scoop as much ice cream as you'd like onto the bottom of one cookie, top with another cookie, and gently press to make a sandwich.
You can make these as needed, or make them all at once. Just wrap the big guys in some plastic wrap and then put them all in an airtight container back in the freezer.