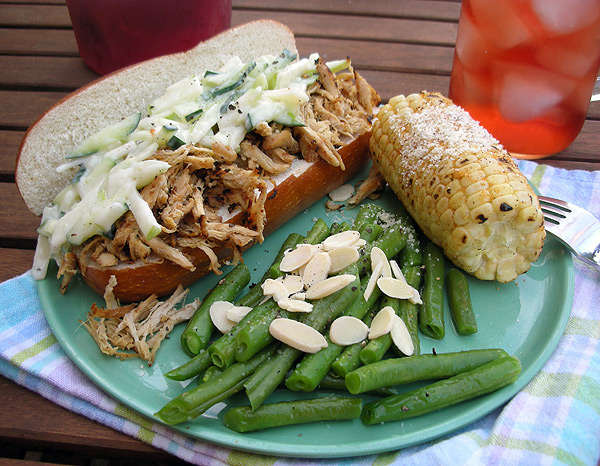 My cooking dry spell I had for a few weeks has definitely blown over. I've got ideas on top of ideas and they're having baby ideas. Adding fuel to the fire was the double date dinner I had on Friday night. I don't want to give away too many details because I hope these turn into publishable recipes, but some clues are brussels sprouts and onions, and almonds and horchata.
My unplanned weeknight dinners are usually mish-moshes of ingredients I have on hand. I love trying to create something with what seems like nothing. I hate wasting food, so it's a great way to try and make sure everything I have on hand gets used. So what I usually end up doing is picking out a new recipe or two for the week and then playing around with what's left over. Since trying NEW recipes is really exciting to me, it's not often I make the same recipes over and over.
Andddd enter this chicken sandwich recipe. I like it so much that I made it TWICE in one week! It's sweet and salty at the same time and really easy to pull together once you've already got cooked chicken ready to go. It's great for lunch if you've got a microwave, just pack the chicken, slaw, and bread separately, then toast the bread and chicken together in a toaster oven (or just heat chicken in the microwave), and top with slaw. If you're watching your bread intake, just layer the chicken and slaw in a bowl and dig in.
Awesome, filling summer recipe. I've paired it here with some corn on the cob seasoned with Lawry's seasoned salt, and some steamed green beans topped with sliced almonds. Give it a try!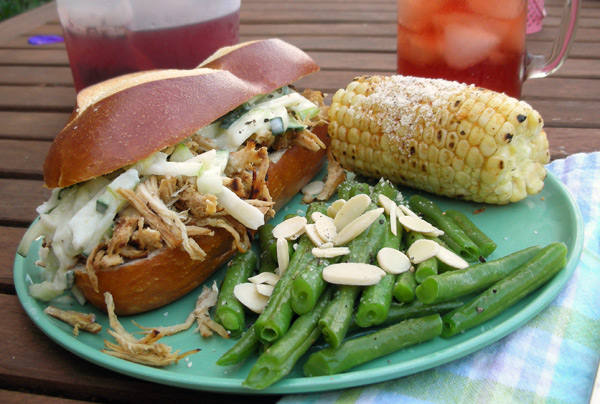 pulled chicken sandwiches with apple cucumber slaw
adapted from Everyday Food Magazine
serves 2
Ingredients


Slaw:
Half of a Granny Smith Apple, cut into matchsticks
Half of a large cucumber, cut into matchsticks
2 scallions, thinly sliced
4 tablespoons low-fat mayonnaise
salt and pepper


Chicken:
8 oz chicken breast, raw
4 tablespoons honey
4 tablespoons dijon mustard
1/4 cup water
1 tablespoon apple cider vinegar


2 hamburger buns
Poach the chicken. To do so, place the breasts in a pot just big enough to fit them. Cover with water and turn heat to high. When the water starts to boil, turn the heat down so the water is at a low simmer. Cover and cook for 10 minutes. Turn the heat off and leave the pot covered to finish cooking, about 15 minutes. Check the doneness by cutting into the thickest part of the chicken to make sure it's no longer pink, or use a meat thermometer to ensure the thickest part is at least 165 degrees. Drain water and allow to cool.
In the meantime, make the slaw. Combine the apple, cucumber, scallions, and mayo. Season with salt and pepper.
When the chicken is cool enough to handle, shred it using two forks, or pull it apart with your fingers.
Add the honey, mustard, water, and vinegar to a large pan over medium-high heat. Stir to begin to combine, then add the pulled chicken, stirring to distribute the sauce. Season with salt and pepper. Heat for 5 minutes or so, until the chicken is warm.
Pile the chicken on top of your buns and top with the apple cucumber slaw. I used pretzel rolls from Trader Joe's because I was feeling fancy, but whatever you have on hand will do.