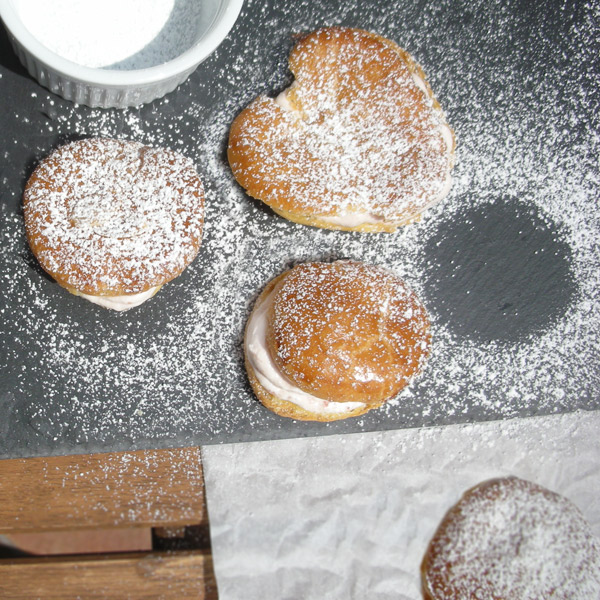 Kat of The Bobwhites was our August 2012 Daring Baker hostess who inspired us to have fun in creating pate a choux shapes, filled with crème patisserie or Chantilly cream. We were encouraged to create swans or any shape we wanted and to go crazy with filling flavors allowing our creativity to go wild!
I've been admiring the Daring Bakers from afar for awhile now, but this is my first official challenge! I was a little nervous for a few reasons, the first being — it's a French pastry recipe. So that surely means lots of butter and eggs. Not the most figure-friendly ingredients. I know I DEFINITELY have a sweet tooth, and a hard time resisting said sweets, but pastries I really only save for special occasions. And I also kind of didn't want to test my hand-eye-coordination skills by piping and assembling swans. So I found a loophole — Paris-Brest! Paris-Brest uses the same dough and filling, so it was acceptable to do for the challenge. Both recipes are essentially pastries filled with cream, but the Paris-Brest is shaped into a ring instead of a lake-dwelling bird. Easy!
But it wouldn't be a challenge without challenges…
First off, and it took me a few hours to realize this — I used my whisk attachment on my KitchenAid, instead of the dough attachment. Since I was making a dough, this was a no-no.
The next boo boo is that I piped the rings too thin — the recipe called for 1-inch wide rings. Mine were more like 1/2-inch

I had a bunch of dough left over, so I piped a bunch of other shapes — hearts, clouds, circles, and a star (random, I know). Since my pastries were so much smaller than I think they should've been, I should have reduced the baking time. Instead, I baked the full 50 minutes, and got this mess: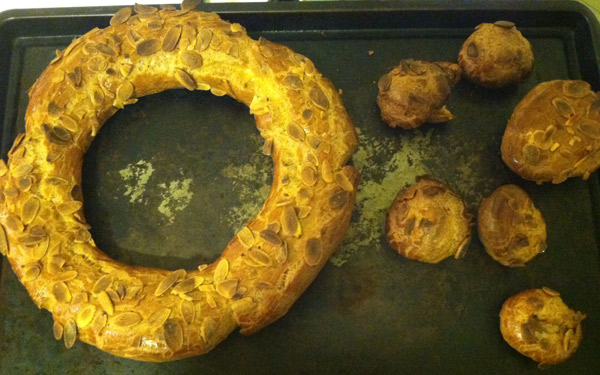 Since I had another tray of random shapes, I adjusted my times. I did about 10 minutes in the oven at 400, then reduced the heat to 350 degrees for another 10 minutes or so. They were golden brown, so I left the oven ajar and let them sit at the full 30 minutes to dry out. I didn't want to take any chances that they might still be moist inside.
Well, the circles were okay, but all the other shapes fell flat instead of being puffed up. I'd read somewhere on the forums that if your pastries fell, you could pop them back in the oven and they would puff up. So, back to 350 degrees the oven went, and I set the timer for 10 minutes.
10 minutes later, I opened the oven, and they looked exactly the same. In fact, the oven was cold. My pilot light had gone out! Off in search of the candle lighter I went.
Pilot light lit, oven still set to 350 degrees, timer set for 10 minutes. When the timer went off, the pastries looked like they had risen slightly, but they were getting more brown, so I figured I would cut my losses and pull them out to cool.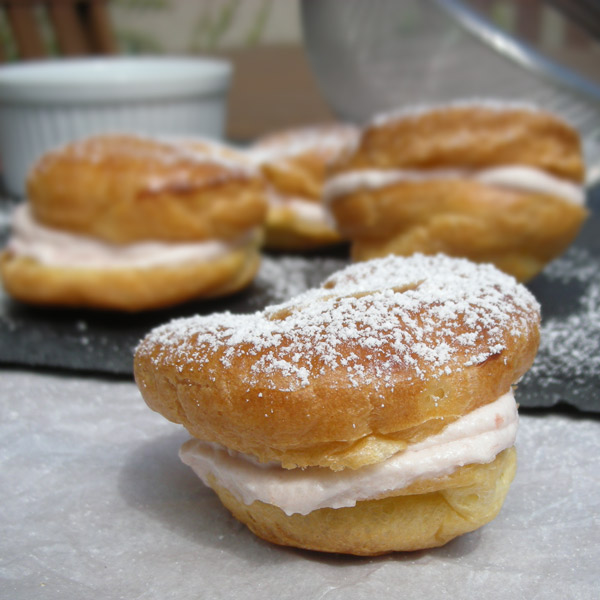 All in all, the only ones that really came out well were the circles. Essentially, I think I ended up with cream puffs. They were definitely delicious, definitely a few steps removed from the original challenge, but I did have a lot of fun making them and am excited to have finished my first challenge! I can't wait for next month's.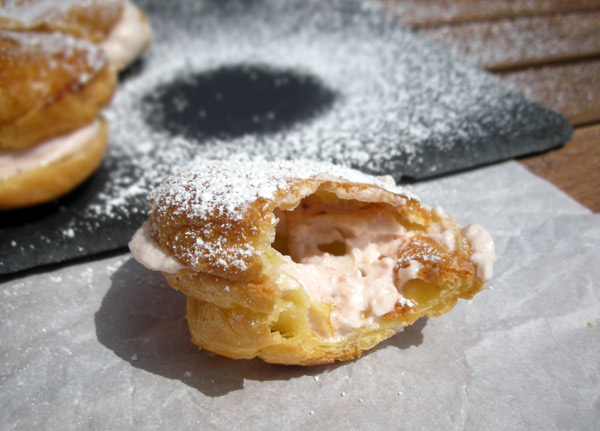 paris-brest
serves 4-6
Ingredients


Paris-Brest
1 cup flour
1 teaspoon sugar
1/4 teaspoon salt
6 tablespoons unsalted butter
1/2 cup whole milk
1/2 cup water
4 large eggs, lightly beaten


Egg Wash
1 large egg
1/8 teaspoon salt
1/2 cup sliced almonds


Strawberry Whipped Cream
1 cup heavy whipping cream
1/2 teaspoon pure vanilla extract
1 tablespoon granulated white sugar
1/3 cup chilled strawberry jam
Preheat oven to 400 degrees F and place the rack in the center of the oven. Line a baking sheet with parchment paper. Draw an eight inch circle on the parchment paper to use as a guide when piping the choux pastry.
In a bowl sift together the flour, sugar and salt. Set aside.
Place the butter, milk, and water in a heavy saucepan over medium heat and bring to a boil. Remove from heat and, with a wooden spoon, quickly stir in the flour mixture. Return to heat and stir constantly until the dough comes away from the sides of the pan and forms a thick smooth ball (about 3 to 4 minutes). Transfer the dough to your electric mixer, or with a hand mixer, and beat on low speed a minute or two to release the steam from the dough. Once the dough is lukewarm, start adding the lightly beaten eggs, in small additions, and continue to mix until you have a smooth thick shiny paste. (Note: To test to see if the dough is the right consistency; pinch off about a teaspoon of the dough. Then with your thumb and index finger slowly pull the dough apart. The dough should stretch, not break. If it breaks, beat in a little more egg.)
Transfer the dough to a large piping bag fitted with a large plain tip (#4). Pipe a 1 inch thick ring of dough just inside the 8 inch circle that is drawn on the parchment paper. Pipe another 1 inch thick ring inside the first ring, making sure the rings of dough are touching. Pipe a final ring of dough on top, along the center seam between the first two rings of dough. Then, with moistened fingertips, gently smooth the rings of dough. In a small cup, beat together the egg and salt for the glaze. With a pastry brush, gently brush the glaze on the top and sides of the dough. Sprinkle with the shaved almonds.
Bake for 15 minutes and then reduce the oven temperature to 350 degrees F. Bake for a further 35 to 45 minutes or until the Paris Brest is a golden brown color, puffed, and crisp. Turn the oven off and, with the oven door slightly ajar, let the shell dry out for about 30 minutes. Remove from oven and finish cooling on a wire rack.
To make the whipped cream filling, place your mixing bowl and wire whisk in the freezer for about 15-30 minutes. Then place all the ingredients in the cold bowl and beat until very soft peaks form. Then add the strawberry puree or jam, and beat just until stiff peaks form. Taste and fold in more sugar or puree, as needed. If not using immediately, cover and refrigerate.