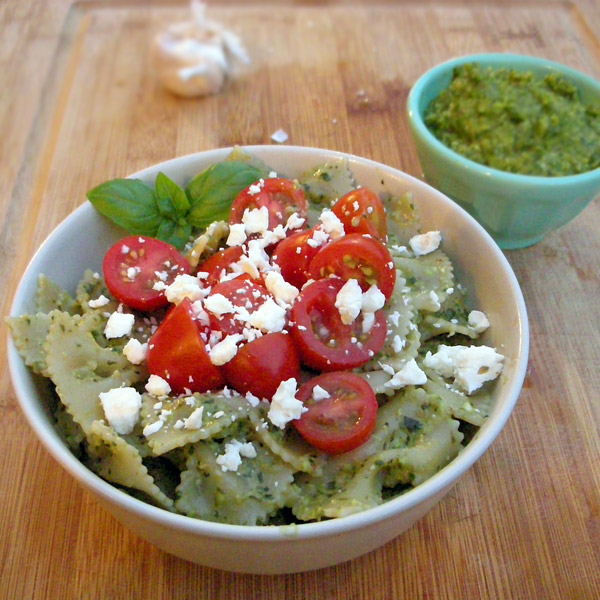 The first time I ever had pesto, it was homemade. After tasting this, I can never imagine eating the drab premade pestos you can buy in a jar at the supermarket. And once you make this sauce, you'll never touch that stuff again either! It requires a blender or food processor, and is precisely the reason why I bought a food processor when I moved into my first apartment alone.
Uses: toss with pasta, dip crackers or veggies in it, smear it on a toasted baguette, put it on a sandwich, use as a pizza sauce… Sometimes I even put it on my morning eggs. You'll find plenty of ways to use this all up. Trust me. It's that good!
One of my favorite ways to use pesto at home is tossed with bow tie pasta, cherry or grape tomatoes, and feta cheese.
In the unlikely event you've got too much pesto on your hands, put the extra in an ice cube tray, lightly cover with plastic, and freeze. When they're solid, pop them out using a knife and throw them in a ziploc bag. Keep them in the freezer and you'll have pesto sauce ready in a moment's notice.
The recipe comes out thick, so if you're using it with pasta, go ahead and leave a little bit of water in your pasta (about a tablespoon per cup of cooked pasta), then spoon the pesto over top and mix until well coated and the sauce gets slightly creamy.
fresh basil pesto
Ingredients
8 large stems of fresh basil
1/2 cup pine nuts or 3/4 cup walnuts, cashews, or almonds (in a pinch, any of these will do!)
1/2 cup fresh parmesan cheese
Juice of 1 lemon
3 garlic gloves
Kosher salt or table salt
Fresh ground black pepper
1/4 cup extra virgin olive oil
Put all of the ingredients, except the olive oil, into a blender or food processor. Pulse until the mixture becomes coarse. Stream in the olive oil. The pesto will be thick and bright green – a vivid color you'll never find in a jar!