featured on tastespotting and foodgawker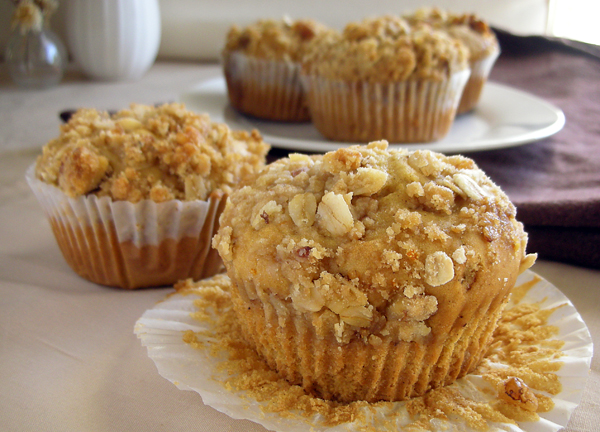 Pumpkin is about to take over my life. I'm about to say a string of blasphemous things: I'm not happy about the pumpkin takeover. I am kind of sick of pumpkin. *gasp*
"But Melissa, it's only October 1, and you've barely consumed anything pumpkin so far this fall, how are you 'sick' of it?" Well, I think I overdosed on pumpkin in 2010 and again in 2011. Pumpkin everything all the time. And now it's just carried over. Oops.
Which brings up another question: "Then why did you make these pumpkin muffins, and why did you also make pumpkin cinnamon rolls?" Well. Because it's fall. And that's what the people want, right?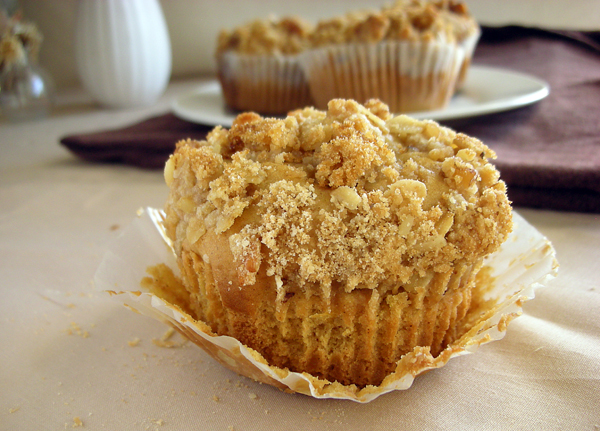 Actually, the real reason goes back to my hating to waste food. My roommate bought pumpkins to roast pumpkin seeds, and offered me the pumpkin when she was done with it.
So I totally slaved over this recipe for you guys. I roasted the pumpkin shells for what seemed like forever until they were soft (it was probably just 45 minutes or so), then I scooped all the goodies out and pureed it up all smooth. Homemade pumpkin puree!
So now I have a plethora of pumpkin puree and need to use it all. I started with these pumpkin streusel muffins. Hopefully you're not all pumpkin'd out yet, and you'd like to make these. And feel free to take the easy way out and used canned pumpkin puree instead of making your own!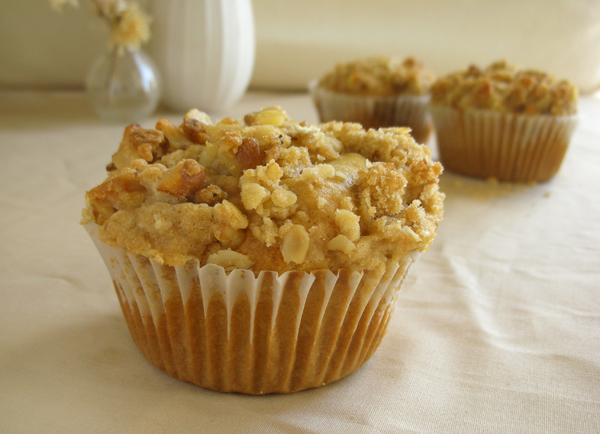 P.S. This is what Maggie looks like when I'm shooting photos: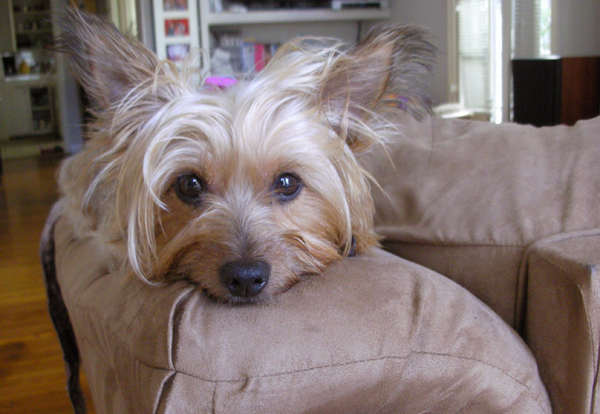 "Mom, I'm bored. If you're not going to let me eat any of that stuff, hurry up so we can play."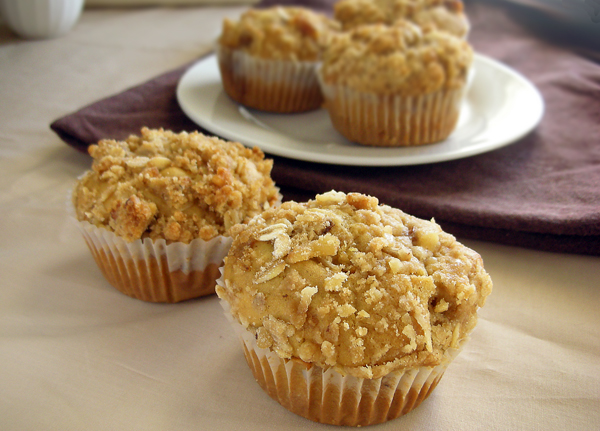 pumpkin streusel muffins
makes 12 muffins
Ingredients


muffins
1/4 cup butter, softened
1/2 cup sugar
1/4 cup packed brown sugar
2/3 cup pumpkin puree
1/2 cup buttermilk OR see note
2 egg whites
1 teaspoon orange zest
2 cups flour
1 teaspoon baking soda
1/2 teaspoon baking powder
1 1/2 teaspoons pumpkin pie spice
1/4 teaspoon salt


streusel topping
1/3 cup flour
3 tablespoons brown sugar
2 tablespoons cold butter, cut into pieces
3 tablespoons chopped walnuts
3 tablespoons old fashioned oats
*NOTE: To make your own buttermilk, put 1/2 tablespoon white vinegar or lemon juice in a liquid measuring cup. Fill the measuring cup with milk (soy works too) to the 1/2 cup line. Let it sit for 5 minutes.
Preheat the oven to 375 degrees.
In a large bowl, cream the butter and sugars together until light in color and fluffy. Add the buttermilk, egg whites, and orange zest. Beat until smooth.
In a medium bowl, whisk the flour, baking soda, baking powder, pumpkin pie spice, and salt to combine. Slowly add to the wet ingredients, stirring to combine. Pour evenly into a muffin pan.
To make the topping, mix the flour and brown sugar together. Add the butter, and using two forks, cut into the butter repeatedly until you have a crumbly mixture. Add the walnuts and oats, stirring to coat. Evenly top the muffin batter with the streusel.
Bake for 15 – 20 minutes, until a toothpick inserted in the center comes out clean.