featured on foodgawker and tastespotting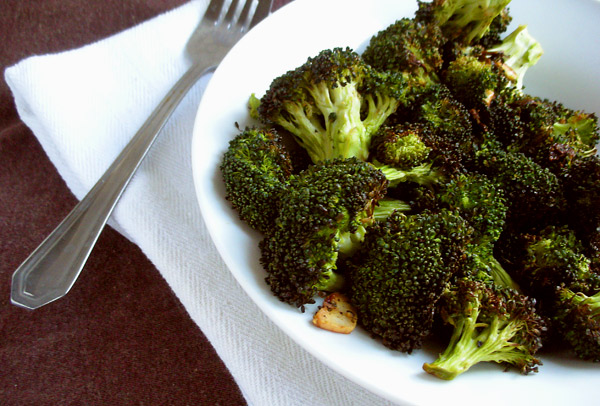 I've posted a fair amount of main dishes, like pizzas and pastas, but not too many side dishes. When it comes to sides, I usually do a big pile of steamed veggies. When you're cooking after a long day of work, this is one of the easiest and most healthful things to do. Throw some broccoli, spinach, or kale in a steamer basket, five minutes later you've got your side dish. But sometimes I want something a little fancier.
Enter roasted veggies. Roasting broccoli is SO EASY. Chop it up, toss with some oil, salt and pepper, and maybe some other herbs if you're feeling fancy, put it in the oven for 20 minutes while you prep your main course and TADA! Your side is done! And as long as you didn't drown it in oil, it's totally healthy! Fast and healthy, that's usually my goal for dinner.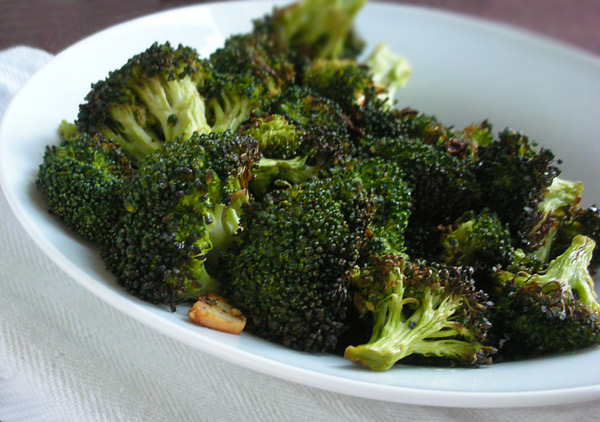 Tips: If you want to fancy this dish up, squeeze some lemon juice over the top of the broccoli when it comes out of the oven, and top each serving with grated or shaved parmesan cheese. Ooh-la-la!
roasted broccoli
makes 2 servings
Ingredients
3 cups raw broccoli florets
2 cloves garlic, sliced
olive oil
salt and pepper
Preheat the oven to 450 degrees.
Toss the broccoli and garlic with a little bit of oil, just enough to lightly moisten the broccoli. Season with salt and pepper.
Lay on a rimmed baking sheet in a single layer. Roast for 10 minutes and toss. Roast for another 10 minutes and eat!