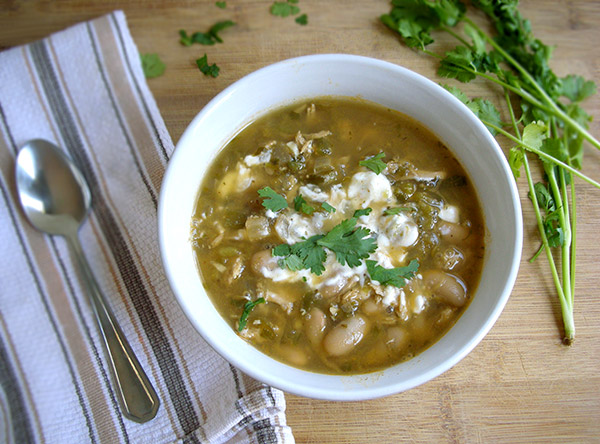 I've never been much of a chili fan. I don't know why. It just never floated my boat. Maybe it's because I'm not a fan of ground beef crumbles. I don't like the texture, which is a major reason why I was able to be a vegetarian for eight years and not miss beef at all.
I gravitate towards this delicious chili recipe because 1. It does not have ground beef, and 2. its flavor is completely different from traditional chili. The green chiles, oregano, cumin, and cilantro all come together for more of a Mexican feel. Great on its own and even better topped with light sour cream or chunks of avocado.
Tips: This can easily be made vegetarian. Just use vegetable broth and add in another type of bean (black beans would be great!) and even kale or spinach could be thrown in with the cilantro at the end. I like to double this recipe and freeze the leftovers in one or two serving containers for a quick dinner or lunch.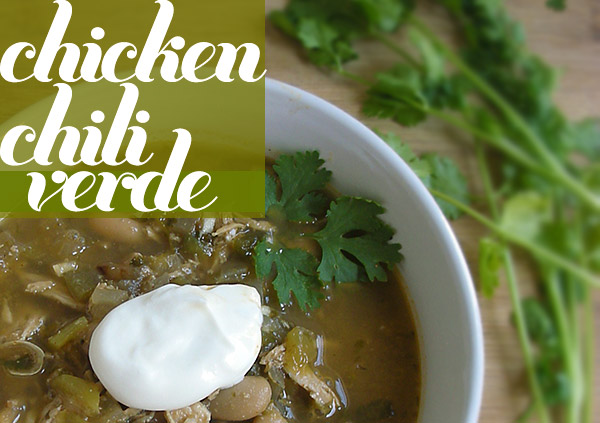 chicken chili verde + vegetarian option
Ingredients
2 teaspoons olive oil
1 large yellow onion, chopped
4 oz green chile peppers
4 oz diced jalapenos
4 cloves garlic, minced
1 1/4 teaspoons oregano
2 teaspoons cumin
1 teaspoon chili powder
3 cups vegetable or chicken broth
2 – 15.5 ounce cans cannellini beans, not drained
2 cups cooked, shredded chicken breast
1/4 teaspoon black pepper
1/4 cup chopped fresh cilantro
Light sour cream, if desired
Heat 2 teaspoons of olive oil in a large pot. Add onion and cook until golden and soft, about 5 minutes. Add the chiles, jalapeno, garlic, oregano, cumin, and chili powder. Stir and cook for 3 minutes.
Add the broth, beans, and chicken. Simmer for 20 minutes.
Season with salt and pepper. Add the fresh cilantro and cook for another 5 minutes. Serve each portion topped with light sour cream, if you desire!
Per serving, with chicken: 350 calories, 6.5g fat, 1439mg sodium, 42g carbohydrates, 37g protein
Per serving, vegetarian with black beans: 337 calories, 4g fat, 1472mg sodium, 60g carbohydrates, 22g protein
http://www.nowyourecook.in/2012/10/30/chicken-chili-verde-vegetarian-option/
©Melissa Klotz - www.NowYoureCook.in