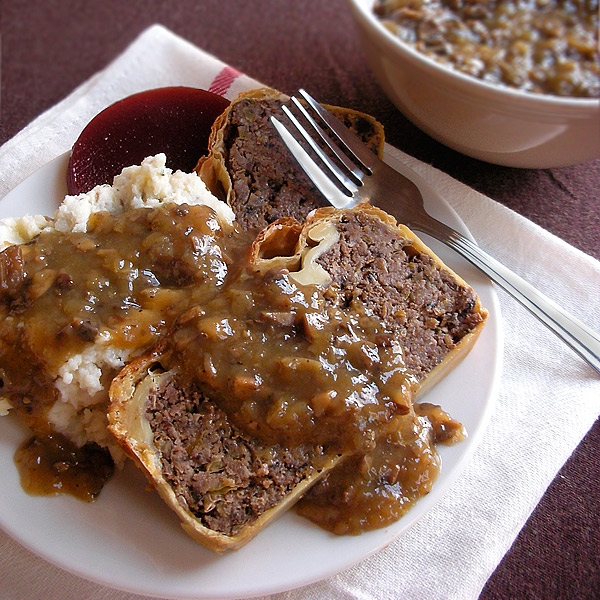 Mushroom Nut Roast is the perfect vegetarian Thanksgiving main dish! Hearty, with all the rich, warm flavors of fall and none of the meat. Lentils, mushrooms, cashews, almonds, walnuts, onions and more are wrapped in buttery puff pastry and served with vegetarian mushroom gravy.
In my junior year of college, I lived in a house with two other girls, one of whom was also a vegetarian. This was before the food blog era. Most of my recipes during this time came from bargain vegetarian books, printouts from FoodNetwork.com, or Everyday Food Magazine. From time to time, I would look through my roommate's cookbooks.
The very first Thanksgiving I cooked was during this year. I did roast my first turkey, which I was told was good, but I was a vegetarian and didn't try it. For my main course, I came across a recipe that sounded really great. It was a mixture of celery, leeks, lentils, mushrooms, and nuts, all stuffed between layers of phyllo dough. It sounded very similar to the vegan nut roast served in the cafeteria (which I was introduced to my freshman year, which was awesome!)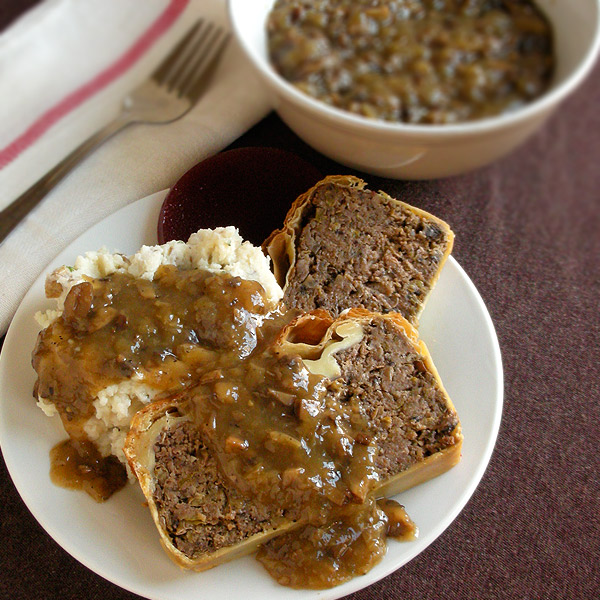 I decided to try this mushroom nut concoction out and LOVED it. A light, crunchy phyllo layer surrounded an herbed, earthy mixture that went perfectly with gravy and cranberry sauce.
Why I didn't photocopy the recipe or write it down is beyond me, because for the next five years I tried over and over again to replicate it. I'd come close, but there was always something that just wasn't right. Finally I decided to ditch the messy phyllo dough and use puff pastry. Somehow the stars finally aligned, because with that change, I'd also found the perfect combination of the rest of the ingredients, a simple mushroom gravy recipe, and I'm finally content.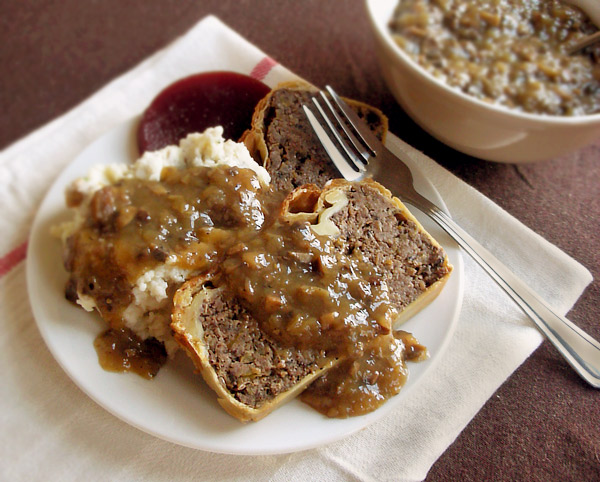 This recipe takes some time, but it's mostly time spent prepping the ingredients. It's a great main course for a vegetarian holiday meal or any time during the winter. It's excellent served alongside green bean casserole, cranberry sauce, and sweet potatoes.
Tips: To save calories (and a few dollars), you could even bake the mixture in a loaf pan without the puff pastry.
This recipe is forgiving. If you want to do a cheaper version, use white button mushrooms and yellow or brown onions in place of the wild and portobello mushrooms and leeks.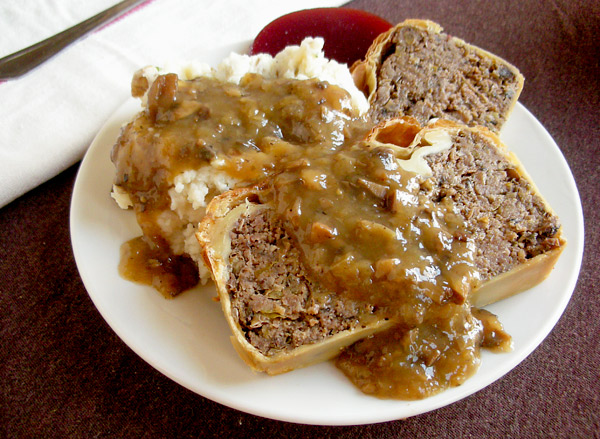 Recipe for a vegetarian mushroom nut roast in puff pastry and mushroom gravy. Packed with walnuts, almonds, cashews, wild mushrooms, and lentils!
Ingredients
MUSHROOM NUT LOAF
1 sheet of puff pastry
1/3 cup green lentils
1/2 cup raw almonds
1 cup raw cashews
1/2 cup walnuts
2 tablespoons olive oil
1 1/2 cups finely chopped leeks OR 2 finely chopped onions
2 stalks celery, finely chopped
4 garlic cloves, finely minced
6 medium white button mushrooms, finely chopped
1 ounce (3/4 cup) dried wild mushrooms (porcini, oyster, portabello, morel) OR 5 ounces white button or portobello mushrooms, finely chopped
1 1/2 cups breadcrumbs
1 teaspoon oregano
1 teaspoon thyme
1 teaspoon sage
1 teaspoon basil
2 eggs
1 cup vegetable broth

MUSHROOM GRAVY
4 ounces white button mushrooms
4 ounces portabello mushrooms
1 cup reserved mushroom water
1 can vegetable broth (add 1 cup plain water if not using reserved mushroom water)
3 tablespoons cornstarch or flour
Dried sage
Dried thyme
salt and pepper
FOR THE MUSHROOM NUT LOAF:
Allow the puff pastry to thaw for about 40 minutes.
Cook the lentils according to package instructions.
If using, soak the dried wild mushrooms in a bowl of 1 1/4 cups hot water for about 20 minutes. Squeeze the excess water out of the mushrooms and into the bowl. Reserve 1 cup of the mushroom water and set aside to use for gravy. Finely chop the mushrooms.
In a pan over low heat, toast the nuts until fragrant, stirring frequently to keep from burning. Remove from heat and place in a food processor. Pulse until the nuts are ground into small pieces. Transfer to a large bowl.
Heat the olive oil over medium heat. Add the leeks (or onions), celery, and garlic. Saute for about 5 minutes, until everything begins to soften. Add all the mushrooms and saute until soft. Add to the bowl of ground nuts.
Add the lentils, vegetable broth, breadcrumbs, oregano, thyme, sage, and basil. Stir to combine. Season with salt and pepper.
Crack one egg into a bowl and beat. Pour over the mushroom mixture and mix well.
Preheat the oven to 425 degrees. Spray a loaf pan with nonstick spray.
Roll out the puff pastry. It should be wide enough to fit inside your loaf pan, covering both long walls, with enough overhang on each side to fold back over the filling we put inside.
Place the puff pastry in the loaf pan. Evenly spread the mushroom mixture into the pan, pushing down to compact it if it seems like there's too much. Stretch and fold the flaps of pastry over the filling, enclosing it.
Beat the second egg in a small bowl. Brush the egg over the top of the pastry. You won't need to use all of it, just give it a nice, even coating. This will help the loaf to brown.
Bake for 20 minutes, then reduce the heat to 350 degrees and bake for another 40 minutes, until the loaf is golden brown. Slice and serve with the mushroom gravy.
FOR THE MUSHROOM GRAVY:
Saute the mushrooms in a pan with a drizzle of olive oil until soft.
In a saucepan, mix the vegetable broth and mushroom water (or regular water) with the cornstarch or flour until smooth. Add the mushrooms and the herbs, to taste.
Heat the gravy over medium-high heat until your desired thickness is reached, adding cornstarch or flour as needed to thicken it. If it's too thick, add some water or vegetable broth.
http://www.nowyourecook.in/2012/11/26/mushroom-nut-roast/
©Melissa Klotz - www.NowYoureCook.in