featured on foodgawker and tastespotting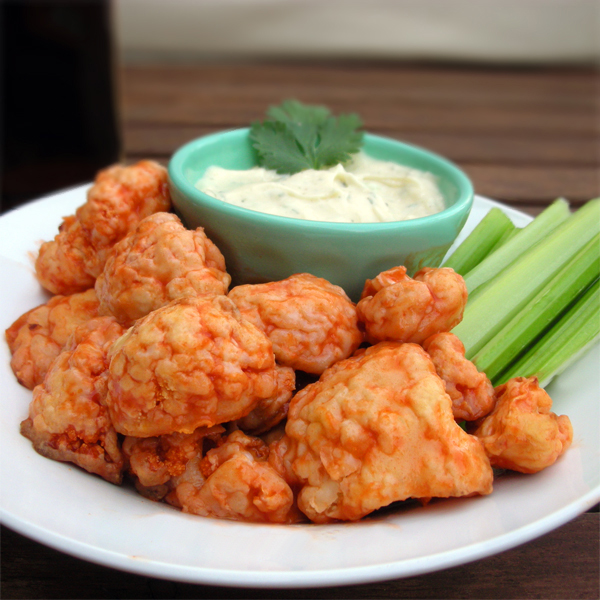 This buffalo cauliflower recipe was inspired by an incredible dish at a mostly vegan restaurant in Silver Lake, Mohawk Bend. Mohawk Bend is a great little spot with all local ingredients and offerings, including only beer, wine, and liquor produced in California. And a live jazz band on Sunday mornings!
We made our way over here before a Dodgers game one hot Sunday afternoon. Everyone on Yelp raves about the vegan buffalo cauliflower, so we knew we had to try it out. I've been trying to recreate it ever since!
Slightly crisp baked cauliflower is paired with the spicy buffalo goodness of Frank's Red Hot sauce to mimic buffalo wings. Mohawk Bend serves theirs with a homemade vegan blue cheese, but that's besides the point. you can make your own vegan blue cheese or pair this with your favorite blue cheese dressing (or ranch). This recipe is for the main star – buffalo cauliflower!
This is a fantastic recipe for Football Sundays, which makes it absolutely perfect for the Super Bowl this weekend!!
Did I mention that in addition to being vegan, it's also a clean recipe and can be made gluten-free by using gluten-free oat flour instead of all-purpose!?
What are your plans this Sunday? Staying in? Party with friends? Heading to a bar? (or "Melissa I don't care about the Super Bowl!")
I'll be hanging out with my friends enjoying a keg of Lumen (hoppy Belgian-style pale ale with jasmine flowers) from Monkish Brewing!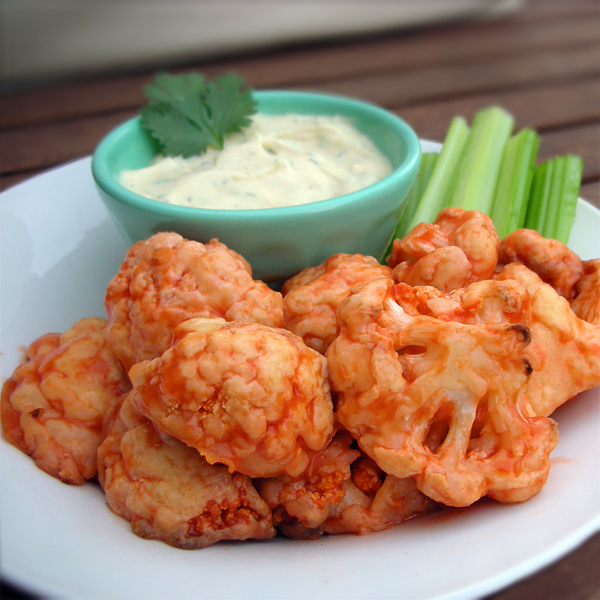 Ingredients
1/2 head of cauliflower
1/4 cup all-purpose flour
1/4 cup water
salt and pepper
1/4 cup Frank's Red Hot Sauce
Preheat the oven to 400 degrees.
Cut the cauliflower into florets, about bite-sized. You want to still be able to grab them up with your fingers (okay, I guess a fork is more civilized, but whatever…).
Stir the flour, water, salt, and pepper together until smooth. Toss the cauliflower in the flour mixture. Shake the excess batter off each piece of cauliflower and place in a single layer on a baking sheet.
Bake for 30 minutes, until golden brown on the edges. Remove the cauliflower from the pan with a spatula and place into a bowl. Toss with Frank's Red Hot and serve!
http://www.nowyourecook.in/2013/01/30/buffalo-cauliflower/
©Melissa Klotz - www.NowYoureCook.in