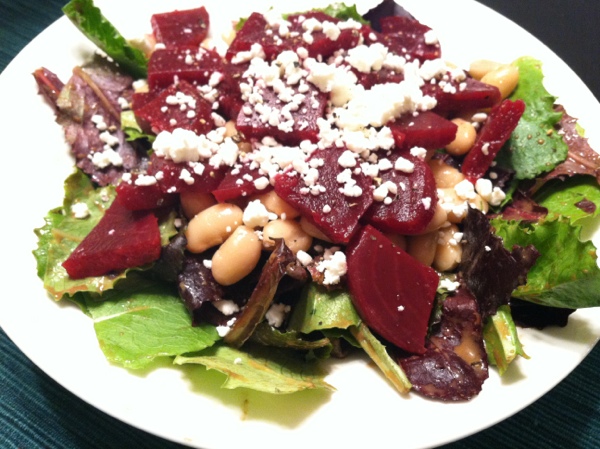 Making a salad at home, in theory, sounds like a great idea. After a weekend of indulging, by Sunday night I'm usually ready for something light and fresh. But I'm always stumped when it comes to add-ins. I have this mental roadblock that happens as soon as I get past the lettuce part. I come up with shredded carrots and tomatoes. Then it just stops. I think I've been traumatized by a childhood filled with the most boring salad ever of a bag of iceberg lettuce, shredded carrots and red cabbage, paired with ranch dressing. Shudder.
So after years of discouragement, I finally realized I should re-create restaurant salads at home. Duh. So I've been experimenting a little more. This recipe comes from a great restaurant in New York I went to over the holidays, UVA.
Salad doesn't get any easier than this. It basically boils down to dressing, beets, beans, cheese, greens. I always try to keep some form of beans on hand, as well as goat cheese and canned beets, so this comes together really quickly for me.
red beet and bean salad with goat cheese
Recipe for red beet and cannellini bean salad topped with goat cheese. Inspired by UVA restaurant and only around 300 calories per serving! Healthy & tasty.
Ingredients
2 tablespoons balsamic vinegar
1 tablespoon dijon mustard
1 tablespoon water
1/2 tablespoon olive oil
Dash honey
5 ounces mixed greens, baby romaine, or arugula
2/3 cup great northern or cannellini beans
10 slices canned red beets, quartered
2 tablespoons crumbled goat cheese
salt and pepper
In a small bowl, whisk together the balsamic, dijon, water, oil, and honey until uniform.
Place the greens in a medium bowl and drizzle the dressing on top. Toss to coat. Divide among two plates.
Top each plate of greens with half the beans, beets, and goat cheese. Season with salt and pepper and dig in!
http://www.nowyourecook.in/2013/03/21/red-beet-and-bean-salad-with-goat-cheese/
©Melissa Klotz - www.NowYoureCook.in