Ruth from Makey-Cakey was our March 2013 Daring Bakers' challenge host. She encouraged us all to get experimental in the kitchen and sneak some hidden veggies into our baking, with surprising and delicious results!
I'm finally getting a chance to get back into my Daring Bakers' Challenges!
It's been QUITE a busy year so far. I spent all of January transitioning out of my position at Hungry Girl, training my replacement. It was a difficult company to leave, but I knew I needed to make a move in order to continue my personal growth.
For the past two months I've been working at a digital marketing agency as a web/social media designer and front-end developer. I'm learning new skills everyday, its's great!
Coinciding with my job change, I've been trying to eat "clean-er." For quite some time I've been straying further and further from over-processed foods, but it's really hard to avoid when you're working at a company who uses many of them as their basis for recipes! Now that I'm not in that environment anymore, I've been doing a lot of juicing and smoothie-ing. I'm reintroducing healthy fats (like COCONUT!, traditional nuts, seeds) in moderation, as well as power grains like quinoa. ALthough many of the recipes on my blog are "clean," you may see some "earthy crunchy" recipes like smoothies, homemade nut milks, and chia seed puddings. Things that I don't normally make or eat, but have taken a recent interest in.
This absolutely does not mean I'll be giving up baking or entirely switching up ingredients I use when baking. You have to live a little!! So back to making time for Daring Bakers!
I'd been seeing recipes using black beans in brownies for quite awhile, so I decided to find a black bean brownie recipe and give it a whirl. You definitely cannot taste the beans at all, not like I expected one to be able to in the first place. Black beans don't have THAT distinctive of a taste, just a bit salty. Right?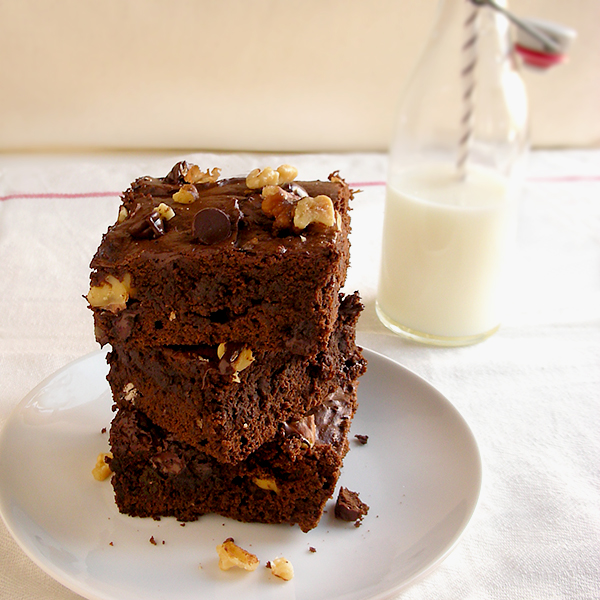 I changed this recipe up a bit, but if I made it again, I would make some more modifications. They were a bit too thick for my taste. Normally I'd just use a larger pan so they come out more thin, but you're already using a large pan here. I would try reducing the flour by about 1/2 cup. The brownies are super rich and decadent, so you definitely want to have a glass of milk handy. I ended up cutting them into small squares (the ones pictured, for example, were cut into fours).
A fiber-packed twist on a decadent classic, and you can't even taste the beans!
Ingredients
2 cups flour
1/2 cup + 2 tablespoons cocoa powder
1/4 teaspoon kosher salt
1 tespoon baking powder
One 15 ounce can black beans, rinsed and drained
1/2 cup unsalted butter, room temperature
1 1/2 cups semi-sweet chocolate chips
1 3/4 cup brown sugar, not packed
1 tablespoon vanilla extract
4 eggs
1 cup walnuts, chopped
Preheat the oven to 350 degrees.
Spray a 9×13 pan with nonstick spray or coconut oil spray.
Whisk together the flour, cocoa powder, salt, and baking powder.
In a blender or food processor, puree the black beans, adding a bit of water (no more than 2 tablespoons) if they stick to the sides before they're pureed.
In a doubleboiler or a heatproof bowl over simmering water, add the butter and all but a handful of chocolate chips (set those aside for later). Melt and stir until combined. Remove from heat and add the black beans.
If your bowl can't handle anymore ingredients (meaing it's too small), transfer the mixture to a large bowl. Stir in the brown sugar and vanilla. Add the eggs one at a time, beating thoroughly after each one.
Gradually add the flour mixture and stir until combined. Do not overmix.
Fold in all but a handful of the walnuts (set those aside for later).
Pour the batter into the pan and spread evenly. Sprinkle with the reserved chocolate chips and walnuts.
Bake for about 30 minutes, until a toothpick inserted in the center comes out clean. Cool and cut!
http://www.nowyourecook.in/2013/03/27/daring-bakers-challenge-march-2013-black-bean-brownies/
©Melissa Klotz - www.NowYoureCook.in