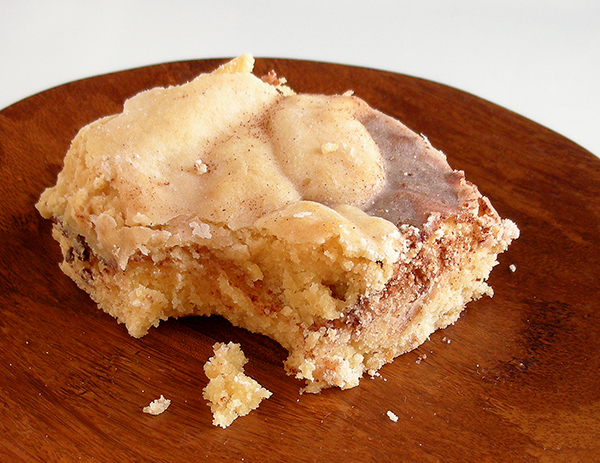 These snickerdoodle bars are out of control. I've been working from home the past few days and it's really difficult to walk by them and not cut off a little 1×1 square each time I walk by.
The most fun part about these is that they use ingredients you probably already have in your kitchen, if you do any sort of baking. The most exotic ingredient listed here for me is milk, because I usually don't stock milk in my fridge. But even if you don't have milk you could probably even try making these with water or watered down half & half or creamer. Not a big deal!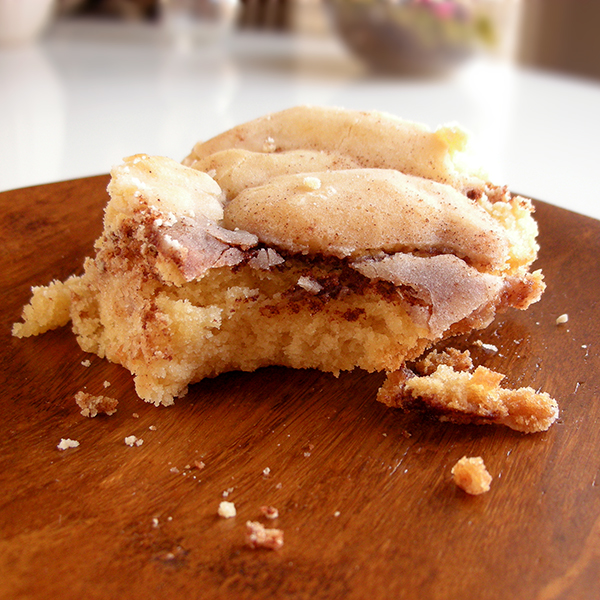 If you love the flavors of cinnamon and sugar, these are just to die for. The middle of the bar is super moist with a tender crumb, while the outsides are slightly a bit more sturdy. The glaze hardens to give a nice crunch on the top. *drool*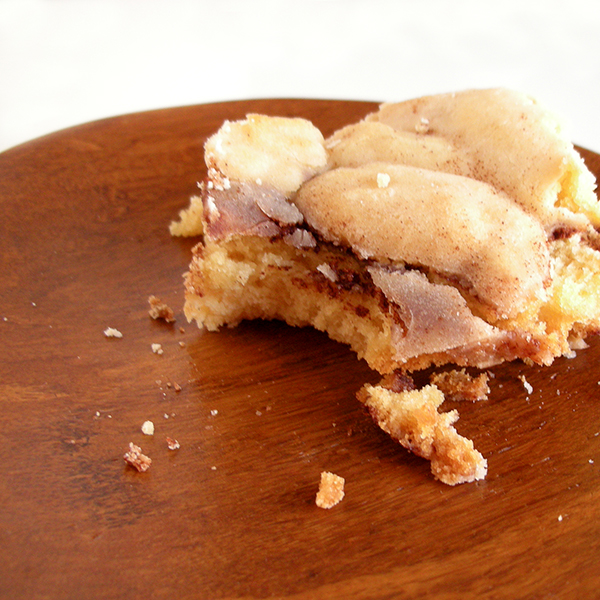 And if THAT'S not enough — throw a dollop of vanilla bean ice cream on top of a warm one. I dare you.
These cinnamon-y treats are made with very basic ingredients, so you can whip them up right this instant!
Ingredients
2 1/3 cups flour
1 1/4 teaspoons baking powder
1/2 teaspoon kosher salt
3/4 cup butter, room temperature
1 1/4 cups sugar
1/2 cup packed brown sugar
3 eggs
1 teaspoon vanilla extract
1 tablespoon sugar
1 tablespoon ground cinnamon
1 cup powdered sugar
1/4 teaspoon vanilla extract
2 tablespoons milk
Preheat the oven to 350 degrees. Spray a 9 x 13 pan with nonstick spray.
Combine the dry ingredients – flour, baking powder, and salt, in a small bowl.
Cream the butter and sugars on high with a mixer. Add the eggs, one at a time, followed by the vanilla extract. Gradually add the flour, stirring to combine.
Scoop half of the batter out into the pan and spread evenly with a spatula. If the batter sticks to your spatula, scrape it all off, spray the spatula with nonstick spray, and continue spreading.
In a small bowl, combine the cinnamon and sugar. Sprinkle the cinnamon sugar mixture over the batter in the pan.
Evenly dollop the remaining batter into the pan.
Bake until golden brown, 20 to 25 minutes, or until a toothpick inserted in the center comes out clean.
Stir together the powdered sugar, vanilla extract, and milk until smooth. When bars have cooled, drizzle the glaze on top and enjoy.
http://www.nowyourecook.in/2013/04/15/snickerdoodle-bars/
©Melissa Klotz - www.NowYoureCook.in