featured on foodgawker, tastespotting, and tasteologie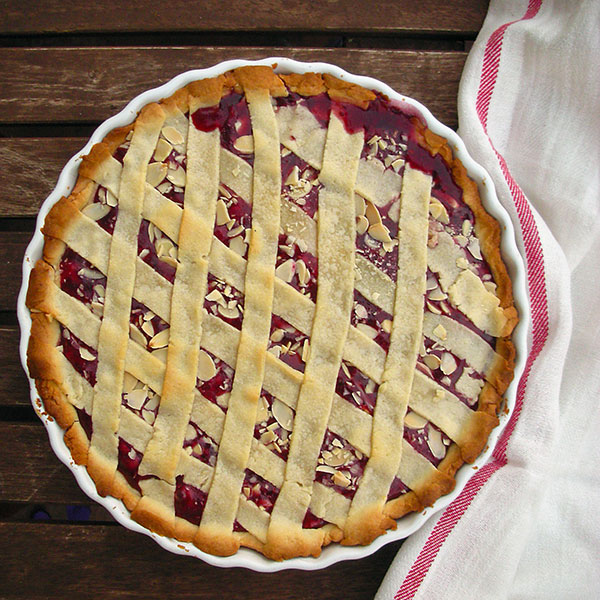 Rachael from pizzarossa was our lovely June 2013 Daring Bakers' host and she had us whipping up delicious pies in our kitchens! Cream pies, fruit pies, chocolate pies, even crack pies! There's nothing like pie!
If there's one thing I don't bake often, it's pie. I don't think I've ever baked an apple pie on my own. My mom used to bake a lot of pies, especially apple, cherry, and pumpkin. Since I was so familiar with these, I think I made a subconscious decision to try my hand at other desserts, like fancy cookies and cakes. This month's challenge was an opportunity to try something new!
Now, being really into food and restaurants, trying to keep up on what's new and hot, you'd think I would probably jump on trying out a recipe for the famous Momofuku Crack Pie. Well…
Two years ago, while visiting my best friends in NYC, I made them trudge in the snow and slush all the way to the Midtown Momofuku Milk Bar so I could pick up some desserts to take back home with me to Los Angeles. I chose the blueberry & cream cookie, compost cookie, and a slice of crack pie. I remember eating the blueberry & cream cookie right away. I'm still surprised by the fruity + creamy combo, one I usually don't like, that worked really well in a cookie. I decided to save the crack pie for later.
The next day, I was due to fly back to LA. While waiting in the Philadelphia airport, I decided to dip into the crack pie. I don't even remember what it tasted like because…
Fast forward to 9 hours later, I'm back at my apartment in LA just in time to battle food poisoning. Who knew Crack Pie needed to be refrigerated?! I mean, the warning on the label clearly was not large enough… Needless to say, I did not feel like making crack pie for this challenge!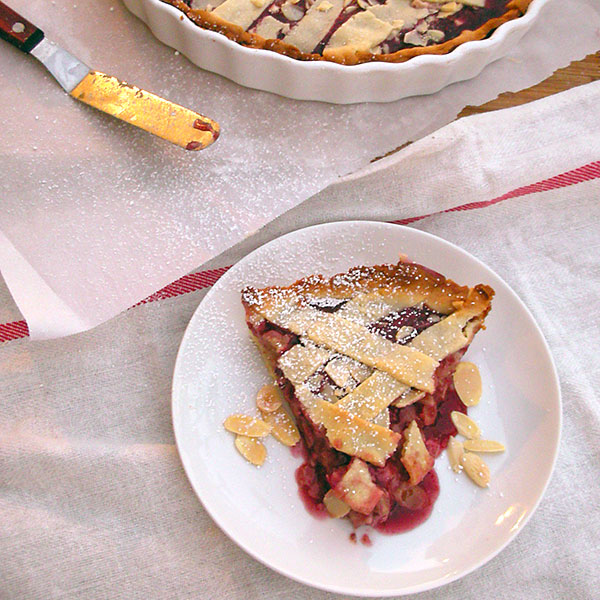 So onto my experience with this almond raspberry crostata. I cut a few corners in the original recipe, and honestly I think I saved a lot of time and came out with an equally impressive dessert. The original recipe given to us involved making your own jam and putting a glaze on top. I already had jam I wanted to use up, and simply didn't want to go to the specialty store to buy apricot jam. The original also looked a little sad; the filling was very thin and the top seemed to wilt down from the edges into the low filling. I did need more flour than the recipe calls for, which I've noted in the ingredients. I think this is because I left the butter out overnight, and the following day was very warm, so it may have been warmer and softer than "room temperature" butter.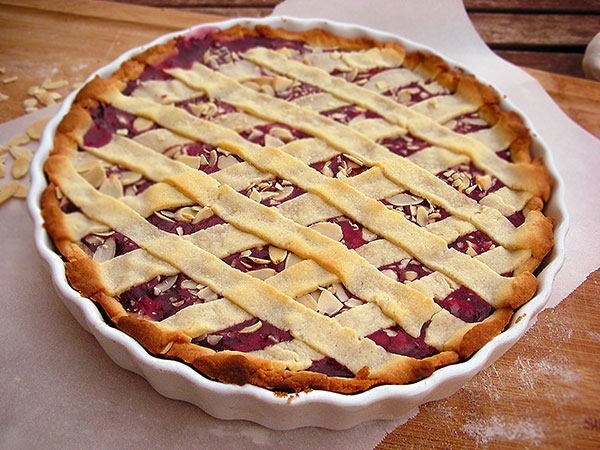 I decided to do a frangipane (almond cream) layer topped with raspberry jam. To add some crunch and volume it's topped with sliced almonds.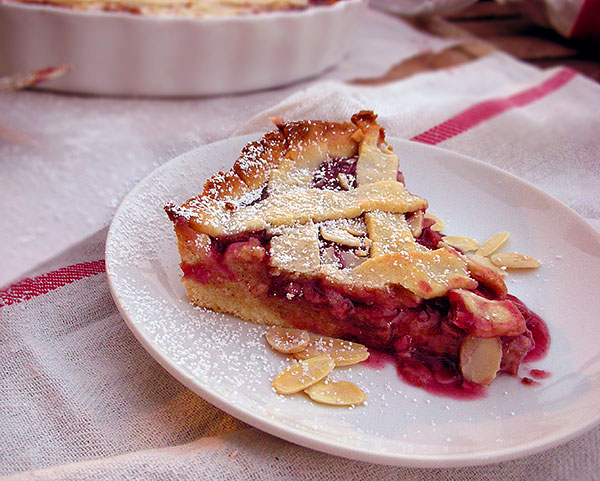 daring bakers' challenge june 2013: almond raspberry crostata
Ingredients
FILLING
1/2 cup ground almond meal
1/4 cup granulated sugar
1 large egg
3 tablespoons butter, softened
3/4 teaspoon vanilla extract
1 tablespoon all-purpose flour
1 jar raspberry preserves (I used low sugar), room temperature
1/2 cup sliced almonds

PASTRY
2/3 cup (160 ml) (150 gm) (5-1/3 oz) unsalted butter, room temperature
1/3 cup (80 ml) (75 gm) (2-2/3 oz) sugar
1 large egg, room temperature
1 teaspoon (5 ml) vanilla extract
grated zest of 1 medium lemon
1-2/3 cups (400 ml) (225 gm) (8 oz) all-purpose flour (I needed an additional 1/4 cup)
pinch salt
For the filling:
Add all ingredients except raspberry preserves and sliced almonds to a food processor and blend until smooth. If you don't have a food processor, you can whisk or beat it together too. Refrigerate until ready to fill the pastry.
For the pastry:
1. Using a paddle attachment on a stand mixer or an electric hand mixer or whisk, cream the butter and sugar until pale and fluffy, 2 – 5 minutes. The amount of time you cream the butter will affect the final dough – longer means lighter which in turn means a softer, more fragile dough which is less easy to work, but I prefer the texture of the cooked pastry this way because it's lighter too. If you want to do a more intricate lattice, I'd recommend a shorter creaming time so you have a firmer dough.
2. Add the egg, vanilla and lemon zest, one at a time, mixing thoroughly after each addition.
3. Add the flour and salt and mix until the dough comes together but remains soft, about 1 minute using a stand or electric mixer or a wooden spoon if mixing by hand. Don't over-mix.
4. Wrap dough in plastic wrap and refrigerate for 30 minutes.
5. When getting ready to bake, rest dough at room temperature for about 30 minutes.
6. Lightly grease a shallow 9?/24cm metal pie dish. (I used a tart pan and forgot to grease it, but it didn't stick!)
7. On either a piece of parchment or a lightly floured surface, roll 2/3 of the dough out to a circle to generously line the pie dish.
8. Transfer the dough to the pie dish, press in gently and roll the edges to form a good surface for attaching the lattice later. Prick all over the bottom with a fork.
9. Refrigerate the dough-lined pie dish for 30 minutes to reduce shrinkage during baking.
10. Preheat oven to moderate 350°F/180°C/gas mark 4..
11. Line pastry with parchment and fill with dry beans or pie weights. Bake until set, around 15 minutes.
12. Remove the weights and parchment and allow to cool. If using a springform or loose based pie dish, remove the side of the pan.
13. Preheat oven to moderately hot 400°F/200°C/gas mark 6.
14. Roll the remaining dough to fit the pie dish and cut it into roughly half inch/1.5cm-wide strips.
15. Spread the almond filling over the par-baked crust. Heat the jam in the microwave until lukewarm and pourable. Pour the jam on top of the almond filling, then gently spread. Sprinkle with sliced almonds.
16. Arrange the strips of dough in a criss-cross or lattice pattern over the filling, trim as needed, and lightly pinch the ends onto the rolled edge of the bottom crust.
17. Place pie dish on a baking sheet and place in center of oven. Bake until lattice is golden, around 20 minutes.
http://www.nowyourecook.in/2013/06/27/daring-bakers-challenge-june-2013-almond-raspberry-crostata/
©Melissa Klotz - www.NowYoureCook.in