The December Daring Bakers' Challenge had us all cheering – the lovely and talented Bourbonnatrix of Bourbonnatrix Bakes was our hostess and challenged us to make fun, delicious and creative whoopie pies! Delicious little cake-like cookies sandwiching luscious filling in any flavors we chose… What else is there to say but "Whoopie!"
It's been quite a year! I started a new job, a new relationship, saw a lot of great concerts, went to Cabo, Santa Barbara, San Diego, Sonoma, New York.
This week I've been working on my resolutions for 2014, as well as travel plans for the year. First up is a trip to San Diego the first weekend of the new year, followed by a trip to Cambria, CA for my boyfriend's mom's birthday! For our trip to San Diego we'll be stopping at Stone Brewery for some lunch and beer. Many people know their beer, but their food is also really delicious and the outdoor seating in the gardens is beautiful.
On to this caramel banana whoopie pies recipe.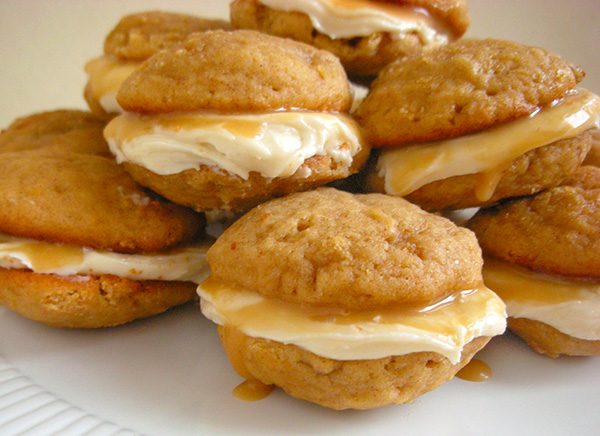 This was a nice little challenge for December. It was nice to take a break from all the cookies I've been making to bake something different.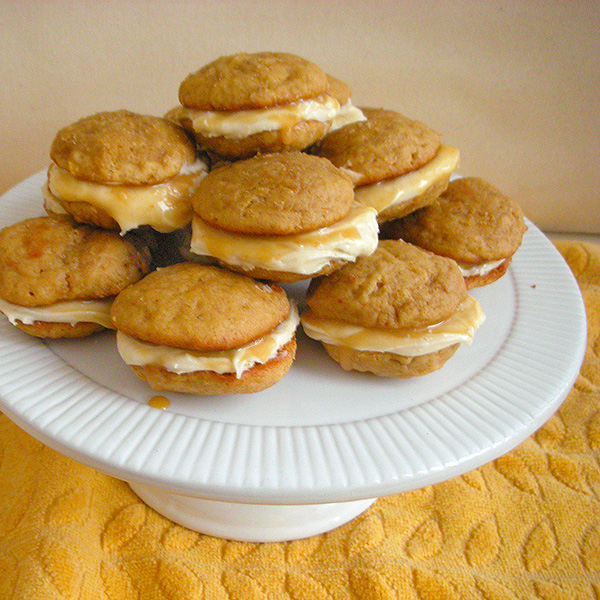 Caramel Banana Whoopie Pies
Ingredients
Cookies

2 cups all-purpose flour
1/2 teaspoon cinnamon
1/2 teaspoon baking powder
1/2 teaspoon baking soda
1/2 teaspoon kosher salt
1/2 cup mashed banana (about 1 large ripe banana)
1/2 cup greek yogurt
1 stick (1/2 cup) unsalted butter, room temperature
1/2 cup granulated sugar
1/2 cup packed light-brown sugar
1 large egg
1 teaspoon pure vanilla extract

Caramel Sauce

1/4 cup sugar
1 tablespoon water
3 tablespoons heavy cream
1/4 tablespoon unsalted butter
1/4 teaspoon pure vanilla extract
pinch kosher salt

Filling

4 ounces cream cheese, room temperature
1/2 teaspoon vanilla
2 cups powdered sugar
Preheat oven to 350 degrees. Line a baking sheet with parchment paper, or spray with nonstick spray.
Whisk together the flour, cinnamon, baking powder, baking soda, and salt.
In a small bowl, combine the banana and yogurt.
In a large bowl, beat together the butter and sugars until light and fluffy. Add the egg and vanilla and beat to combine.
Add half the banana and mix in. Add half the flour and mix. Repeat with the remaining banana and flour.
Using a half-tablespoon scoop, place the dough onto the baking sheet, about 2 inches apart.
Bake until the edges are golden, about 12 minutes. Remove from sheet and allow to cool.
Meanwhile, make the caramel sauce.
Add the sugar and water to a small saucepan set over medium high heat. Allow to boil without stirring. If crystals begin to form on the side of the pan, use a silicone spatula to scrape it down.
When the liquid starts to brown, swirl the pan. Remove it from the heat when it becomes a dark amber color.
Stirring with a wooden spoon, slowly add the heavy cream. Continue to stir and add the butter, vanilla, and salt. Set aside.
To make the filling, beat the cream cheese and vanilla until smooth. Gradually beat in the powdered sugar until smooth.
To assemble the whoopie pies, spread a small amount of caramel on the underside of one cookie. Spread a small amount of frosting on the underside of another cookie, then sandwich the two together.
http://www.nowyourecook.in/2013/12/27/daring-bakers-challenge-december-2013-caramel-banana-whoopie-pies/
©Melissa Klotz - www.NowYoureCook.in