For the past few months, I've been making my own Greek yogurt. I'm finding that homemade greek yogurt is a staple in my fridge.
Greek yogurt is like a "super" version of regular yogurt. It's thicker, so each serving of Greek yogurt has much more protein than regular yogurt. Protein-packed foods keep you fuller for longer! Greek yogurt typically has a stronger tart flavor compared to traditional yogurt, but this homemade Greek yogurt is more mild.
I use it in place of sour cream or mayo, as an ingredient to make creamy sauces, and as a lifesaver for when I haven't eaten enough protein for the day. You can also use it to make frozen yogurt or add it into smoothies. Use it to frost cupcakes or cake or even pancakes with a tiny bit of water, vanilla extract, and sweetener. Some cupcake recipes even call for greek yogurt as an ingredient in the cake. Add some herbs and a bit of water and use it as a marinade for meat. Add a dollop on top of oatmeal.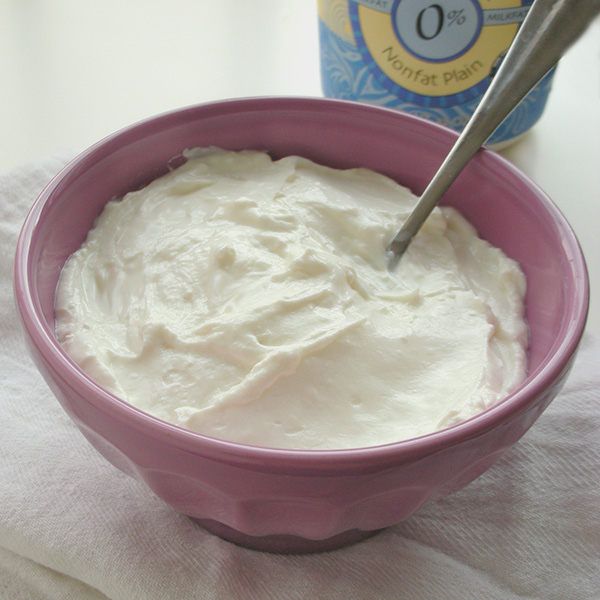 Making Greek yogurt at home is so easy. In a nutshell, you buy a gallon of milk and a 6 oz cup of Greek yogurt. Heat the milk, let it cool, add the yogurt, let the mixture sit. Strain the mixture. Tada! You have Greek yogurt!
Only two ingredients are needed: milk and Greek yogurt. The store-bought Greek yogurt is like your "starter," similar to making sourdough bread. And when you make your next batch, you'll only need to buy a gallon of milk — just save a cup of your first batch of yogurt ot use as your starter!
Warning: Not all store-bought Greek yogurts are made equal! If you're particular about natural/artificial/organic/clean eating types of things, be sure to check out the ingredients of your Greek yogurt. I tend to buy Fage Total 0% because it comes in a 6oz container, which is exactly what I need for this, and because the only ingredients are skim milk and cultures. Chobani is also fine, but it only comes in a 5.3oz container. Watch out for strange added ingredients, like modified corn starch.
And the second best part, is that it lasts a long time! I've used it three weeks after making it and the yogurt still tasted great and I didn't get sick. But don't hold me to it!
If you'd like to make a fruity flavored Greek yogurt, add some jam, frozen fruit, or pureed fruit to your serving.
Now the one caveat: It takes some time to make. WAIT! Don't click away yet — 90% of the time required is hands-off. I tend to make a new batch of yogurt on days when I'm working from home or on the weekends so I'm around to check on it here and there.
Try making your own yogurt!
Special Equipment Needed: Two large and tall pots, cheesecloth, strainer or colander.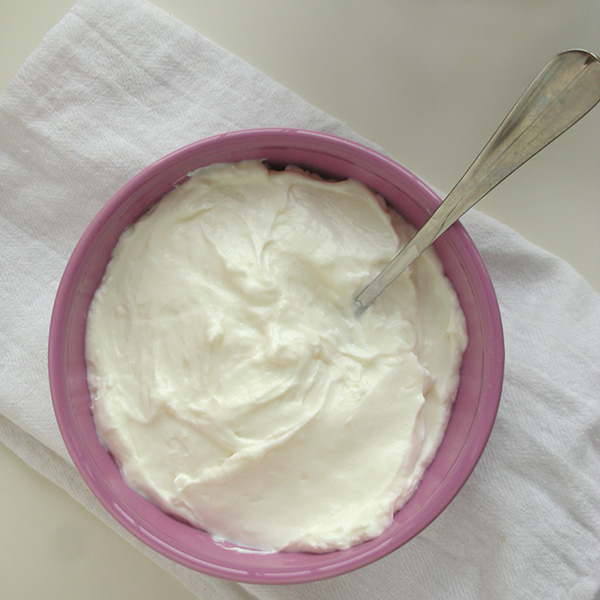 Ingredients
1 gallon non-fat/skim milk
6 oz or 1 cup nonfat Greek yogurt
Remove all the racks from the inside of your oven, and make sure your oven is off. Place a large beach towel inside.
Pour the entire gallon of milk into a very large pot.
Heat the milk over low until the temperature reaches 175 - 180 degrees. Stir occasionally so the milk doesn't begin to burn.
When it reaches the desired temperature, turn the burner off and allow the milk to cool to 115 degrees.
When the milk reaches 115 degrees, whisk in the entire container of store-bought Greek yogurt.
Cover the pot with its lid or a plate. Put the pot in the oven and wrap it with the towel.
Let the yogurt sit for about 6 hours. The whey (watery stuff) will begin to separate out.
After 6 hours, remove the pot from the oven. Place a strainer on top of another large pot. Line the strainer with cheesecloth.
Pour the yogurt into the strainer. Cover the yogurt with the cheesecloth or a clean towel and place in the fridge for 8 hours or overnight.
The mixture will become very thick. Scoop it out into airtight containers and keep refrigerated until ready to use!
http://www.nowyourecook.in/2014/04/01/homemade-greek-yogurt/
©Melissa Klotz - www.NowYoureCook.in