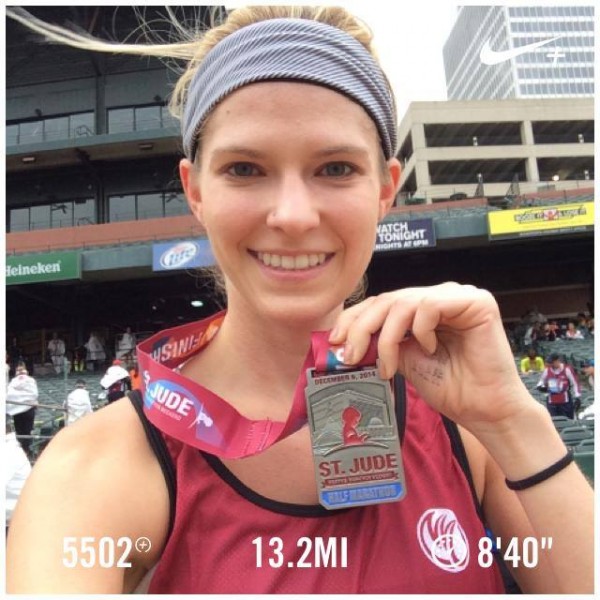 I'll start with the good news: I hit my goal! I finished the half-marathon in 1:54:10. I placed 44th in my age group, 251st female, and 669th overall out of 7,115.
Despite my meticulous planning — picking out all my outfit details according to the weather and comfort, calculating all the mini goals I needed to hit to make my big goal and then writing them on my hand, oh, not to mention the 12 WEEKS OF TRAINING, the day did not start off according to plan.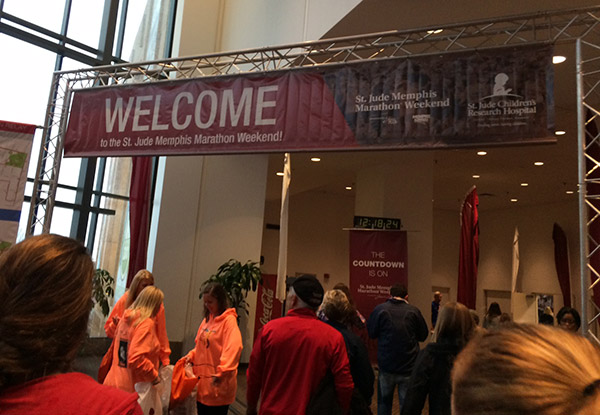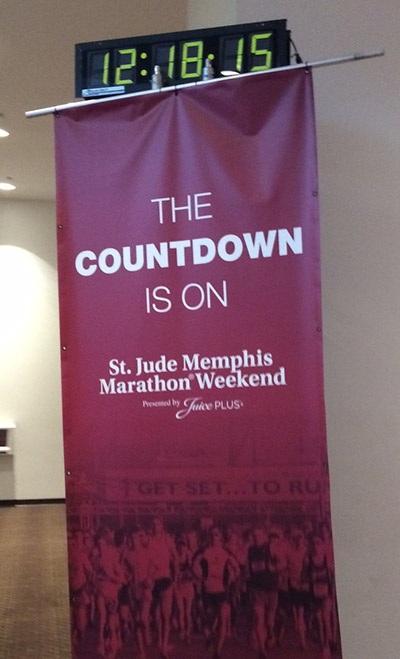 We were staying at an apartment about 4 blocks away from the starting line. We left at about 7:45, walked a block, and saw some shuttles parked along the road. Someone from our group asked if it was going to the marathon start, and a runner getting on said yes, so we hopped on.
I immediately got nervous as the bus started heading away from the starting line, but thought maybe it was going a different way than what I knew.
Then I started noticing the rest of the passengers were wearing "marathon relay" bibs.
Then we got on the highway.
My friend said "A lot of the roads are closed, so maybe we have to take a long detour."
If you haven't guessed it by now, we were on the marathon relay bus that was dropping team members off miles away where their portion of the run was to begin.
We couldn't do anything but laugh it off, however, it made me even more anxious to get to the start and just get this thing going!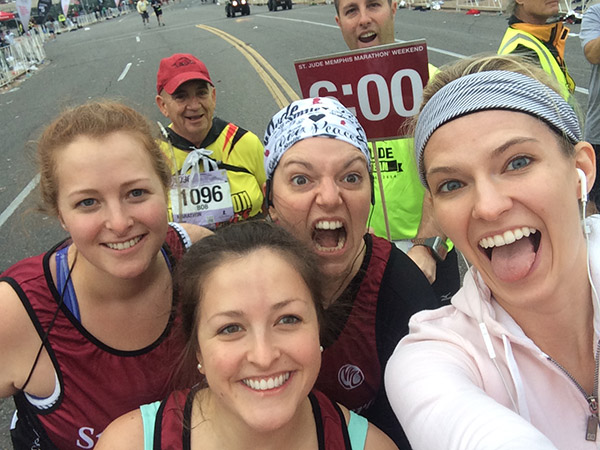 When we finally made it to the starting line, we were the last wave of people to begin. This made the first 5k a stressful one. I spent a lot of energy weaving in and out of walkers, trying to get myself through the crowd. It was also cold and windy, which I was not expecting. I kept my hoodie on until we got through Beale St., around mile 3. I intended to ditch it around Mile 1 or 2, but it was so cold! I would've worn it even longer, but I was getting concerned that I was keeping all the sweat in and would be even colder if I took it off further into the race.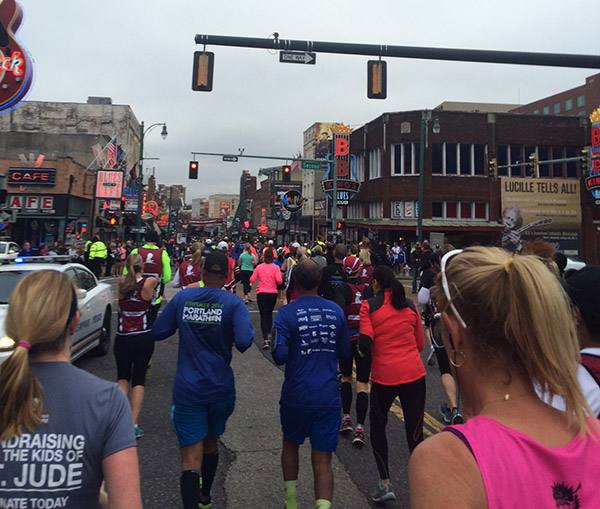 Finally, around mile 4, the crowd was starting to thin and I could focus on hitting my stride. Towards the end of mile 4 we headed into the St. Jude Hospital campus and I tried hard to keep myself together. Before the race, I kept telling everyone that I expected I'd start crying uncontrollably. There were definitely moments throughout the entire race that a tear or two slipped out. Running through the hospital I started hyperventilating a little, but managed to keep the tears in and smile at all the spectators.
Miles 5-8 were mostly through a tree-lined neighborhood. I knew the park was coming up next, so I kept thinking when in the world are we going into the park?? I hit my next goal (6.56 miles, halfway point, by 1:00) early and then realized I'd forgotten to eat my Gu at 45:00. I wolfed that down with a smile on my face and texted my boyfriend to let him know I was halfway.
Overton Park was Miles 8 to about 9.25. Afterwards, my friends were saying this is where they really got bored, but I was psyched because I knew once I got through the park, Miles 10-13.1, which I thought were all downhill, were coming up next.
Another thing I kept hearing during my training from experienced runners was that Mile 10 was the most difficult mile to push through. I really don't remember much of Mile 10. Thankfully, I also didn't remember this whole thing about it being hard until after I already got through it!
For this race, I think Miles 11-13 were the hardest (other than the crowded first 5k). I kept telling myself "only 2.1 miles to go, I've got this." I remembered that my Nike Coach plan said to sprint the last 3.1, but I knew I was already on target for my goal and didn't want to push super hard, then burn out on the last mile or two. After reviewing my splits, it's clear why Mile 11 seemed so difficult — it was actually my fastest mile, at 8:28 pace.
One thing that was really different from my first race was that people weren't really passing me, I was actually the one doing the passing! Or rather, if I was getting passed, I wasn't noticing it at all. This made a huge dent in my confidence and mentality at the Hard Rock Hollywood 5k. My boyfriend blew past me, and after sprinting the first mile (which was my fastest mile to date the entire year after that) I was pretty much spent. It was also much better that the course was a big loop instead of an out-and-back, because when I saw a lot of runners already on the return trip when I was still trying to push through the first half, that was also a mental challenge.
The course had a lot of spectators throughout, which was more helpful than I'd imagined. I'm pretty sure during my first race, there were no spectators at all, just a DJ or two playing music. Some of the highlights for me were a garage band formed by a group of girls right around the first mile, a sign that said "If it were easy, it would be your mom," and the big crowds of people on Beale St. I think it would have been better to have some more people towards the end of mile 12, near Sun Records, when I was just thinking "Where is mile 13? Why can't I see the finish line yet??"
I was told the course was mostly flat, and a good one for beginners. I was also told miles 10-13 were all downhill. Neither of these were true. Or maybe I'm a baby. There were a lot of rolling hills throughout the course. I didn't really train for hills, except one portion of one of my runs.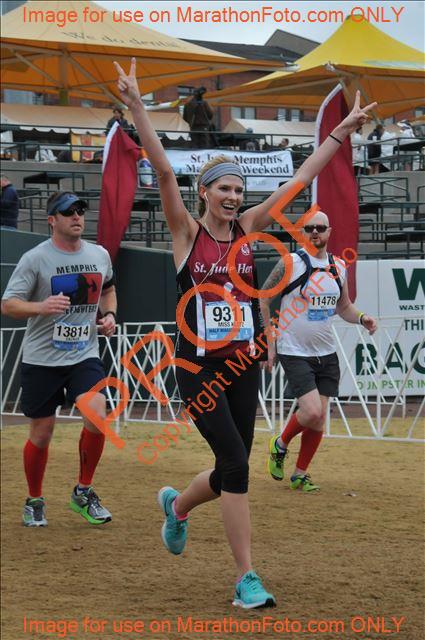 Rookie mistake. This part is the bad news.
As I turned the final corner at a sprint, I came down the ramp (that I didn't realize was a ramp) and into AutoZone Park and crossed the finish. Seconds later, I started to feel the pain in my right leg. Soon I was limping. Two days later, I'm still having a hard time walking very much. The pain has started to go away, but I still have sharp pain on my knee when I put my full weight on it. It seems to be my Iliotibial band, which most of the treatment is just resting, elevating, and icing it.
But I'm already trying to plan my next half marathon!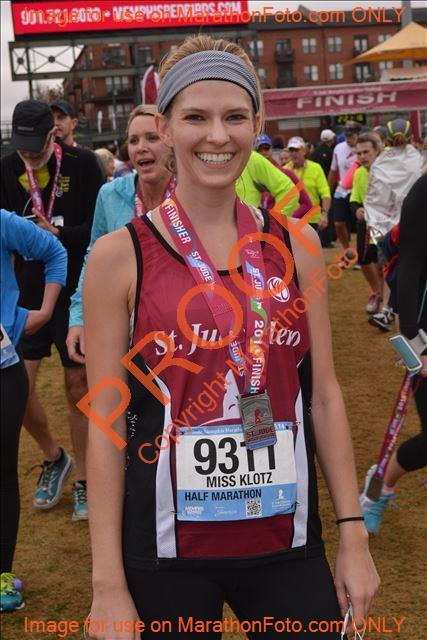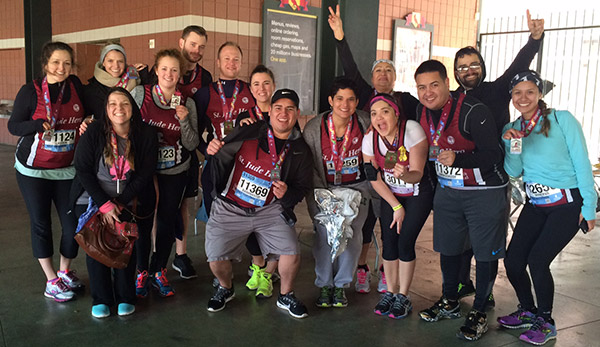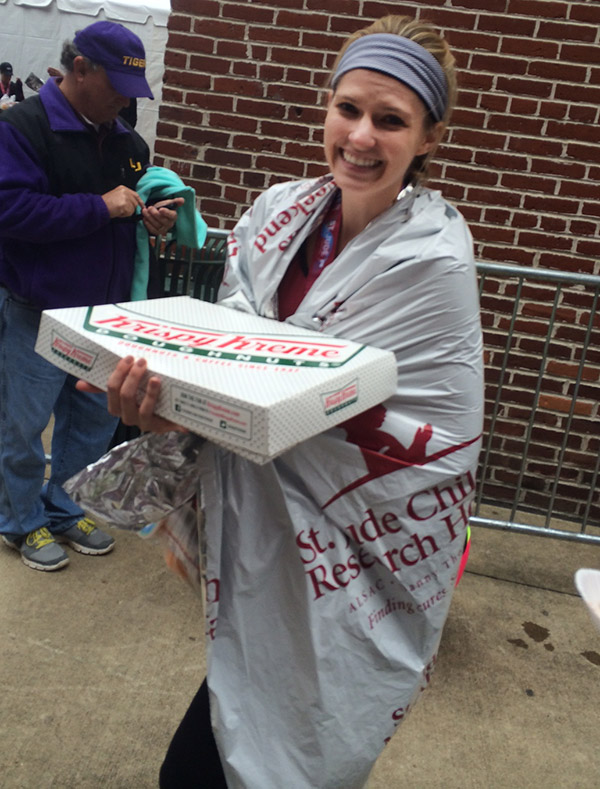 I was sooo cold after the race. This SoCal girl is not used to 50 degrees, especially while wearing wet clothing. I asked for a second donut, and the woman gave me a whole dozen. Not gonna argue with that.
Our post race dinner was enjoyed at Oshi Burger. I got the Oshi Burger (Wagyu American Kobe Beef, Soy Glaze, Shitake Tapenade, Swiss, Umami Mayo) with the Kentucky Head Hunter milkshake (Apple Pie Moonshine, Vanilla Ice Cream, Salted Caramel, Bacon Dust).