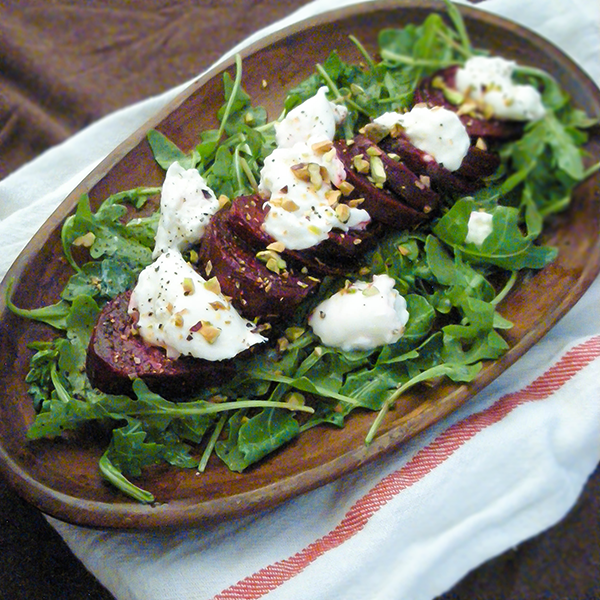 Peppery arugula is topped with iron-rich beets, nutty pistachios, and buttery burrata in this supremely simple vegetarian salad.
Happy New Year! I know it's already 12 days into the year, but it feels as if my year has just started. I caught some sort of bug on January 2 that completely knocked me out!
Friday, January 2, my boyfriend and I were both working from home, which is a real treat because he always goes into the office. We took advantage of the extra time together and walked to The Counter for lunch. I opted for something lighter than the usual burger, a chicken melt.
As we were walking home I started to feel some stomach pain and by 4 o'clock I had to sign off from work early. The next 4 hours I was in so much pain and trying to find remedies to alleviate it. Ginger is supposed to be really good for nausea and stomach pain, but of course we didn't have any, so I ended up drinking soda water with a few dashes of bitters in it. The herbs and spices in the bitters are supposed to be calming. It actually tastes pretty good, but didn't help very much. I tried yoga poses that are good for digestion, Pepto Bismol, and Tums, but nothing was helping.
It was quite a long weekend. While my fever only lasted two days, the nausea, lack of appetite, and fatigue lasted until Tuesday. I'm not quite sure what kind of bug I had, but it definitely set me back on starting the new year.
When I eventually got back on my feet and regained my appetite, I wanted something nutritious, but still comforting. That's when this Burrata, Beet, and Pistachio Salad came in.
It takes no time at all to put together. When you have fantastic ingredients, you don't have to do much to them, you can just let them shine on their own.
Burrata is a type of cheese made from mozzarella and cream. It's very soft and spoonable. In Italian, burrata means "buttered." It can be a little difficult to find – try a specialty grocer, Italian deli, or Whole Foods. We have a vendor at the Hollywood Farmer's Market that sells burrata. Keep in mind, it's generally supposed to be eaten within 48 hours of purchasing. Although it doesn't have the same flavor, ricotta cheese would also work in this salad!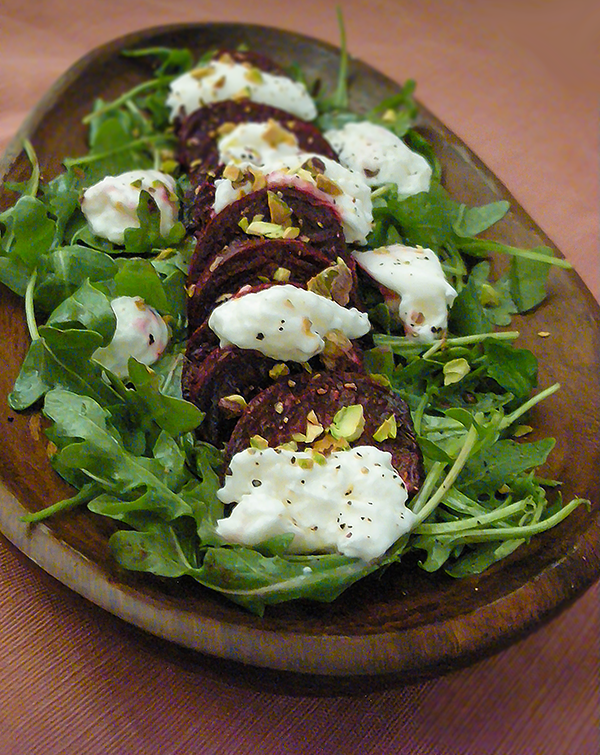 Burrata, Beet, and Pistachio Salad
Ingredients
2-3 large beets
4 cups arugula
1 round of burrata
1/4 cup shelled pistachios, chopped
olive oil
Preheat the oven to 400 degrees.
Scrub the beets clean and peel them. Wrap each beet in aluminum foil and place on a rimmed baking sheet.
Roast for 45 - 60 minutes, until they're fork tender. Allow to cool and then slice into 1/4 inch rounds.
Arrange the arugula on a plate. Evenly top it with the beets. Dollop with burrata. Season with salt and pepper, then sprinkle pistachios on top.
http://www.nowyourecook.in/2015/01/12/burrata-beet-and-pistachio-salad/
©Melissa Klotz - www.NowYoureCook.in