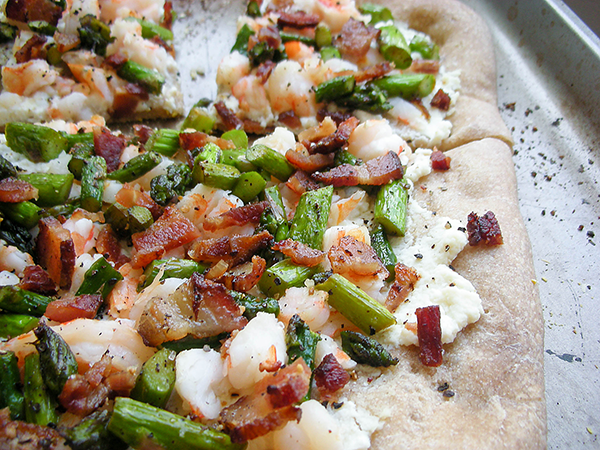 Bacon, shrimp, and asparagus top a whole-wheat pizza crust slathered with ricotta cheese and sprinkled with shaved parmesan cheese.
My Mini Cooper lease is ending in February, so the past two weeks have been filled with a lot of car research.
I got my Mini Cooper three years ago, after getting as much as I could out of a 2000 Jetta. I chose the Mini for three main reasons: 1. Efficient Gas Mileage, 2. Ability to easily customize it, 3. Price. When it comes down to it, the Mini is pretty much a steal.
It's backed by BMW which means they also have a cost-free maintenance plan that pretty much covers everything you need. In three years I've spent a whopping $0 on service. Okay except that one time where there was a leak in my tire and I got it patched for $15 next door to my office. I also was offered a rental car at no charge each time my car was serviced, AND they met me wherever I wanted to get the car. I haven't been to the dealership since the day I signed the papers and drove off with the new car. Pretty fabulous.
Mini spoiled me — for the most part, they let you pick every single option you want in the car, a la carte. You want a sunroof? Boom, it's yours. You want white turn signal indicators instead of the standard orange? Sure, go ahead. You want navigation? Not a problem.
I didn't think I was too picky until I started looking around for a new car.
"What? If I want Sirius XM radio installed I have to purchase the package that also includes Bose Speakers, push button start, navigation, and a sunroof? But all I want is the radio, not $1600 worth of extras."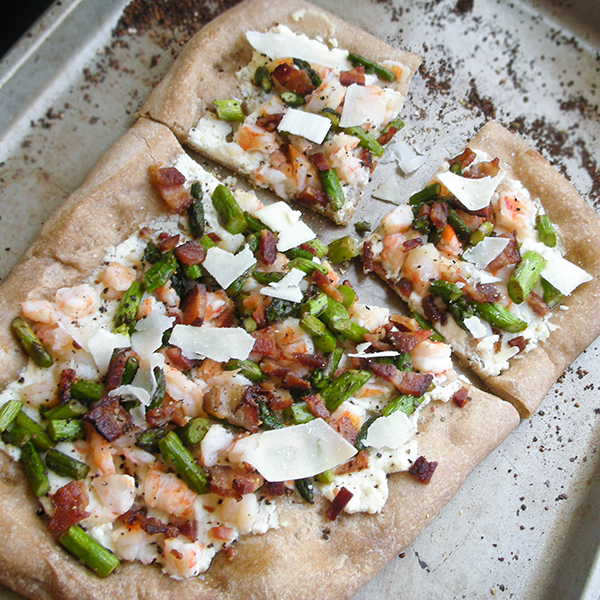 "If I want ventilated seats I have to purchase the highest trim level? But that's $6,000 more than the base model. Can't I just get the seats?!"
Le sigh.
The worst is deciding you'll just suck it up and pay a little bit more for a luxury car, only to find out the city MPG is 23. That's worse than my now 15-year-old Jetta was, and 95% of the time I only drive city.
Don't even get me started on all the percentages and fees involved with the leasing process. I am not looking forward to shelling out a couple hundred bucks in order for the dealership to take the car off my hands.
I think I've decided on a new car, but I'll keep quiet until everything's final.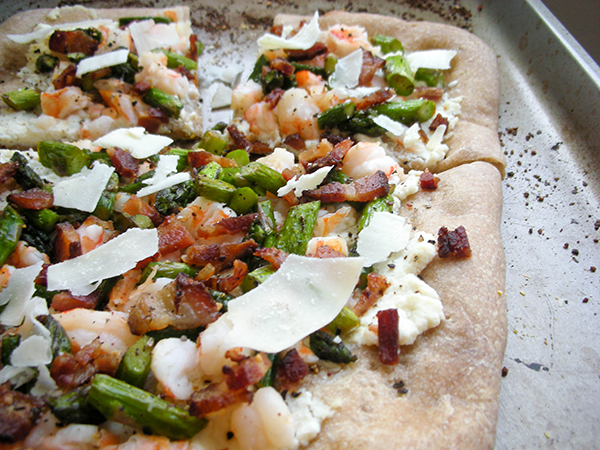 So when you're stressed out, what's much better than some homemade pizza?
I'm a huge fan of pizzas without red sauce. The absence of tomato sauce lends to a bit more of a gentle taste and allows the toppings to really shine. Pizza toppings that don't really feel at home paired with marinara sauce tend to be my favorite: butternut squash, potato, asparagus, sage, goat cheese.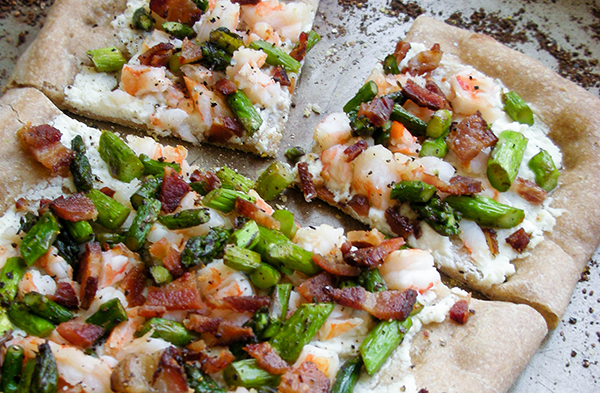 Bacon, Shrimp, and Asparagus White Pizza
Ingredients
1/2 lb asparagus, trimmed
olive oil
flour
cornmeal (optional)
1 lb whole wheat pizza dough
1 cup ricotta cheese
3/4 lb medium shrimp, cooked and chopped
6 pieces bacon, cooked and finely chopped
shaved parmesan cheese
Preheat oven to 400 degrees. On a baking sheet, toss asparagus with a little bit of olive oil and arrange in a single layer. Season with salt and pepper.
Roast until tender, 10 - 15 minutes. Allow to cool, then chop into bite-sized pieces. Set aside.
Increase oven temperature to 450 degrees.
Sprinkle your work surface with flour. Roll out the pizza dough to your desired thickness.
If using, sprinkle a pizza stone or baking sheet with cornmeal and transfer the dough to it.
Spray or brush the pizza dough with olive oil. Top with dollops of ricotta. Evenly layer the shrimp, asparagus, and bacon on top. Season with salt and pepper.
Bake until the crust is firm and golden brown, about 10-15 minutes. Garnish with shaved parmesan.
http://www.nowyourecook.in/2015/02/01/bacon-shrimp-asparagus-white-pizza/
©Melissa Klotz - www.NowYoureCook.in