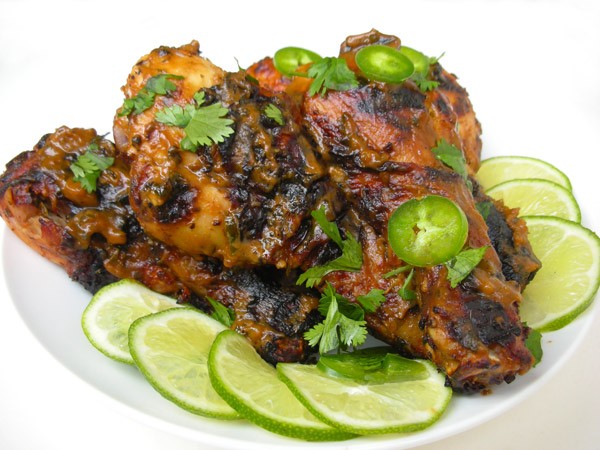 Chicken drumsticks are seasoned with a Thai peanut butter marinade, grilled, and then finished with a thick, slightly sweet sauce.
After an unusually cloudy and chilly month of May that extended into June, summer has finally started to crawl into southern California.
That warmth undoubtedly makes me crave food cooked on the grill. Sweet barbecue slathered chicken with just the right amount of crispy blackened parts, corn grilled on the cob, toss in a couple fries or a salad for good measure, and dinner is served.
Last fall, my boyfriend and I moved into a newer apartment complex with a pool, jacuzzi, and outdoor lounge area with two large stainless steel grills. It's heavenly!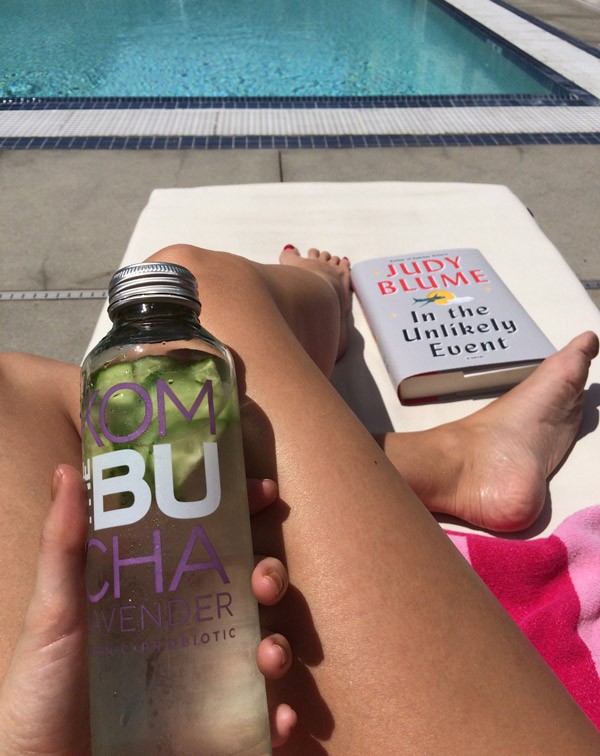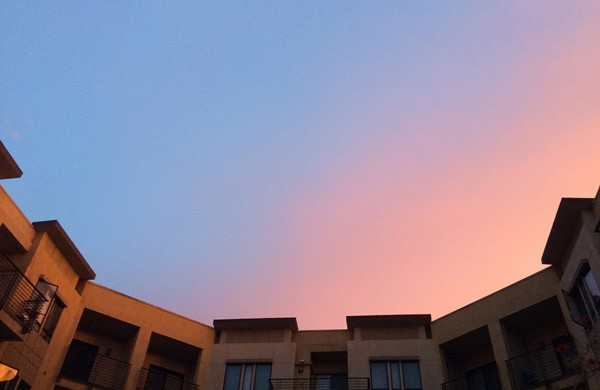 In my seven years living in Los Angeles, I've had a patio for two years and spent the other five wishing I had some sort of outdoor space. It's kind of strange — I spent 18 years living in Pennsylvania with all the lawns and outdoor space you could ever want, but I didn't particularly like spending time outside. I'd rather be inside where it's comfortably air-conditioned on my computer. It's true what they say: "you don't know what you've got till it's gone." Now in the land of palm trees, concrete, and too much traffic, all I want is a little area to sit outside and enjoy the breeze or get some sun or enjoy my morning coffee.
I am so thankful to finally have that!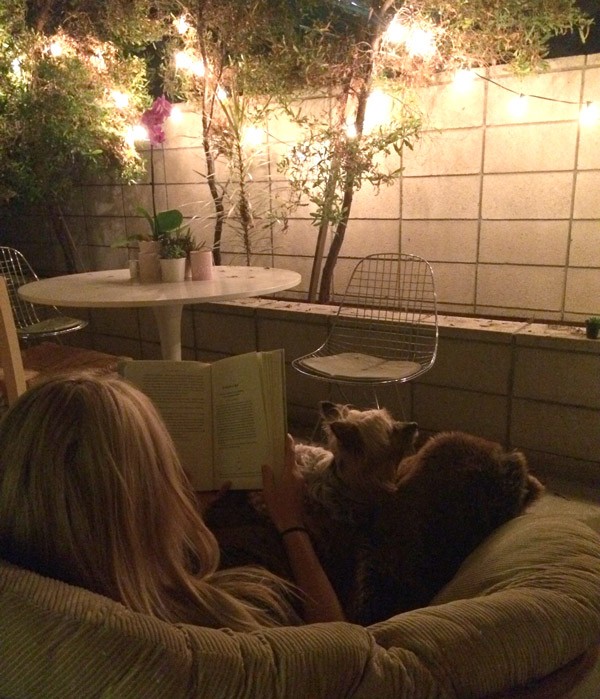 However, nothing is ever as lovely as it seems. So this gorgeous grilling area we have, well, the grills only work sometimes. Sometimes the only area of the grill that wants to heat up is a teensy tiny 6×8 little rectangle. That's when I give up and retreat back to my stove inside.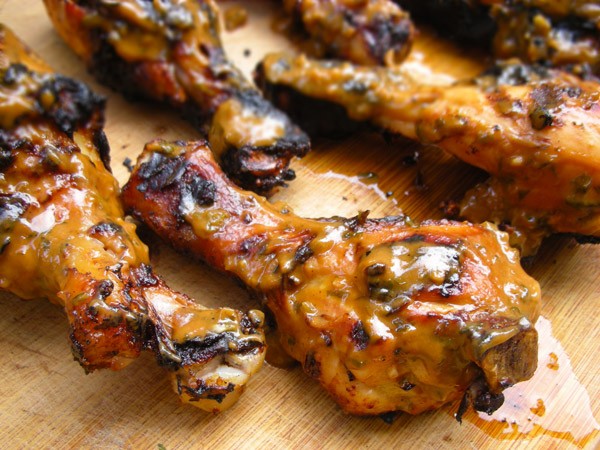 So, for all you readers who don't have a grill or even the outdoor space to put the grill, don't fret like I do when I usually see a recipe that requires a grill ("Ugh, grilling is too much work, NEXT!") — just throw the marinaded chicken in an oven at 400 degrees for about an hour, until it's cooked through.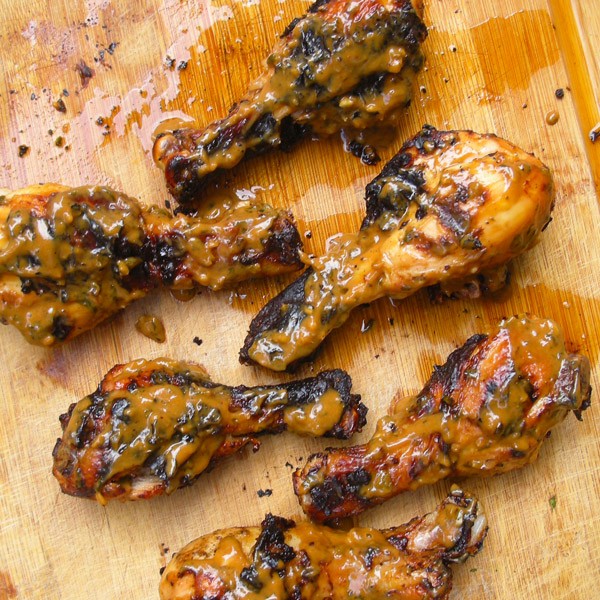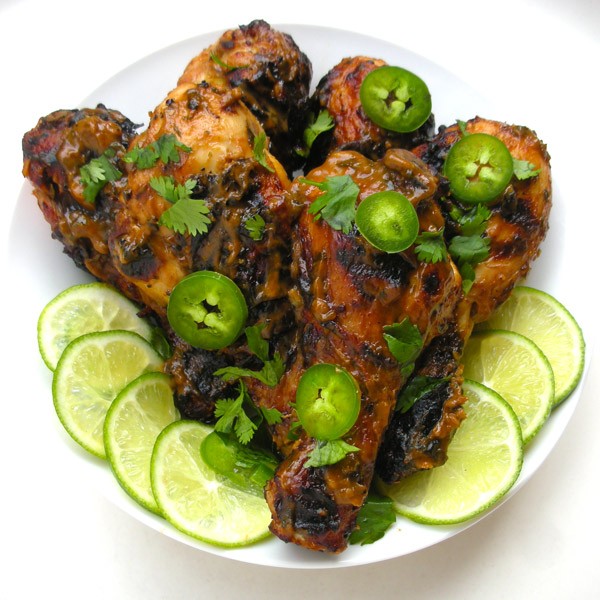 Thai Peanut Butter Grilled Chicken
Chicken drumsticks are seasoned with a Thai peanut butter marinade, grilled, and then finished with a thick, slightly sweet sauce.
Ingredients
1 clove garlic, minced
1 tsp minced fresh ginger
2 tbsp roughly chopped cilantro
2 tbsp low-sodium soy sauce
1 tbsp honey
2 tbsp lime juice
1 tsp Sriracha
2 tbsp peanut butter
1 tsp sesame oil
1 tbsp melted coconut oil or olive oil
2 tsp seeded and finely chopped jalapeño
2 lbs chicken drumsticks
optional garnishes: chopped peanuts, cilantro, jalapeño
In a large bowl, whisk the garlic, ginger, cilantro, soy sauce, honey, lime juice, Sriracha, peanut butter, sesame oil, coconut oil, and jalapeño until uniform.
Add the chicken drumsticks and toss to coat with the marinade. Transfer to a zip lock bag or storage container and allow to marinate in the fridge for 1 hour.
When ready to grill, remove the chicken from the marinade and reserve the marinade - this will become your sauce.
Grill the chicken until thoroughly cooked. Put the chicken on a platter and tent with foil to let it rest and maintain its temperature.
Meanwhile, place the leftover marinade in a small pot and bring to a boil, stirring occasionally. It's very important the marinade is brought to a full boil - this is how it becomes safe to eat even after being on raw meat.
Drizzle the sauce over the chicken. Garnish with cilantro, sliced jalapeño, or chopped peanuts (which I unfortunately forgot about!).
http://www.nowyourecook.in/2015/06/29/thai-peanut-butter-grilled-chicken/
©Melissa Klotz - www.NowYoureCook.in