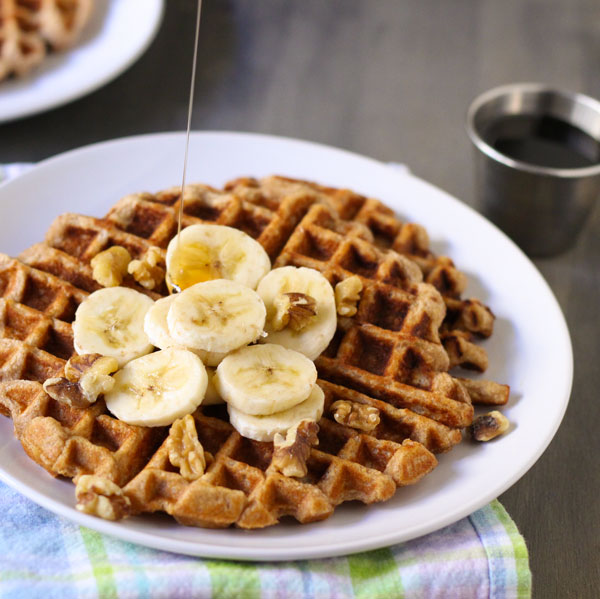 Bananas, walnuts, and spices deepen the flavor of a protein waffle mix to make a wholesome banana bread protein waffle that's satisfying for both breakfast and dessert.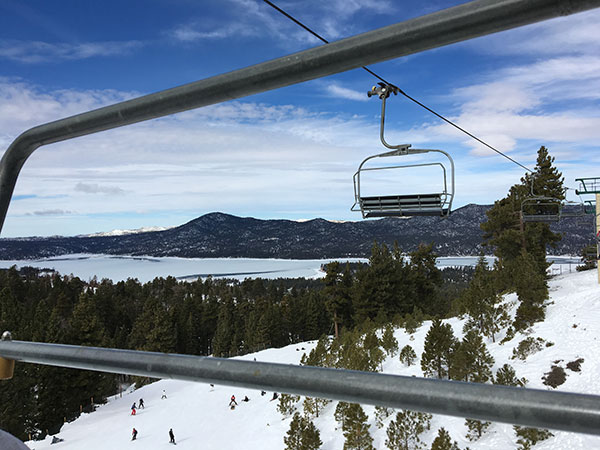 This past weekend was spent in Big Bear with my boyfriend and his friends. We arrived late Friday and spent the night catching up. Saturday morning we got up early and headed to Snow Summit for some skiing and snowboarding.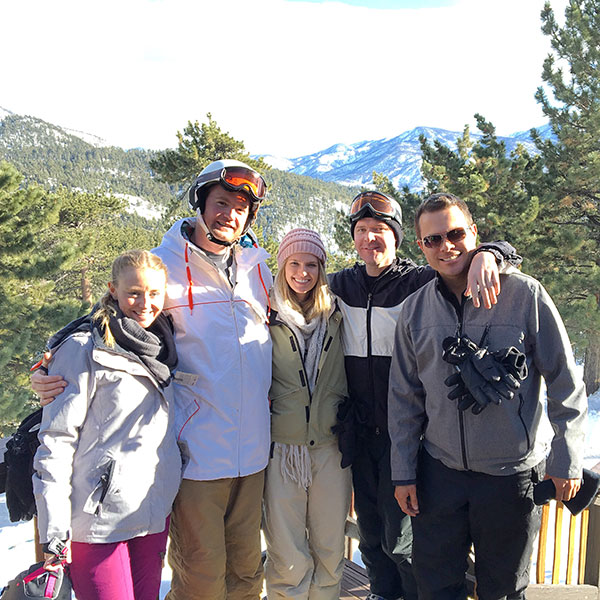 Despite spending 5 consecutive seasons snowboarding in middle school and high school in the Poconos, I'm now in a pattern of only boarding once every 6 years. In 2010 I snowboarding in California for the first time at Mammoth Mountain. I remember my legs were complete wobbly jello and I was only able to get a couple runs in before I was too tired!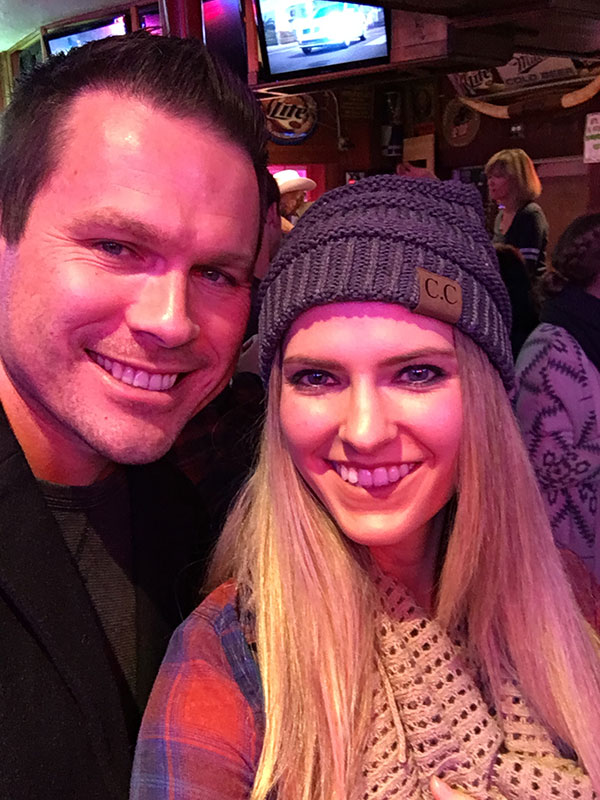 Since I wasn't working out at all during that time and I've significantly increased my muscle mass now, I was hoping it would be less taxing, but it was definitely still a challenge and I've got two very sore calves now. However, it was incredible and I'm inspired to try to get on the mountain at least once a year now.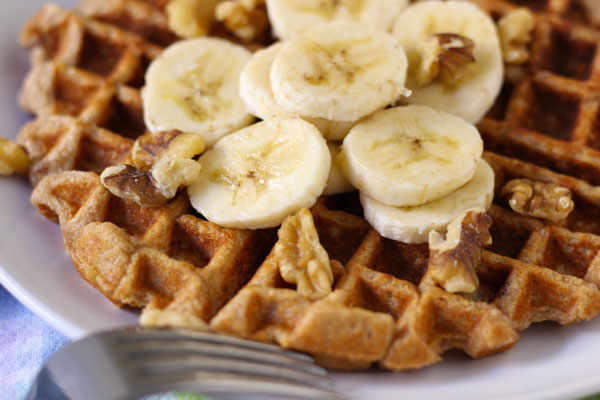 After a weekend filled with hearty and less-than-healthy meals (hello Chick-fil-A, cheeseburgers, fries, french toast, and bacon) I'm ready to clean up my act for the next couple weeks before we head to Miami in March!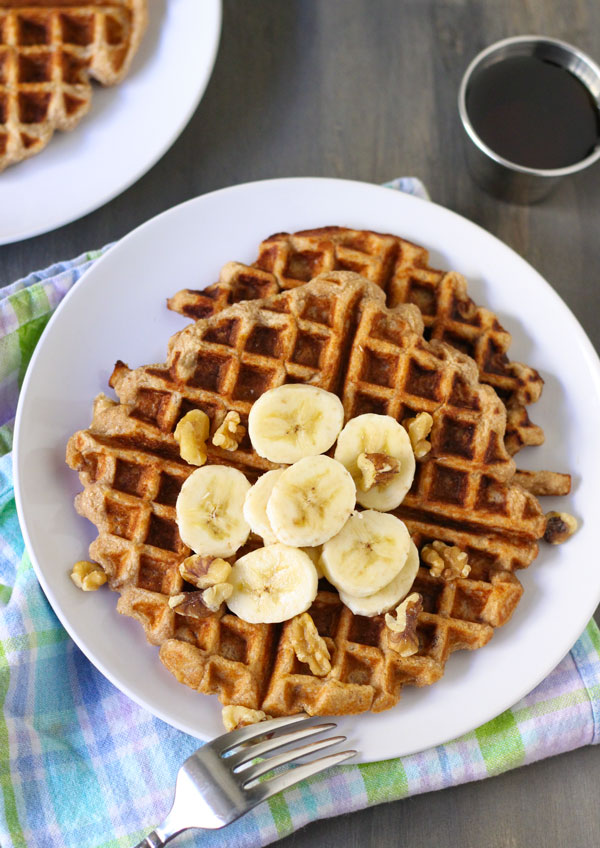 I got a new waffle maker for Christmas which replaces my giant George Foreman grill with removable waffle plates. Before I start waffling all of the things, I started with a more classic breakfast waffle.
These banana bread waffles are made with Kodiak Cakes Power Cakes Flapjack and Waffle Mix. The mix is 100% whole grain, packed with protein (14 grams!), and taste just like regular pancakes. No weird protein flavor.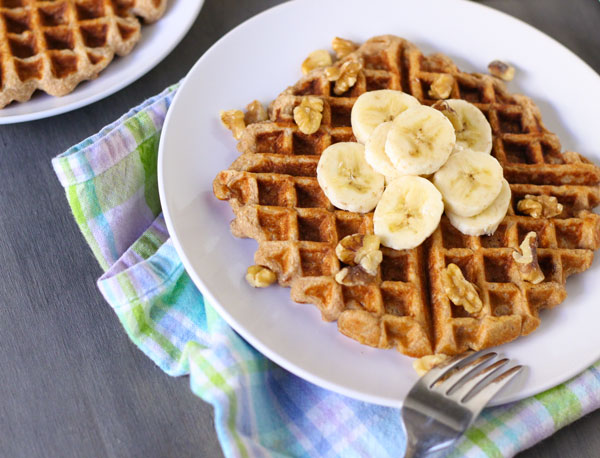 The best part is the protein because it's an easy way to get a bunch of protein in, especially if you add half a scoop of protein powder to bring the protein up to nearly 30 grams.
But the second best part? Just add water. No eggs or oils to mess around with. And the ratio is super easy. One part mix to one part water.
Thank you Kodiak Cakes for making my before-work-breakfast-rush a little bit easier.
So now that we have a fantastic waffle base, let's add some excitement!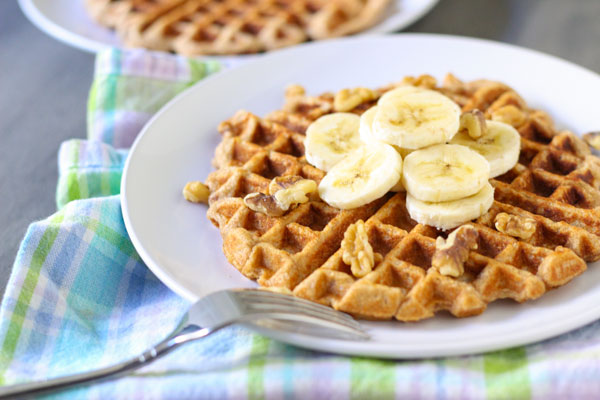 Mashed bananas, toasted walnuts, cinnamon, and vanilla are baked into protein-packed waffles for a guilt-free banana bread breakfast.
The mix already has a bit of brown sugar and we're adding bananas, so I didn't add any additional sugar. Plus you can also top the banana bread waffles with maple syrup, caramel sauce, and/or peanut butter if you really wanna go for it.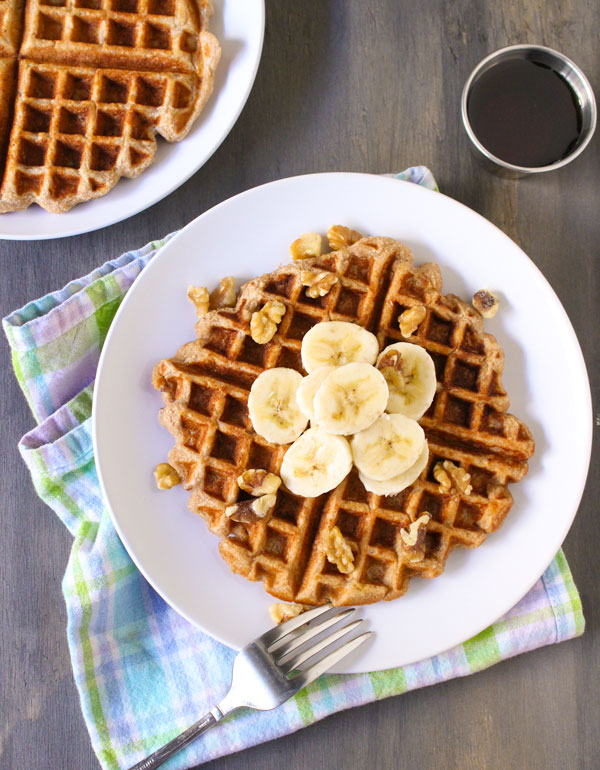 Banana Bread Protein Waffles
Ingredients
1/2 teaspoon cinnamon
1 banana, mashed
1/2 cup water
1/2 teaspoon vanilla extract
2 tablespoons toasted chopped walnuts
Optional toppings: caramel sauce, maple syrup, whipped cream
Warm up your waffle iron.
Whisk the waffle mix, cinnamon and walnuts in a medium bowl.
In a separate bowl, whisk the banana, water, and vanilla extract until smooth.
Add the wet ingredients to the dry ingredients, whisking until just combined. Do not over mix.
Cook the waffles as per the manufacturer's instructions to your desired doneness.
Serve with caramel sauce, maple syrup, and whipped cream, if you like. Peanut butter is always a good compliment to banana too!
http://www.nowyourecook.in/2016/01/18/banana-bread-protein-waffles/
©Melissa Klotz - www.NowYoureCook.in