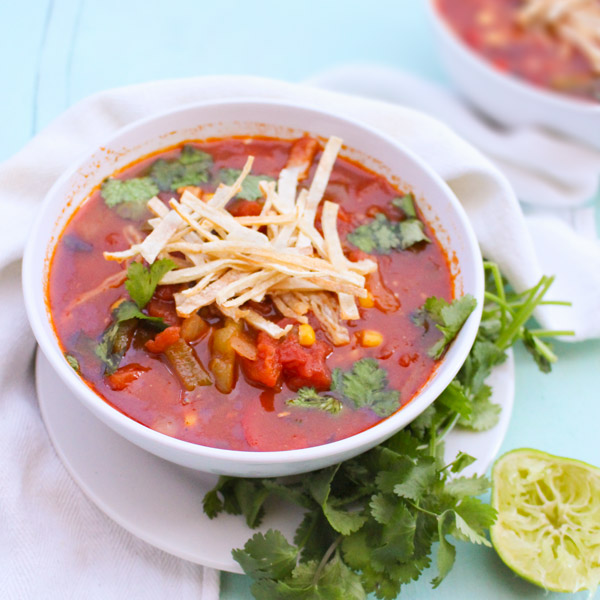 This hearty tomato-based soup is loaded with veggies and chicken, has a smoky chipotle kick and is topped with homemade crispy tortilla strips.
You know you're obsessed with food when you're excited about a new grocery store opening nearby.
A new Lassens grocery store was announced a couple blocks from my apartment, but its grand opening has been delayed for over 4 months. Each time we drove by I would get excited by little signs of progress, such as signs for a hiring fair, the shelving going in, and then *gasp* ice creams and pizzas lining the freezer case.
How I missed the grand opening 2 days ago I have no idea, since I've been checking every couple weeks for updates on the opening.
But today I found this glorious little tweet.
It's true. We're open! Wilshire La Brea is open for business! pic.twitter.com/xH8d4JHFx9

— Lassen's (@Lassens) February 2, 2016
So off to Lassens I went on my lunch break! It was glorious. An entire row of bulk goods with every flour you could imagine, Groundwork coffee, chocolates, cereal. A butcher, hot food bar, pre-made sandwiches, made-to-order foods, and a giant section of vitamins and beauty products. We're going to have a great time getting to know each other.
Since today is National Homemade Soup Day, how about some Chipotle Chicken Tortilla Soup?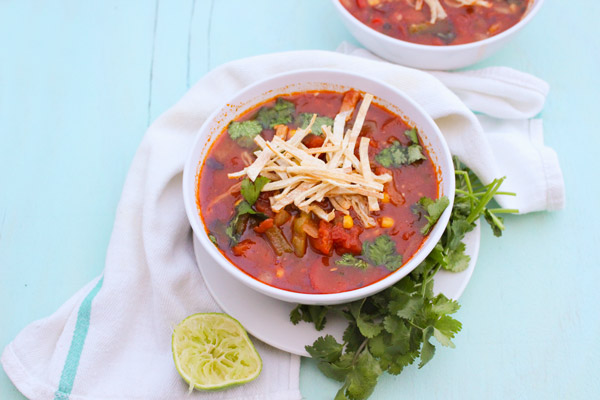 This soup is based off my vegetarian tortilla soup. Just as you could easily add chicken to that soup, you can easily leave the chicken out of this one.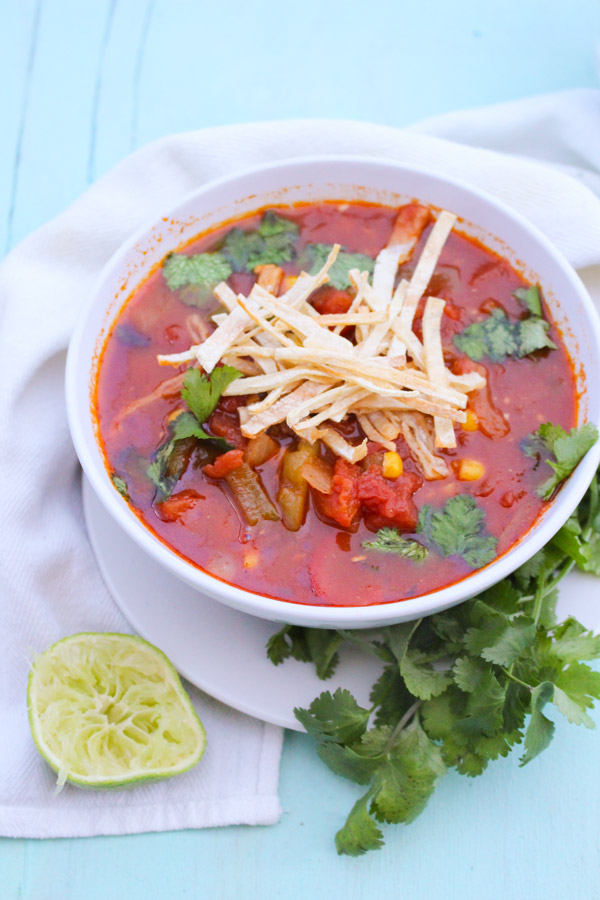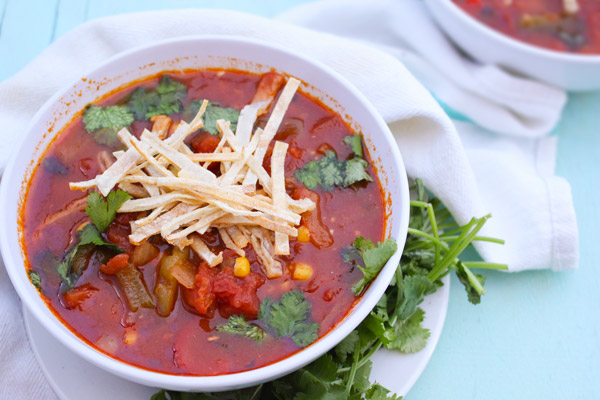 The recipe is very forgiving. Want to add some beans? Black or pinto would work fabulously. Avocado would be a great addition to the top. No tortillas on hand to make crispy tortilla strips? Crush up some tortilla chips instead. No cilantro on hand? That's fine, leave it out.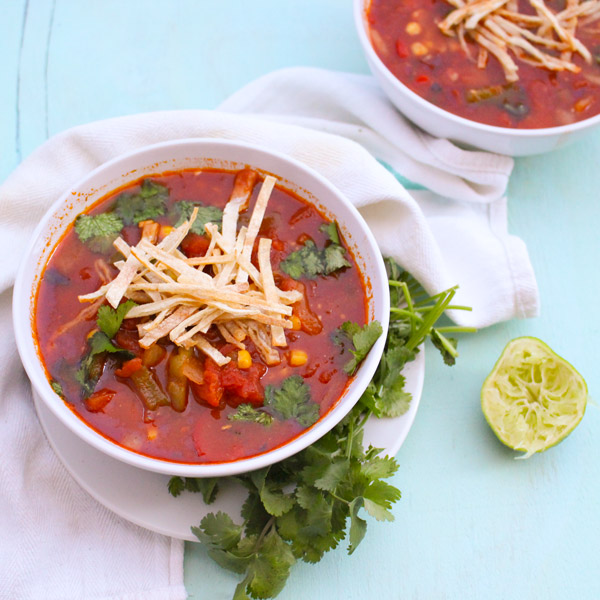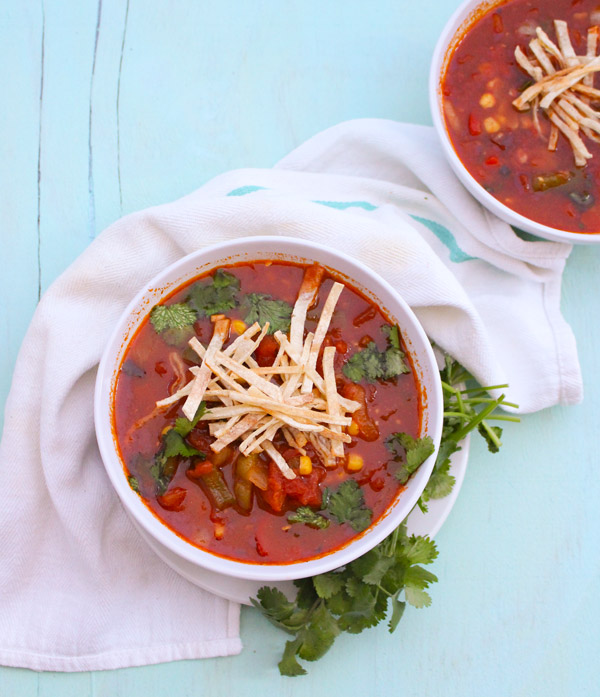 Chipotle Chicken Tortilla Soup
Ingredients
2 tablespoons olive oil
4 garlic cloves, minced
1 teaspoon chili powder
1 teaspoon cumin
2 cans (14.5 ounces each) diced tomatoes in juice
1 cup chicken or vegetable stock
2 chipotle peppers (packed in adobo), chopped
2 teaspoons adobo sauce
2 cups frozen pepper/onion mix
1 cup frozen corn kernels
kosher salt and ground pepper
1 tablespoon fresh lime juice, plus lime wedges for serving
4 small corn tortillas
2 cups cooked shredded chicken
Optional: fresh cilantro
Preheat oven to 375 degrees.
In a large pot, heat olive oil over medium heat. Add garlic, chili powder, and cumin. Stir until fragrant.
Add the tomatoes, chicken stock, chipotle peppers, adobo sauce, peppers/onion mix, and corn. Fill one of the empty tomato can with water and add it to the pot. Stir to combine. Add salt and pepper to taste.
Bring the soup to a simmer and cook for 15-20 minutes, then add the shredded chicken and lime juice. Cook for another 5 minutes to allow the chicken to heat up.
While the soup is cooking, cut the tortillas into very thin strips. Place them in a single layer on a baking sheet and bake until crisp and beginning to brown, 7-10 minutes.
Serve the soup in bowls topped with tortilla strips, cilantro, and an additional lime wedge.
http://www.nowyourecook.in/2016/02/04/chipotle-chicken-tortilla-soup/
©Melissa Klotz - www.NowYoureCook.in
Have leftover chicken and tortillas? Make these Sweet Potato and Avocado Quesadillas: