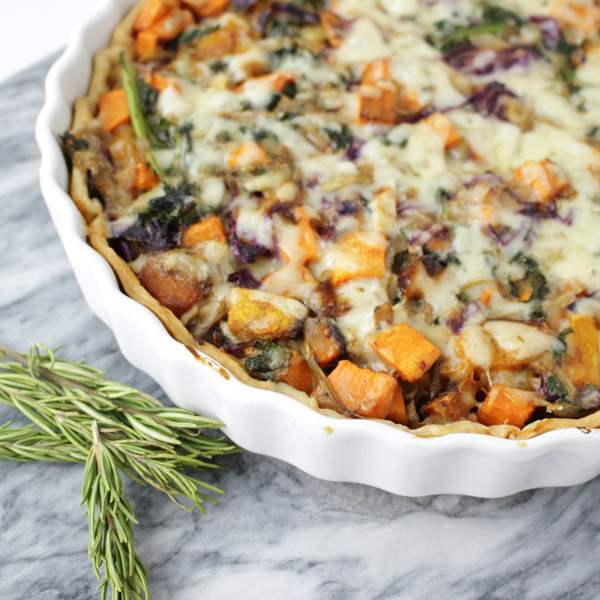 A beautiful cheesy tart of butternut squash, sweet potato, and greens in a buttery crust.
I had so much going on in March that the month just flew by!
On March 16, we welcomed another niece to the family – Violet Elizabeth! When Sean's sister's first daughter was born, they were living in San Francisco and we were on our way to Coachella. It was a bummer we weren't able to be there, so I was super excited to be at the hospital for baby #2.
After a couple hours with the family and big sister Caroline, Sean and I flew to Miami for Music Week. It was Sean's 12th trip and our second together. We rented a little Airbnb off Washington Blvd which ended up being in the middle of construction zone… with a giant pipe sticking out of the middle of the road. Luckily the construction workers were on spring break or something because we never saw anyone working, so it was just funny.
We went to Sasha's annual yacht party, saw Autograf and Goldroom at a pool party at the Delano, Disclosure in Wynwood, and John Digweed at Treehouse.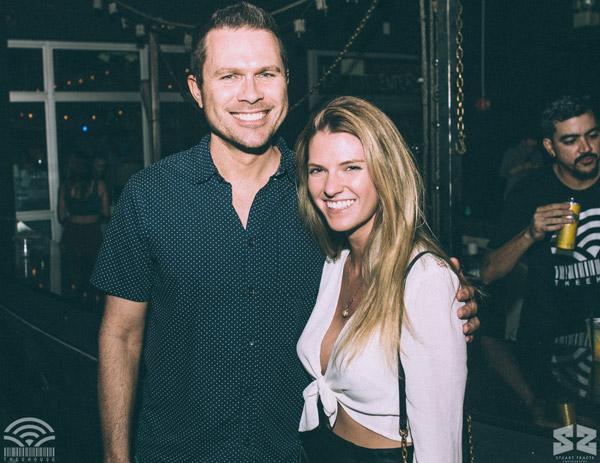 Photo by Stuart Tracte
I was excited to get to catch up with one of my good friends, Andrew, who moved to Florida last year. We got drinks and dinner along Ocean Drive.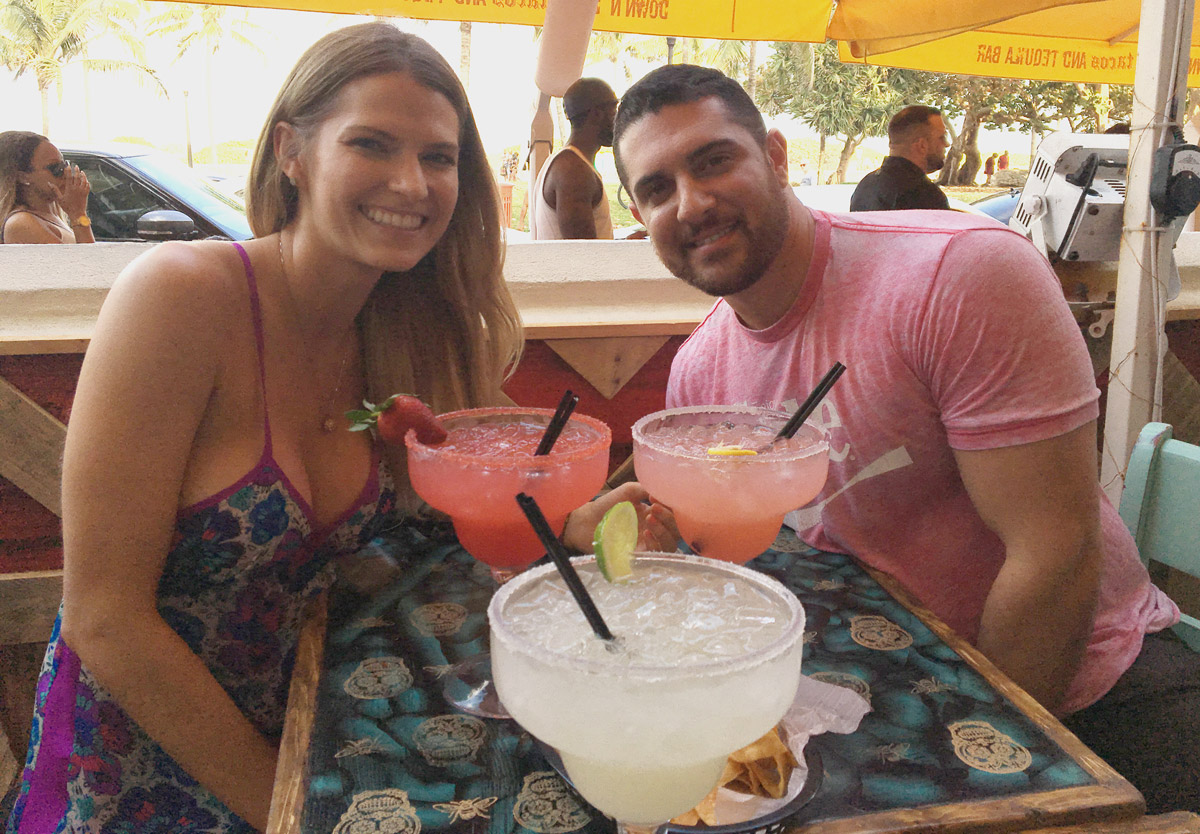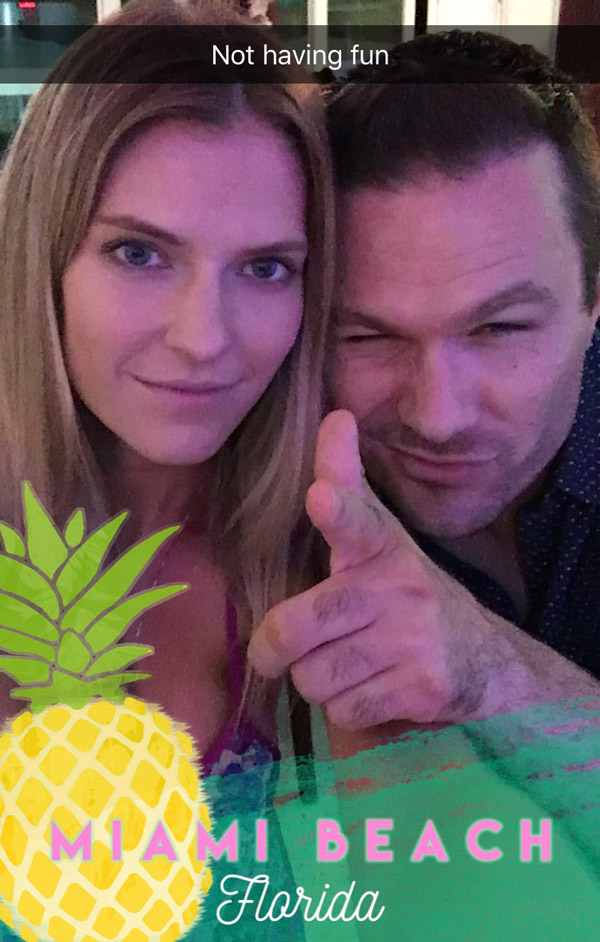 We revisited two restaurants we really liked last year, Oh! Mexico on Espanola Way (their mole enchiladas are so good!) and Yardbird Southern Table. I just loooove Yardbird, the decor is so pretty, and of course their food and drinks are delicious. They opened a second location last year in Las Vegas. I'm hoping to get there in two weeks when I'm in town for work.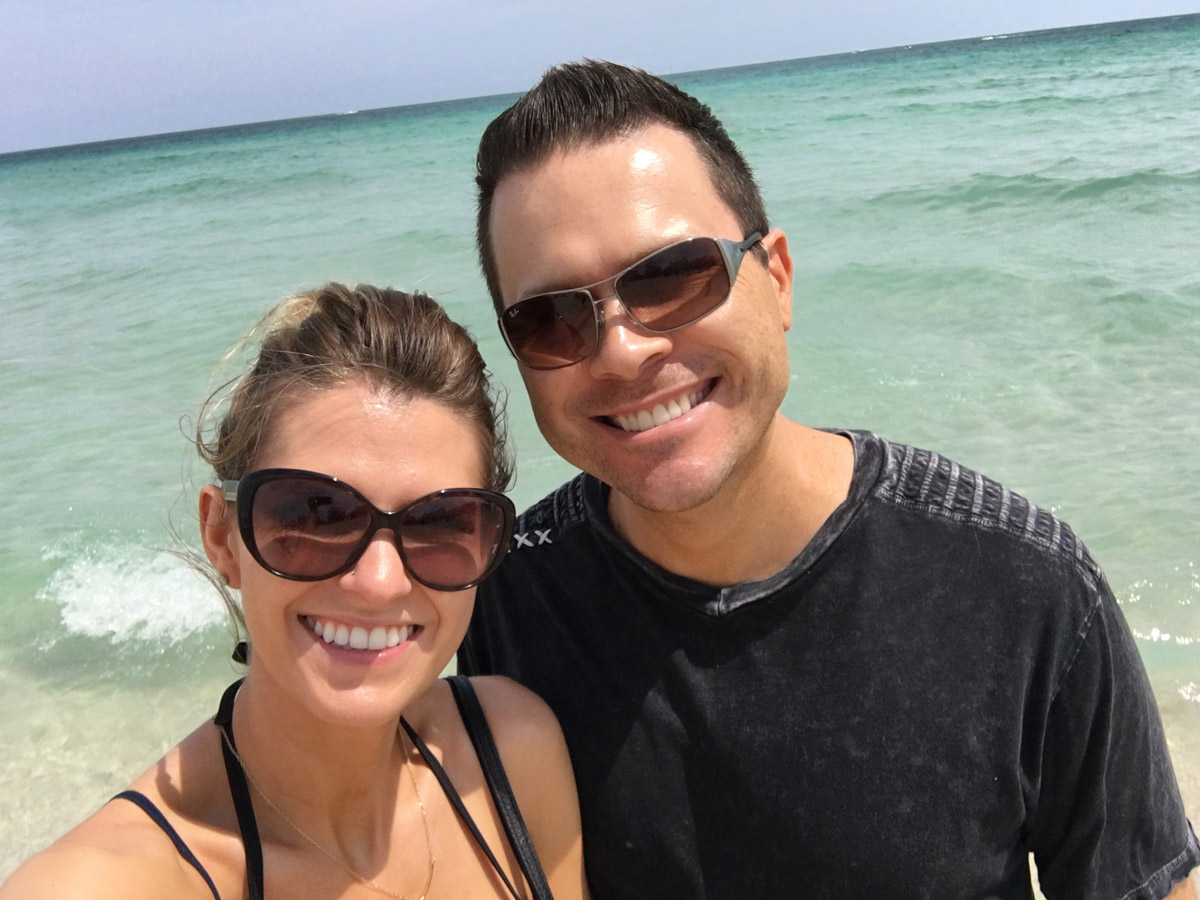 On our last night, we went to the Fountainebleau, which I really wanted to go to last year, but we ran out of time. It reminded me of a Vegas-style hotel without the casino. I loved the chandelier and furniture in the lobby area. Gold and sparkly, my kind of look!
We had dinner at Michael Mina 74, which is American bistro food with an Asian influence. The restaurant is tucked downstairs (underneath the club LIV), and when we entered, Sean realized he'd been there when it was a club and Deadmau5 was performing. That was kind of a trip. The ceiling still had exposed ducts that were painted black, very reminiscent of a club. We had the Spicy Crab roll, which is king, jumbo lump, and snow crab with sambal aïoli, and warm ponzu butter. Then we shared their wedge salad, which had a ginger-carrot dressing, and I got the Florida snapper which is served on top of a shrimp rice cake, with pineapple, coconut curry, and chili oil. Sean ordered the skirt steak. The entrees were large — Sean's plate was loaded with steak! They also have the peanut butter crunch burger, which I first had at Michael Mina's Pub 1842 a few years ago in Vegas. It's a beef burger with a peanut butter sauce, pimento cheese, bacon, and potato chips. It was just as heavy as it sounds, but worth a try.
Even though we were super full we couldn't resist an eclair from the Fountainebleau's bakery, Chez Bon Bon.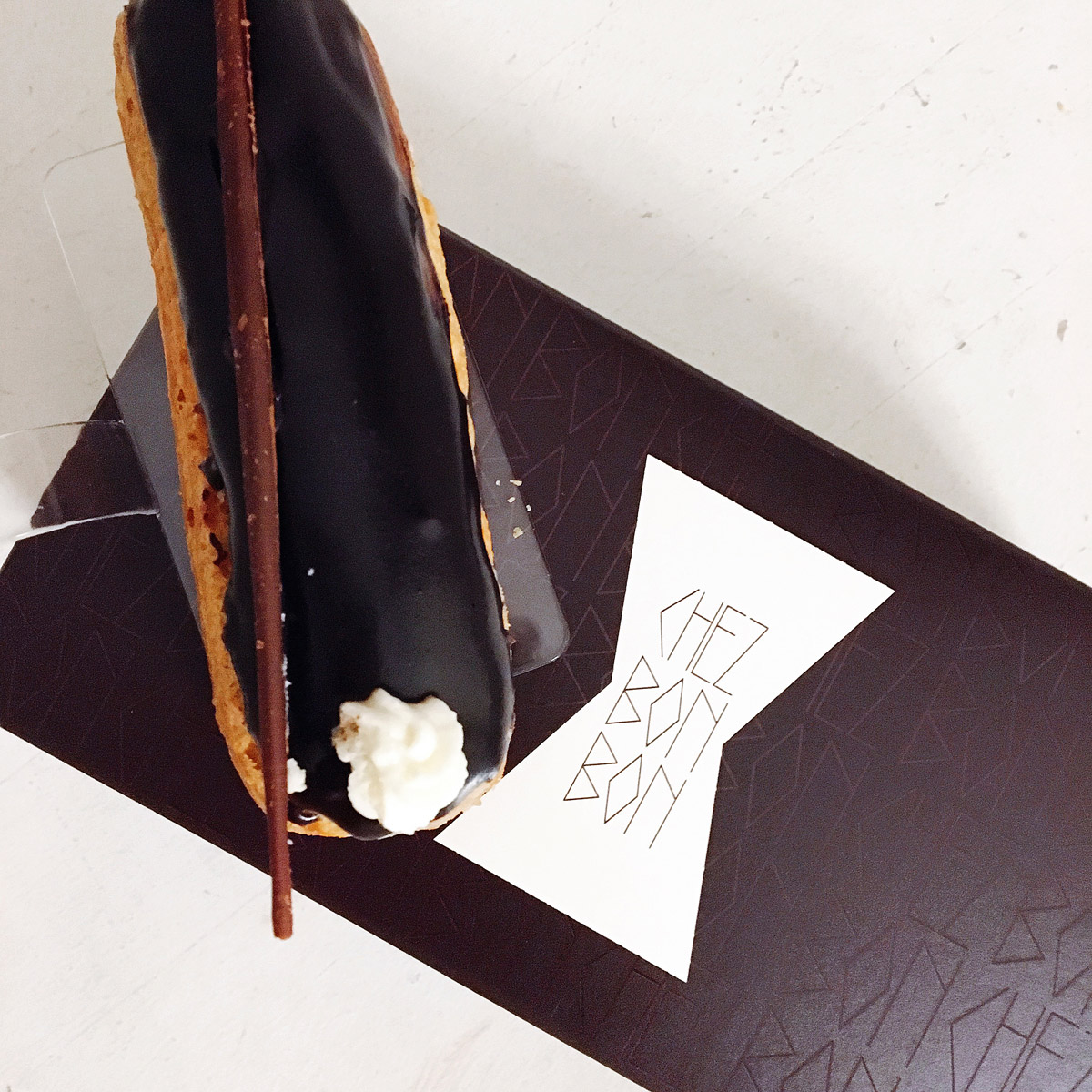 Before all this vacation fun, I had been working from home for a few days, so I made this tart and ate it all week for lunch.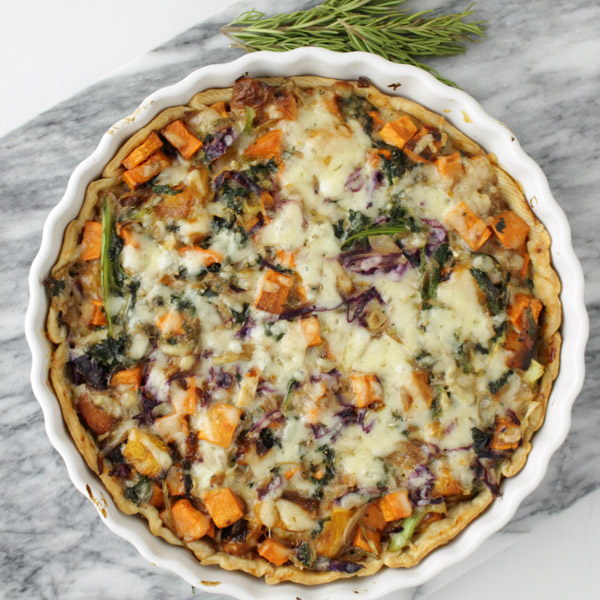 It's slightly sweet from the squash and sweet potatoes, but also salty and cheesy and buttery. I love Trader Joe's Cruciferous Crunch because it's a shredded blend of all the good for you veggies: kale, broccoli, cabbage, and brussels sprouts.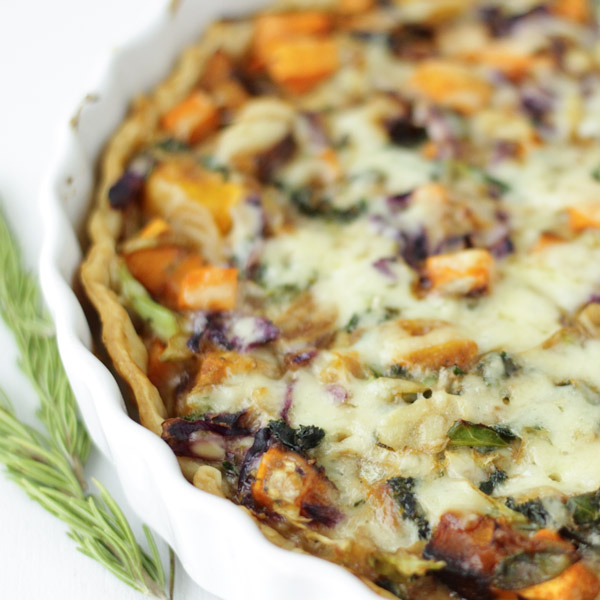 This tart would be a really great addition to a brunch, but it works perfectly for dinner too, served with a green salad (more Cruciferous Crunch, perhaps?).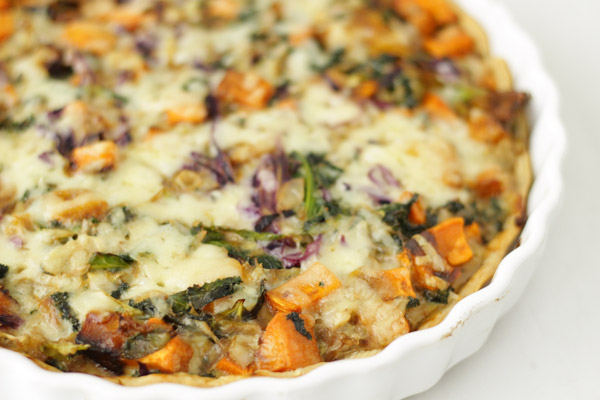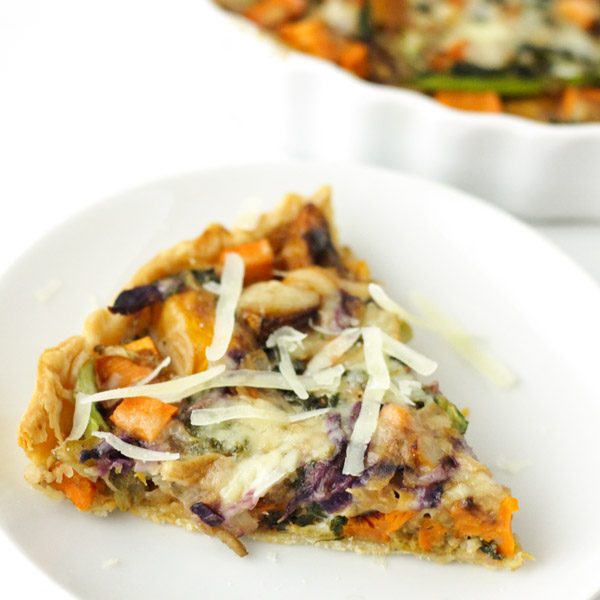 As is the case with most of my recipes, this tart is super versatile. If you don't have Gruyère, Swiss, or Gouda cheese, you could use cheddar or mozzarella. If you don't have access to a Trader Joe's and their Cruciferous Crunch, use kale, spinach, or swiss chard. The final product will vary slightly, but it will definitely still taste good.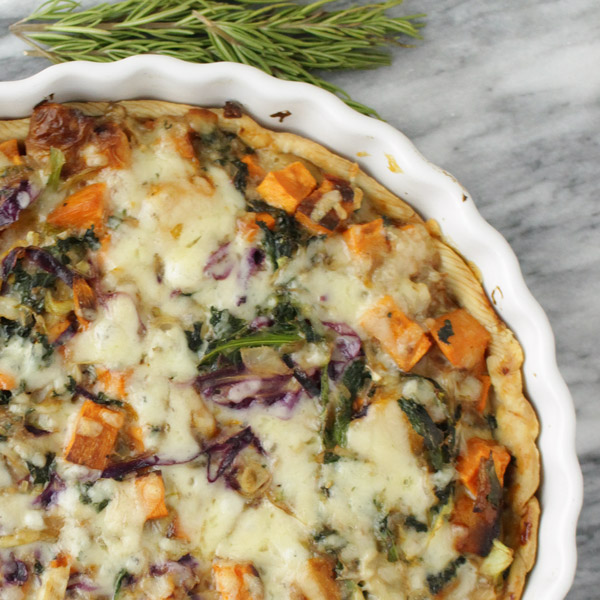 Cheesy Butternut Squash and Sweet Potato Tart
Ingredients
1 pre-made pie crust
2 cups cubed butternut squash
2 cups cubed sweet potato
1 tablespoon extra-virgin olive oil
3/4 cup onion, diced
4 garlic cloves, minced
4 cups Trader Joe's Cruciferous Crunch, chopped kale, chopped Swiss chard, or chopped cabbage
1 tablespoon balsamic vinegar
1/2 teaspoon kosher salt
1/4 teaspoon freshly ground black pepper
2 large eggs
2.5 ounces Gruyère, Swiss, or Gouda cheese, shredded and divided
Prepare and bake your pie crust according to manufacturer's instructions. I used Pillsbury Refrigerated Pie Crust.
Preheat oven to 400 degrees.
Spray a baking sheet with olive oil. I use a Misto to do this. Toss the squash and sweet potato and spread in an even layer on the baking sheet. Spray with oil. Bake for 25 minutes.
In a large skillet, heat 1 tablespoon of olive oil over medium heat. Add the garlic and onion and cook until softened, about 5 minutes.
Add the cruciferous crunch (or whichever greens you're using) and balsamic vinegar. Season with salt and pepper. Stir until wilted and softened, 3-4 minutes.
In a large bowl, whisk the eggs. Add the greens and 2 ounces cheese, stirring to combine. Gently add the squash and sweet potatoes, tossing to coat.
Pour the mixture into the pre-baked pie shell. Sprinkle with remaining 1/2 ounce cheese. Bake for 25 minutes.
http://www.nowyourecook.in/2016/04/23/cheesy-butternut-squash-and-sweet-potato-tart/
©Melissa Klotz - www.NowYoureCook.in