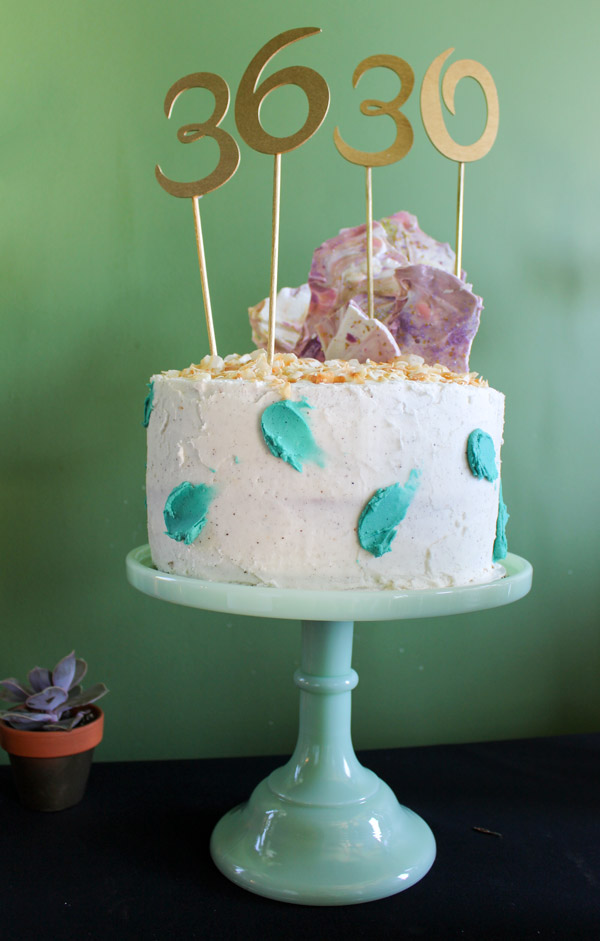 A coconut cake with passionfruit filling and vanilla bean buttercream frosting that's sure to be a birthday party hit.
Last week I said "Adios" to my 20s. It seems like just last year I was celebrating my 25th birthday. Reflecting on the past 5 years, the first two were slow and difficult, but then I met Sean and the last three have just flown by. It's funny how that happens when you have a really easygoing relationship!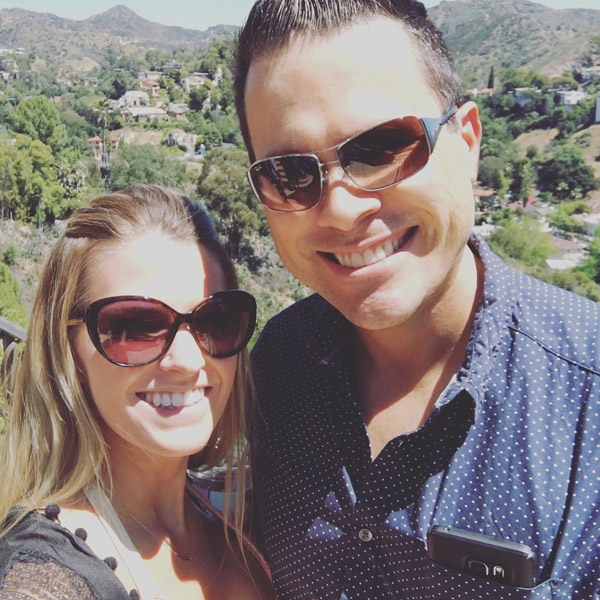 My 29th birthday last year was bittersweet. Sean conspired with my best friends on the east coast to plan a surprise visit. However, my grandma was suddenly in the hospital fighting for her life and I was debating on whether I should fly to PA. My friends surprised me Thursday night and she passed away Friday morning. It was a blessing in disguise — she was no longer in pain, and I had some of my best friends with me to deal with my new pain. My birthday party went on, as I know she would have wanted it to. We had a pool party and BBQ at our place with many of Sean and I's friends, but for me it was still tinged with the sadness and pain of losing my first relative.
This year, since Sean and I's birthdays are only 11 days apart, we decided to throw one mega party. My friends again flew out from the east coast and two of my friends who moved to San Francisco flew down too. Sean's friends let us throw a party at their beautiful house in the Hollywood Hills. We ordered sandwiches from Mendocino Farms (our favorite), my friends made some side dishes, and I made the desserts.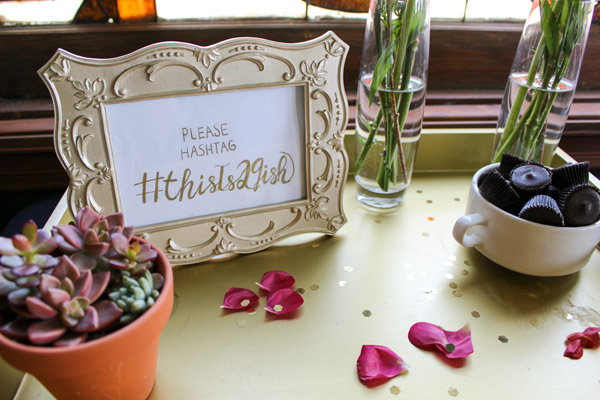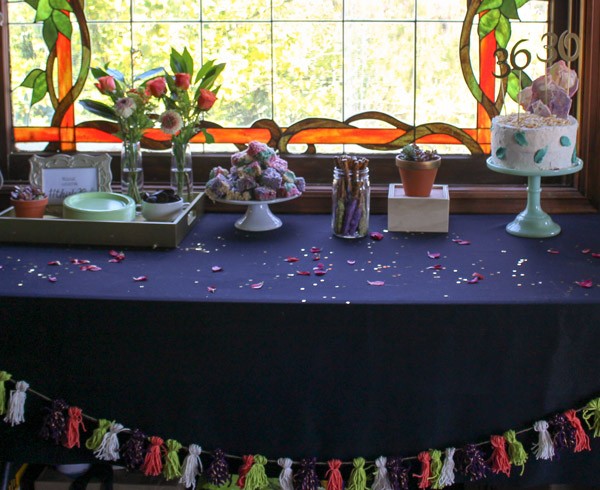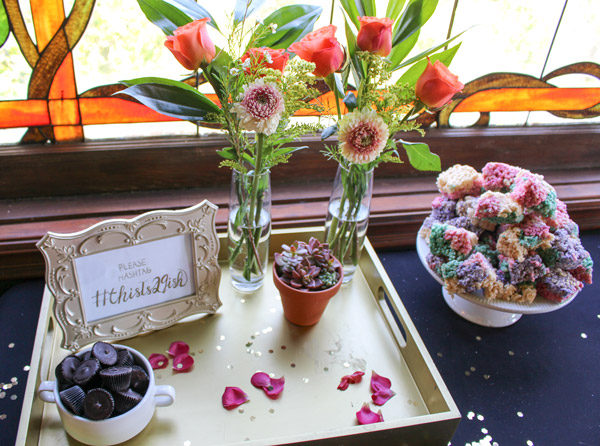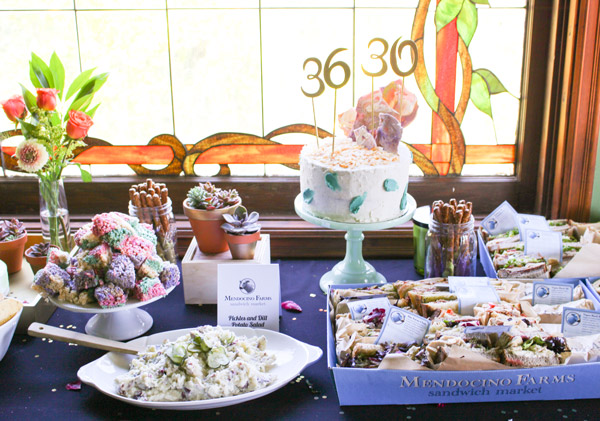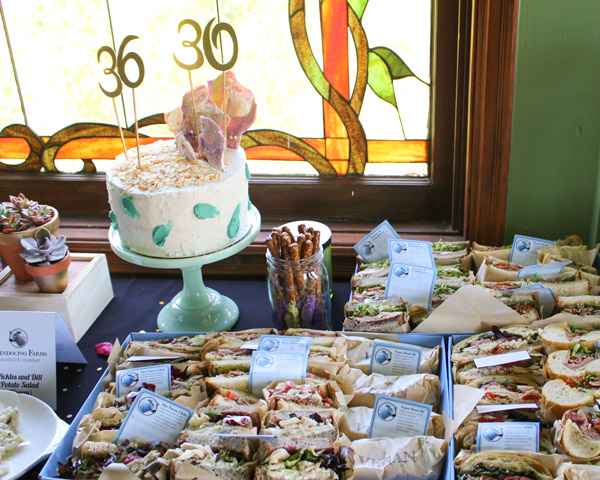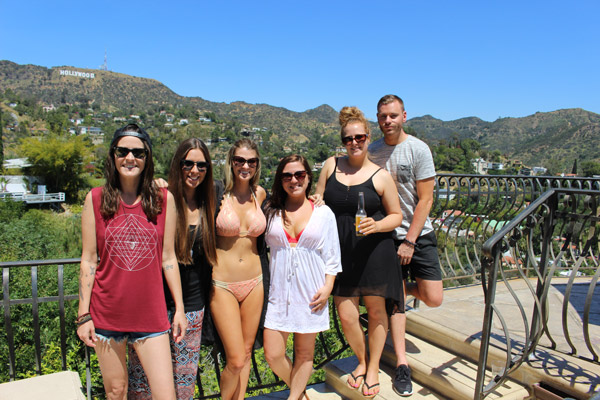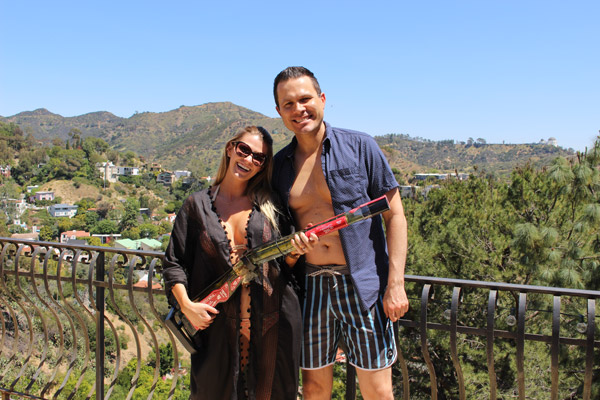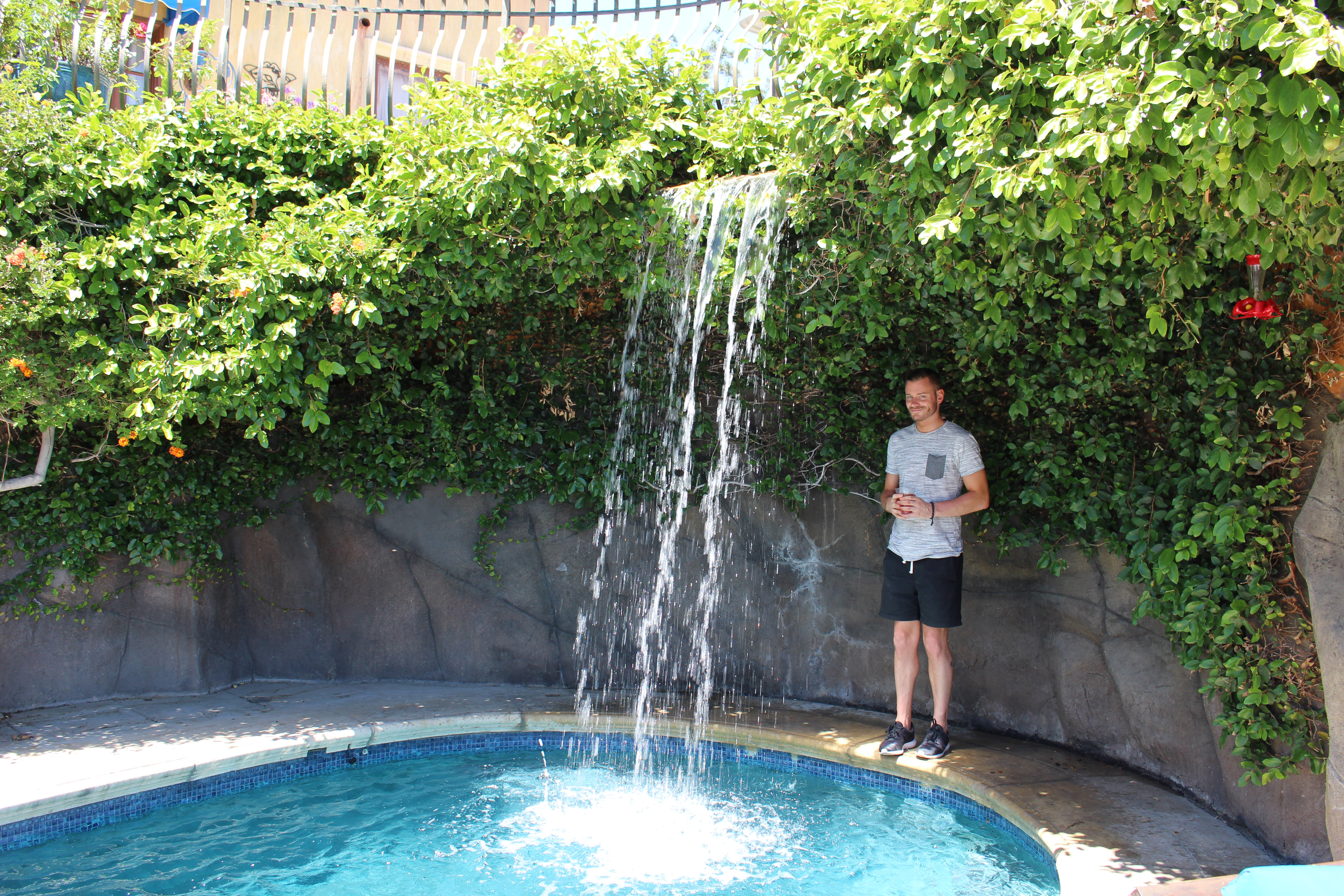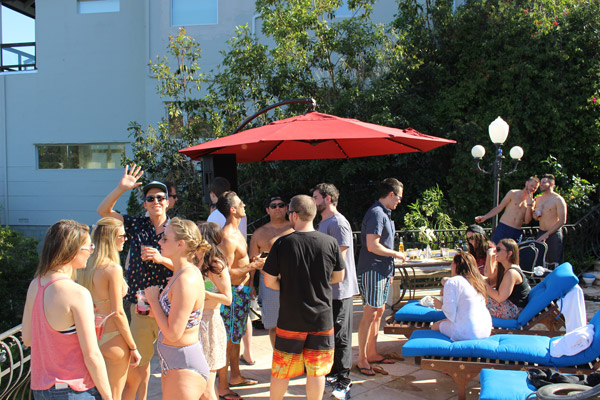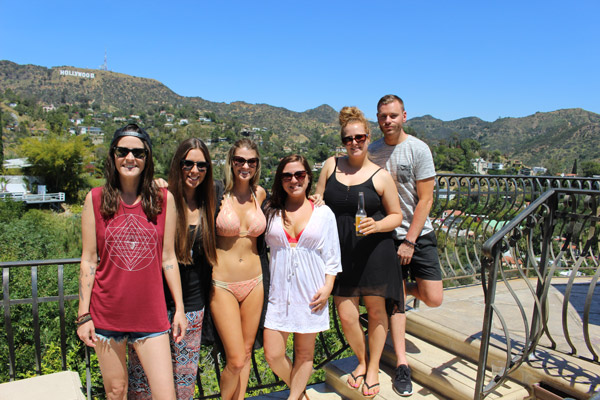 Let's talk about cake because cake is the best. I made my favorite Coconut Passionfruit layer cake, but used this Leap Year cake as the design inspiration. Instead of the whipped cream or lemon frostings in these recipes, I made a vanilla bean frosting using vanilla bean powder. Then I used Wilton Candy Melts and sprinkles to create an abstract chocolate topper.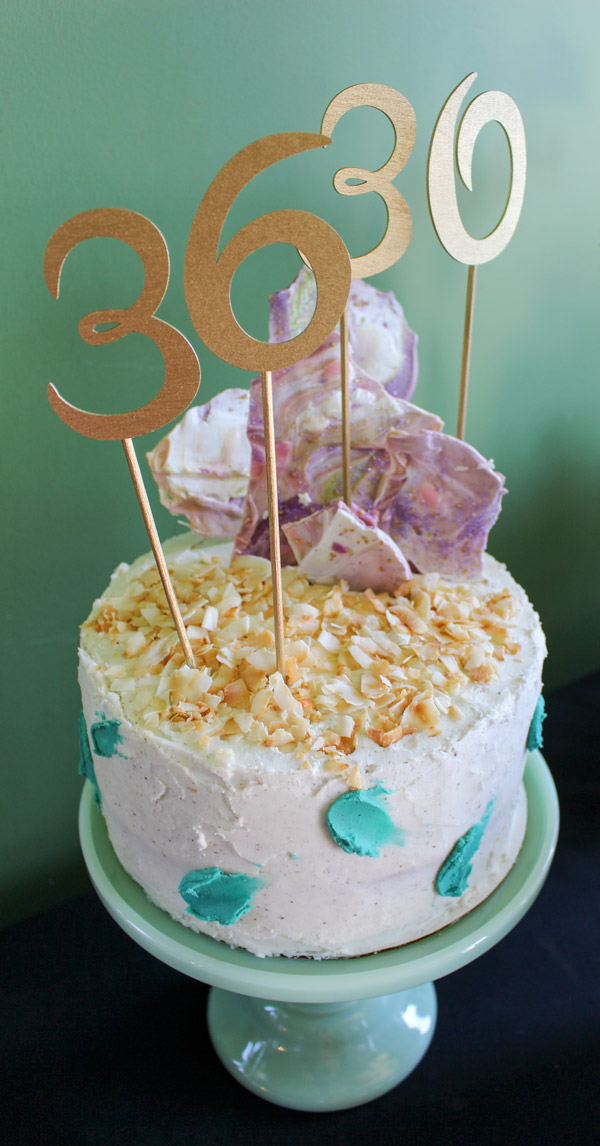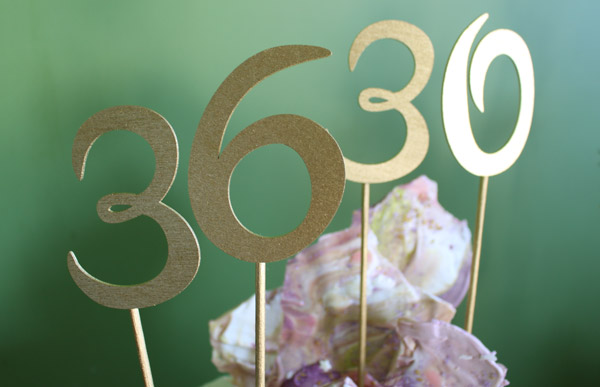 I made my own number cake toppers and spray painted them gold for about $1 each using materials I found at Michael's. I threw in a little sprinkle of toasted coconut for good luck. I put the whole thing on a jadeite milk glass cake stand I'd been wanting to get for years.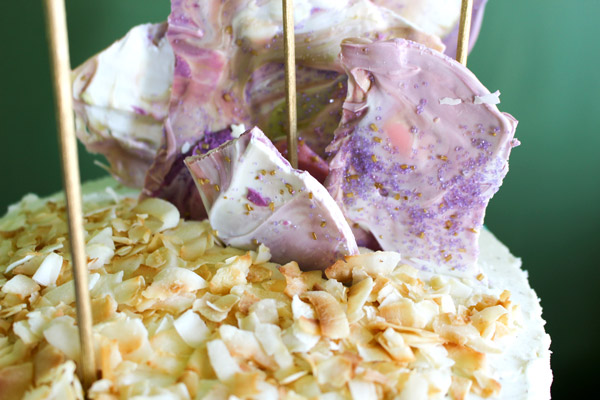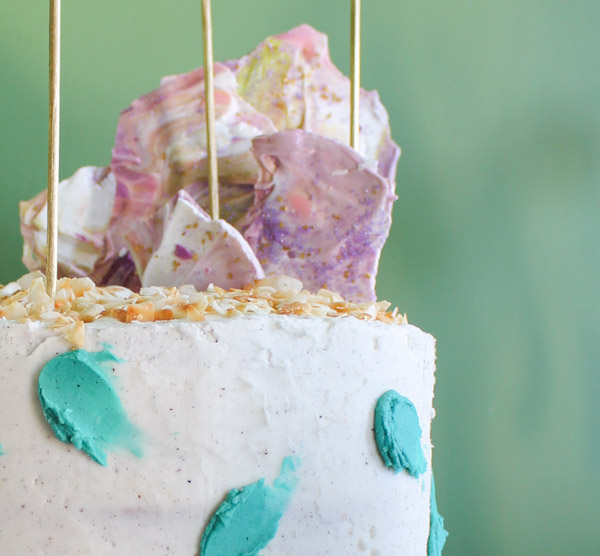 I'm so excited with how the cake turned out. I am still terrible at leveling off cakes and cutting them into even layers (two layers were thick and two were thin — oops), so the cake was a tiny bit lopsided, but all the stuff I planned to decorate it with took the attention off that.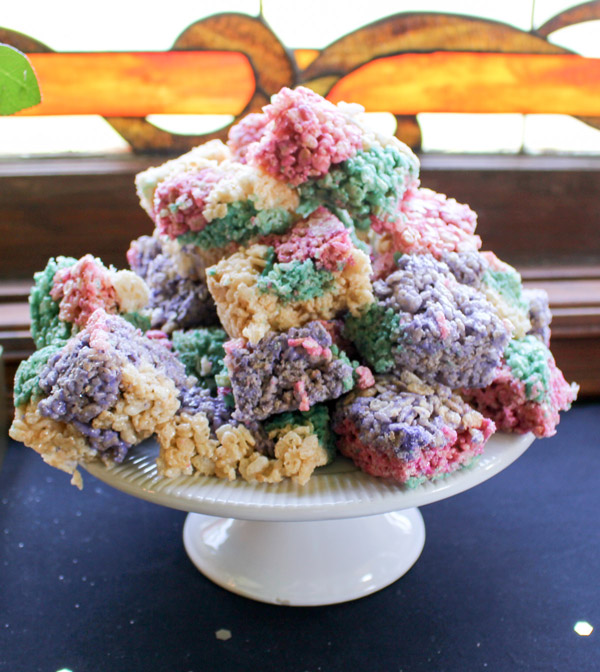 I also made some multicolored Rice Krispies treats, which were fun, but I winged it and didn't separate it into four colored batches from the start. I colored as much cereal as I could fit into our regular cereal bowls, then dumped it in the pan, then made another batch, and so on. So I ended up mixing about 12 different batches instead of the four I would've been able to do if we had more mixing bowls. Add that one to our wedding registry!
I've been having so much fun making these cute little layered cakes. Using a smaller pan, like a 6 inch or 8 inch pan really does make a difference compared to years ago when I made birthday cakes using 9 inch pans. The 9 inch plans just make cakes that are too wide. With an 8 or 6 inch pan you can easily get away with baking two layers, then splitting them in half to create four layers. The 9 inch pans end up being more wide than they are tall so you need to bake a third layer to get any impressive height. Plus, that ends up being so. much. cake.
I'm happy to have been commissioned to make my BFF Lauren's 30th birthday cake for next week! Surprisingly I haven't decided exactly what I want to do yet… But you can bet I'll be blogging about it
Coconut Passionfruit Birthday Cake
Ingredients
CAKE

4 1/4 cups all-purpose flour
2 1/4 cups sugar
1 tablespoon plus 1 1/2 teaspoons baking powder
2 teaspoons kosher salt
2 sticks unsalted butter, room temperature
1 1/4 cups unsweetened coconut milk
3/4 cup water
2 teaspoons pure vanilla extract
6 egg whites

FILLING

3/4 cup sugar
1/4 cup cornstarch
1 cup passion fruit nectar or puree
4 egg yolks
1/2 teaspoon vanilla bean powder
1 stick unsalted butter, cut into tablespoons

FROSTING

1/2 lb unsalted butter, room temperature
600 grams powdered sugar
1 teaspoon vanilla bean powder
1 teaspoon vanilla extract
unsweetened almond milk

TOPPINGS

1/3 cup flaked unsweetened coconut
Wilton Candy Melts in assorted colors
Sprinkles
Preheat the oven to 350°. Line the bottom of two 8-inch round cake pans with parchment paper and spray with nonstick cooking spray.
In the bowl of a stand mixer fitted with the paddle, mix the flour, sugar, baking powder and salt at low speed. Mix in the butter, coconut milk, water and vanilla until combined. Scrape down the bowl and beat at high speed until very smooth, 2 minutes.
In a medium bowl, using an electric mixer, beat the egg whites until soft peaks form, 2 minutes. Fold half of the egg whites into the batter until incorporated, then fold in the remaining whites until no streaks remain.
Divide the batter among the cake pans. Bake for about 45 minutes, until a toothpick inserted in the centers comes out clean. Cool the cakes in the pans on a rack for 15 minutes, then invert them and let cool completely, about 2 hours.
In a saucepan, whisk the sugar and cornstarch. Whisk in the passion fruit nectar, egg yolks and vanilla bean powder and cook over moderate heat, stirring constantly, until thick, 6 minutes. Remove from the heat; whisk in the butter, 1 tablespoon at a time, until incorporated. Scrape the filling into a glass bowl, press a sheet of plastic wrap on the surface and refrigerate until chilled, about 2 hours.
For the frosting, beat the butter until light and creamy. Slowly add the powdered sugar, beating until creamy and light. Add the vanilla bean powder and extract and beat. The frosting should be thick but spreadable. Add almond milk by the teaspoon to thin if necessary.
Put 4 tablespoons of frosting in a small bowl and dye with food coloring. I used gel coloring which is more vibrant than regular food coloring. Set aside.
Using a serrated knife, cut each cake in half horizontally to create 4 layers. Set one layer on a cake plate. Spread with 1/3 of the filling. Repeat with the remaining layers and filling, ending with a layer of cake.
Coat the entire cake with a crumb coat of white frosting. Refrigerate until firm, 1 hour.
Use the remaining white frosting to finish the cake, smoothing on the top and sides. Refrigerate until firm, 30-60 minutes.
Line a baking sheet with parchment paper. Melt a small handful of the Wilton Candy Melts chocolate according to the package instructions, with each color in a separate bowl. Put globs of each color chocolate on the parchment paper and swirl lightly to combine into a pattern you like. Don't swirl too much or your colors will start to look brown. Top with sprinkles and let cool and harden.
Add the coconut to a saute pan and toast over medium heat until fragrant and golden brown on the edges. Allow to cool.
Remove the cake from the fridge. Using a small offset spatula dipped into the colored frosting, dab some frosting onto the side of the cake and lightly pull. Continue in random areas all the way around the cake sides.
Top the cake by breaking the colored chocolate and sticking it into the top of the cake. Sprinkle the coconut on top and press lightly to make it adhere to the top of the cake.
http://www.nowyourecook.in/2016/05/01/coconut-cake-with-passionfruit-filling/
©Melissa Klotz - www.NowYoureCook.in