Recipes
featured on foodgawker and tastespotting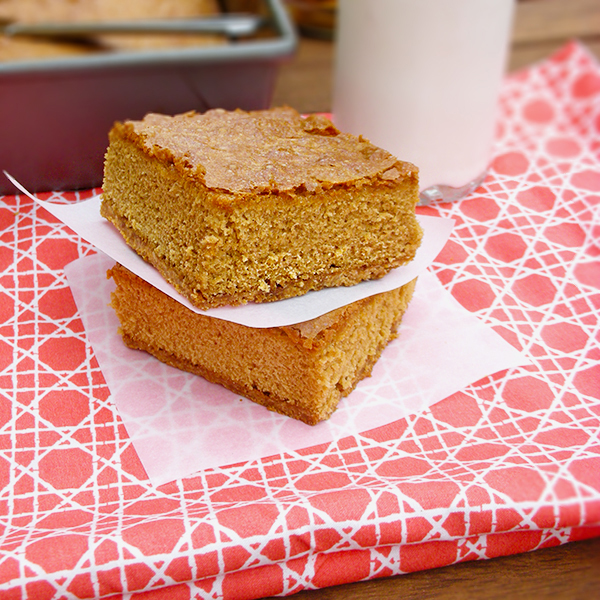 I have a minor obsession with Biscoff, thanks to my friend Nikki. First she sent me a jar of Waffles and Dinges' Speculoos spread, then she sent me a $30 gift certificate to Biscoff. I rearranged my pantry the other day to realize I have 4 packages of Biscoff cookies and two jars of spread (smooth and crunchy).
Biscoff is a cinnamon-y, caramel-y biscuit cookie. Delta Airlines commonly gives them out as a snack inflight. They sell it in the form of a spread, which is incredible on toast, waffles, and melted on vanilla ice cream.
First came the Biscoff truffles. Now, Biscoff cookie bars. Here ya go.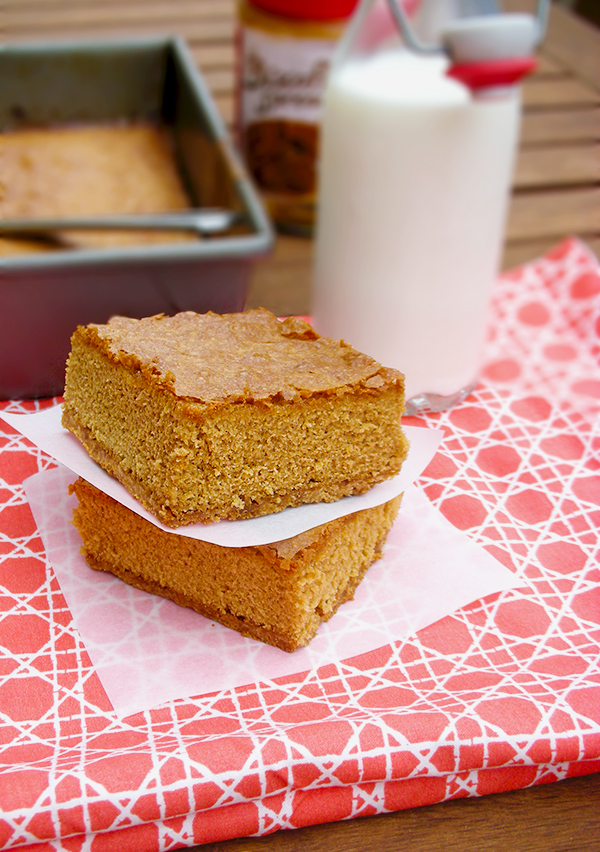 biscoff cookie bars
serves 2
Ingredients


Crust
1/4 cup butter, softened
1/4 brown sugar
6 Biscoff cookies, crushed (can easily be crushed between fingers)
1/2 cup flour


Filling
3 large eggs
1 cup brown sugar
1/2 cup flour
1/2 cup Biscoff Spread
Preheat the oven to 350 degrees. Spray an 8×8 baking pan with nonstick spray.
In a mixer, combine all the ingredients for the crust on low speed. Press into an even layer in the baking pan. Pierce a few times with a fork. Bake for 15 minutes.
Put all the ingredients for the filling into a mixer and beat on medium speed until smooth. Bake for 30 – 40 minutes, until filling is set. Allow to cool completely before slicing into bars.
*I recommend going for a 30 minute bake time, so the bars are a little gooey-er and chewier. Mine came out too cake-like for me.
featured on tastespotting and foodgawker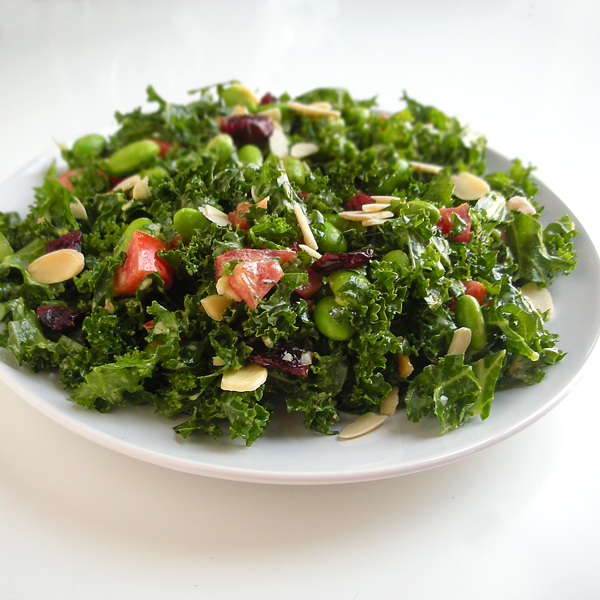 Continuing my "I love salads but hate making them at home" theme, here's a salad I pine for: Trader Joe's Kale and Edamame Bistro Salad.
Now, for the most part (like 90% of the time) I bring lunch to work everyday.
On days when I forget to bring lunch and need to go to Trader Joe's to pick up groceries anyway, this is my go to selection.
Kale is a nutritional powerhouse, as well as edamame. Cranberries are thrown in for a little sweetness, almonds for additional protein and crunch, tomatoes because duh, they're yummy, and the tangy lemon dressing balances everything out.
The Trader Joe's salad is great, BUT okay, #1 it costs $4. #2 there's too much dressing, which, no surprise, is loaded with calories. Ain'tnobodygottimeforthat. Make your own at home for a fraction of the price and calories.
If you're just starting to build up your pantry, you may need to buy quite a few of these ingredients, which of course is going to add up to way more than $4. Here's the great part: nearly ALL of the ingredients are shelf-stable, so once you have everything, all you'll need to buy if you want to make this salad again in a few weeks is some fresh kale and a tomato!
Oh, and P.S.! This salad, including dressing is only about 300 calories!!
knockoff trader joe's kale and edamame salad
makes 1 salad
Ingredients


dressing
1 tsp olive oil
1 tsp water
1 tsp lemon juice
3/4 tsp apple cider vinegar
1 clove garlic minced
1 tsp mayo
1/2 tsp yellow mustard
1 pinch each dried parsley, thyme, oregano, and basil OR 2 pinches Italian seasoning
1 pinch salt


salad
2 cups finely chopped kale
1/2 cup frozen shelled edamame beans, thawed
1 tbsp sliced almonds
1/2 tbsp dried cranberries
1 Roma tomato, seeded and chopped
Add all the dressing ingredients to a medium-sized bowl and whisk together.
Add all the salad ingredients to the same bowl and toss until kale is coated with the dressing. Eat immediately.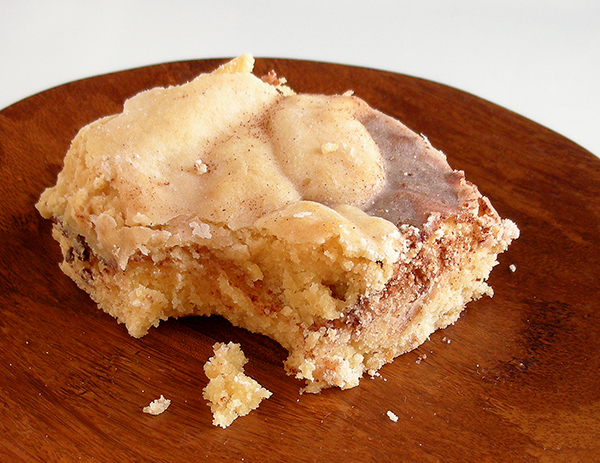 These snickerdoodle bars are out of control. I've been working from home the past few days and it's really difficult to walk by them and not cut off a little 1×1 square each time I walk by.
The most fun part about these is that they use ingredients you probably already have in your kitchen, if you do any sort of baking. The most exotic ingredient listed here for me is milk, because I usually don't stock milk in my fridge. But even if you don't have milk you could probably even try making these with water or watered down half & half or creamer. Not a big deal!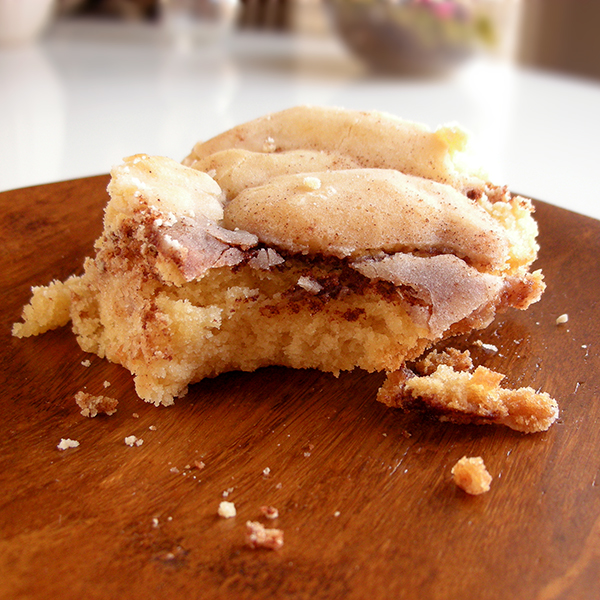 If you love the flavors of cinnamon and sugar, these are just to die for. The middle of the bar is super moist with a tender crumb, while the outsides are slightly a bit more sturdy. The glaze hardens to give a nice crunch on the top. *drool*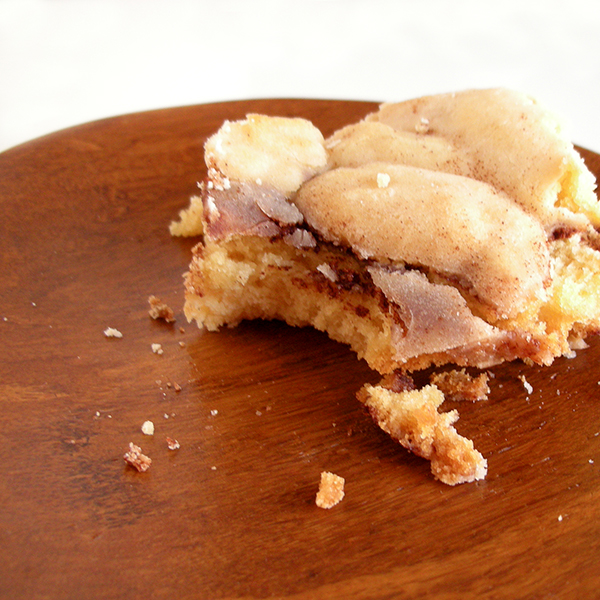 And if THAT'S not enough — throw a dollop of vanilla bean ice cream on top of a warm one. I dare you.
snickerdoodle bars
makes 24 bars
Ingredients


bars
2 1/3 cups flour
1 1/4 teaspoons baking powder
1/2 teaspoon kosher salt
3/4 cup butter, room temperature
1 1/4 cups sugar
1/2 cup packed brown sugar
3 eggs
1 teaspoon vanilla extract


FILLING
1 tablespoon sugar
1 tablespoon ground cinnamon


glaze
1 cup powdered sugar
1/4 teaspoon vanilla extract
2 tablespoons milk
Preheat the oven to 350 degrees. Spray a 9 x 13 pan with nonstick spray.
Combine the dry ingredients – flour, baking powder, and salt, in a small bowl.
Cream the butter and sugars on high with a mixer. Add the eggs, one at a time, followed by the vanilla extract. Gradually add the flour, stirring to combine.
Scoop half of the batter out into the pan and spread evenly with a spatula. If the batter sticks to your spatula, scrape it all off, spray the spatula with nonstick spray, and continue spreading.
In a small bowl, combine the cinnamon and sugar. Sprinkle the cinnamon sugar mixture over the batter in the pan.
Evenly dollop the remaining batter into the pan.
Bake until golden brown, 20 to 25 minutes, or until a toothpick inserted in the center comes out clean.
Stir together the powdered sugar, vanilla extract, and milk until smooth. When bars have cooled, drizzle the glaze on top and enjoy.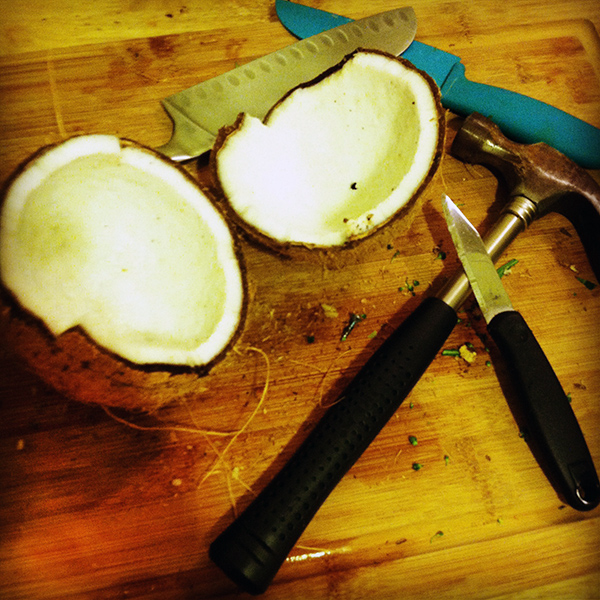 I got this harebrained idea to make homemade cinnamon coconut milk. It all started when my roommate Lauren decided to buy a Nutribullet. We've been "blasting" (blending) up all kinds of Nutriblasts (smoothies). One of the cool things I've found out you can do with a super-high-powered blender is make your own coconut milk. This involves draining the water from a whole mature coconut, splitting the coconut in half, and then carving the meat off of the shell.
Now, the last time I tried to open my own coconut, I made the mistake of getting a young coconut, and trying to bust it open using mature coconut instructions. That didn't work and I just ended up with a small workout and big frustration.
I was hesitant to try opening a coconut again, but I figured it can't be that bad…
Well. Even though I got the right coconut this time, yeah, it was still kind of bad. The ones I bought were "pre-scored" around the center, which should make it easier to crack open. I watched two different videos, one using a mallet, the other using a meat cleaver. I don't have a mallet or a meat cleaver, so I used a hammer and the back of a chef's knife.
To make a long story short, I whacked the coconut as hard as I could, several times, using both tools, and nothing. Finally, I got a screw (the only nails I have are finishing nails which are too small), pounded it into the shell, then started whacking around the perimeter again, and finally it started to crack open.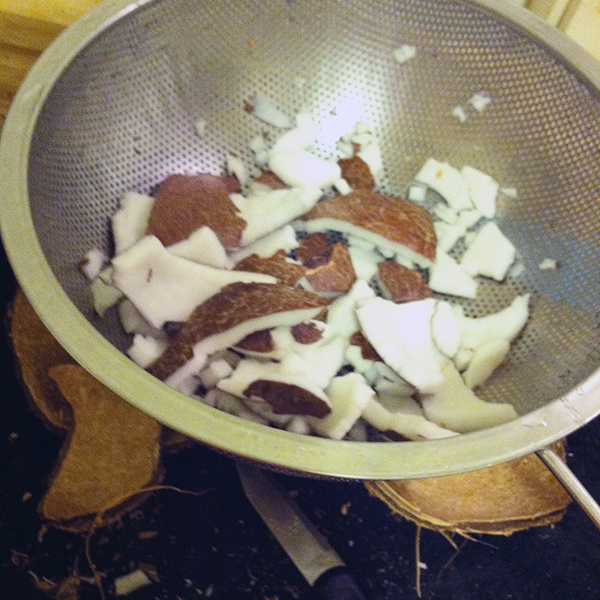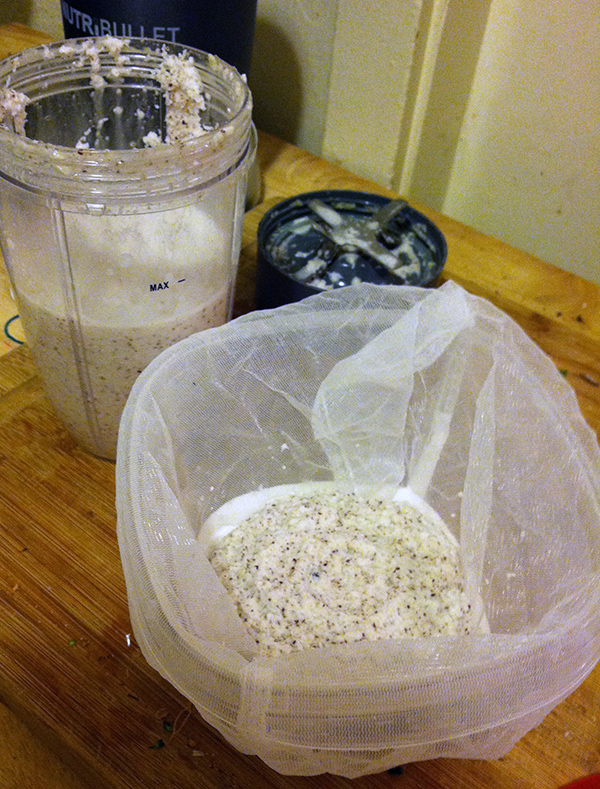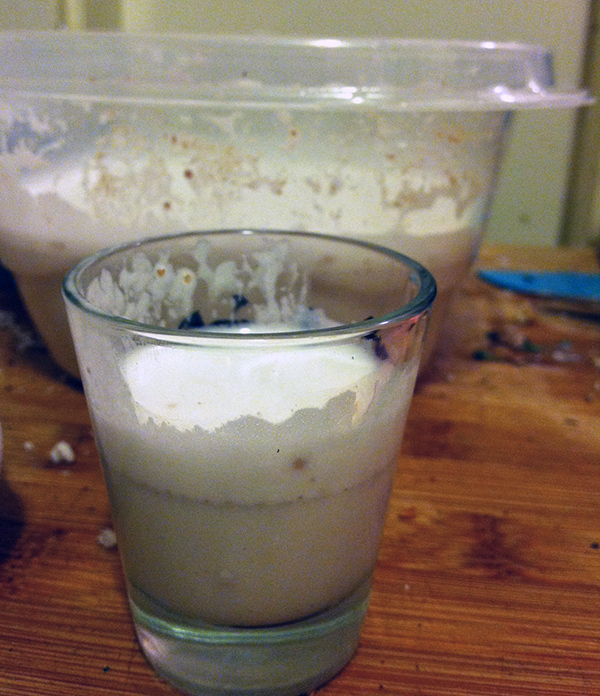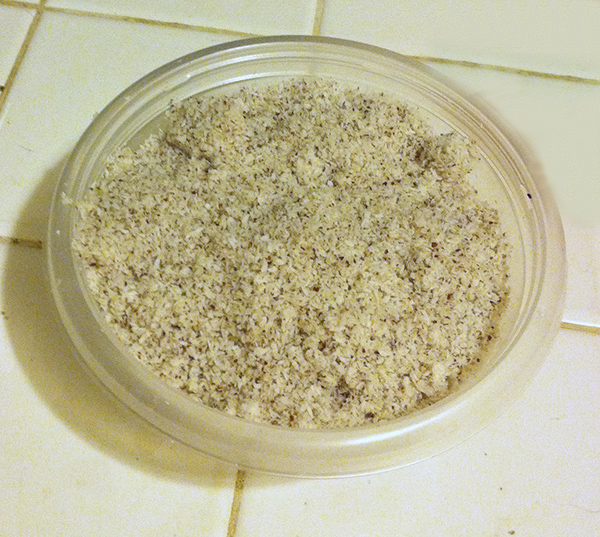 Once you get the coconut open, and once you get the meat off the shell, the rest comes together quickly. Take a look at the videos I've linked to, try to have the tools mentioned, and try to have someone stronger than you on hand to come and save the day if it's not working for you…
This recipe is for a delicious, sweet cinnamon coconut milk that can be drank on its own or used in smoothies, puddings, oatmeals, cereals…
Coconut is high in potassium, electrolytes, and antioxidants. It also raises your good cholesterol!
You can use the leftover coconut fiber in cookies, to top cakes, or as a coating for chicken, shrimp or fish. Just put it in an airtight container and refrigerate.
This is *not* the easiest recipe in the world, and does require some special equipment and elbow grease. You'll need a high powered blender, like a Nutribullet or Magic Bullet, or a VitaMix. You can also try it with a very good blender. If your blender doesn't do too well with ice, you may want to skip out on this recipe. Additionally, you'll need a nut milk bag OR a paint straining bag OR a cheesecloth. A nut milk bag is basically a fine mesh bag with a drawstring that will run you anywhere from $5-10. I use a paint straining bag from the paint store that cost about $0.85. It doesn't have a drawstring, but a drawstring isn't necessary. Especially if it means at least another $4.15 in your pocket

cinnamon coconut milk
serving size varies
Drain the water from the coconut and reserve it.
Split the coconut in half. Scrape the meat from from the shell.
Rinse the meat to remove any debris from the shell (you can leave the brown skin on the meat, no need to shave off!).
Place the coconut meat in your blender and add the reserved coconut water. Add about 1 teaspoon of cinnamon, to start. Blend until thoroughly pureed. If the mixture looks too dry and is difficult to blend, add a bit of water. Give the milk a taste. If you'd like more cinnamon flavor, add it in now and blend again to thoroughly mix.
Place your nut milk bag in a bowl or container and stretch it over the edges of the container. Pour the coconut into the bag. Carefully remove the bag from the container and squeeze it together at the top. Using your other hand, squeeze the bag over the container to separate the milk from the coconut pulp. Continue doing this until no liquid comes out. Voila! Coconut milk!
From here, check out the texture. If you'd like to use the coconut milk as a cream, you're probably in good shape right now. If you want something a bit thinner to drink straight up, add a little filtered water until you reach your desired consistency.
If you're not using it right away, store it in an airtight bottle, jar, or container.
Save the pulp in an airtight container for another use.
Ruth from Makey-Cakey was our March 2013 Daring Bakers' challenge host. She encouraged us all to get experimental in the kitchen and sneak some hidden veggies into our baking, with surprising and delicious results!
I'm finally getting a chance to get back into my Daring Bakers' Challenges!
It's been QUITE a busy year so far. I spent all of January transitioning out of my position at Hungry Girl, training my replacement. It was a difficult company to leave, but I knew I needed to make a move in order to continue my personal growth.
For the past two months I've been working at a digital marketing agency as a web/social media designer and front-end developer. I'm learning new skills everyday, its's great!
Coinciding with my job change, I've been trying to eat "clean-er." For quite some time I've been straying further and further from over-processed foods, but it's really hard to avoid when you're working at a company who uses many of them as their basis for recipes! Now that I'm not in that environment anymore, I've been doing a lot of juicing and smoothie-ing. I'm reintroducing healthy fats (like COCONUT!, traditional nuts, seeds) in moderation, as well as power grains like quinoa. ALthough many of the recipes on my blog are "clean," you may see some "earthy crunchy" recipes like smoothies, homemade nut milks, and chia seed puddings. Things that I don't normally make or eat, but have taken a recent interest in.
This absolutely does not mean I'll be giving up baking or entirely switching up ingredients I use when baking. You have to live a little!! So back to making time for Daring Bakers!
I'd been seeing recipes using black beans in brownies for quite awhile, so I decided to find a recipe and give it a whirl. You definitely cannot taste the beans at all, not like I expected one to be able to in the first place. Black beans don't have THAT distinctive of a taste, just a bit salty. Right?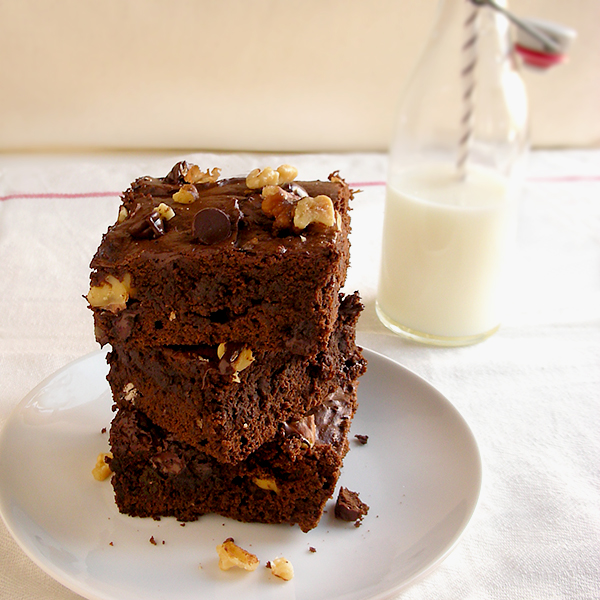 I changed this recipe up a bit, but if I made it again, I would make some more modifications. They were a bit too thick for my taste. Normally I'd just use a larger pan so they come out more thin, but you're already using a large pan here. I would try reducing the flour by about 1/2 cup. The brownies are super rich and decadent, so you definitely want to have a glass of milk handy. I ended up cutting them into small squares (the ones pictured, for example, were cut into fours).
black bean brownies
makes 18 2.5 inch x 2.5 inch brownies
Ingredients
2 cups flour
1/2 cup + 2 tablespoons cocoa powder
1/4 teaspoon kosher salt
1 tespoon baking powder
One 15 ounce can black beans, rinsed and drained
1/2 cup unsalted butter, room temperature
1 1/2 cups semi-sweet chocolate chips
1 3/4 cup brown sugar, not packed
1 tablespoon vanilla extract
4 eggs
1 cup walnuts, chopped
Preheat the oven to 350 degrees.
Spray a 9×13 pan with nonstick spray or coconut oil spray.
Whisk together the flour, cocoa powder, salt, and baking powder.
In a blender or food processor, puree the black beans, adding a bit of water (no more than 2 tablespoons) if they stick to the sides before they're pureed.
In a doubleboiler or a heatproof bowl over simmering water, add the butter and all but a handful of chocolate chips (set those aside for later). Melt and stir until combined. Remove from heat and add the black beans.
If your bowl can't handle anymore ingredients (meaing it's too small), transfer the mixture to a large bowl. Stir in the brown sugar and vanilla. Add the eggs one at a time, beating thoroughly after each one.
Gradually add the flour mixture and stir until combined. Do not overmix.
Fold in all but a handful of the walnuts (set those aside for later).
Pour the batter into the pan and spread evenly. Sprinkle with the reserved chocolate chips and walnuts.
Bake for about 30 minutes, until a toothpick inserted in the center comes out clean. Cool and cut!
About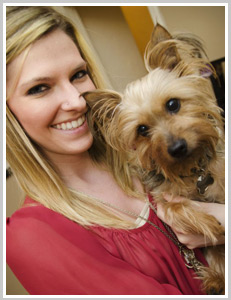 Healthful cooking can happen
to anyone. You don't have to know a lot about cooking or be a foodie to prepare and enjoy nutritious homecooked meals!
Read more...
FeastieBar