Ice Cream
featured on tasteologie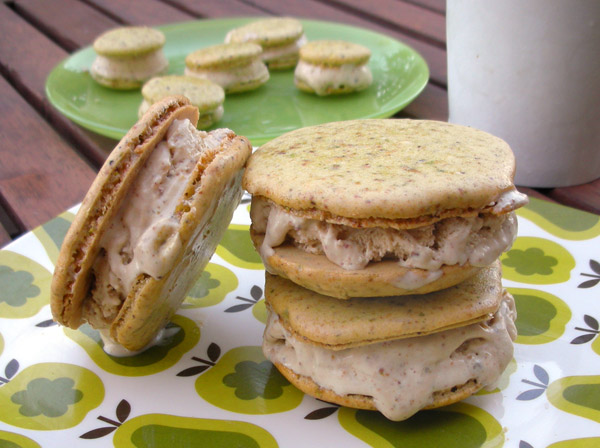 Well okay, now I've done it. The other day I was complaining about how it's not really hot here in SoCal, but every other state is complaining about it being boiling. Well this week where I work it's been averaging 104 degrees outside. Eek. I appropriately scheduled this recipe.
This weekend I'm redeeming my birthday gift from Josh, a trip to the Outside Lands music festival in San Francisco! I think I'm most excited to see Stevie Wonder, Metallica, Bloc Party, Beck, and Norah Jones, but there's also a TON of food, wine, and beer.
We'll be pretty busy Friday through Sunday, but we've also got all day on Monday to explore the city. I absolutely will not miss Bi-Rite Creamery. It was ranked one of the Top 10 places in the US to eat last year by Yelp and has a gazillion reviews. And hello, what better way to top off my Ice Cream Obsessed Summer 2012. I may have to buy their cookbook as a souvenir.
But for now, Jeni's remains my favorite ice cream cookbook. Which leads me to these pistachio ice cream macarons.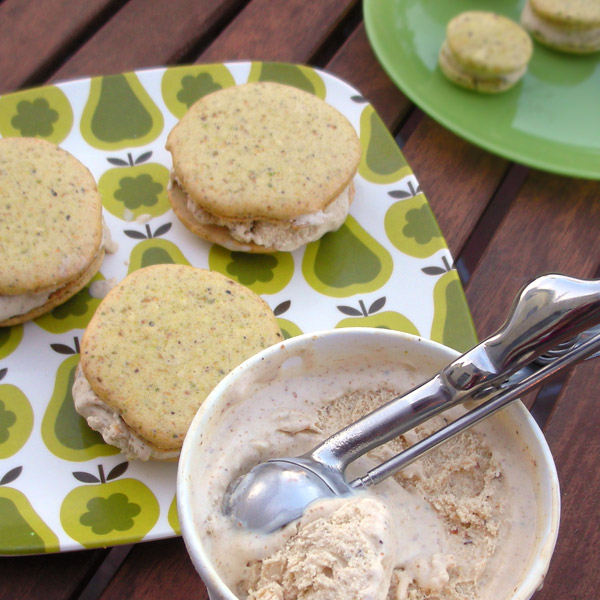 This isn't the quickest recipe. It's definitely not something I'd expect you to throw together on a weeknight after work. However, if you break it down into the two components, it's less intimidating. Start with the ice cream since that's going to require time to freeze.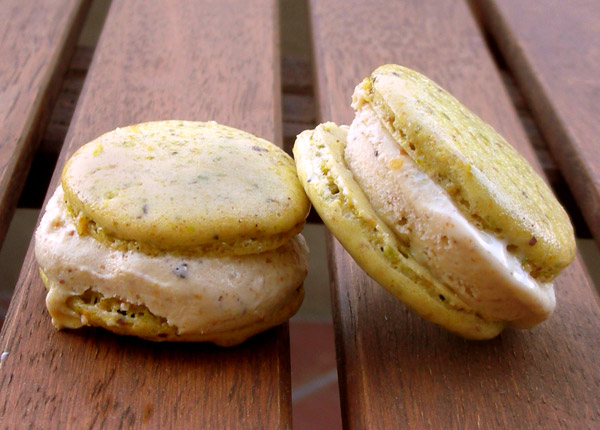 pistachio macaron ice cream sandwiches
adapted from Jeni's Splendid Ice Creams At Home
serving size varies
Ingredients
Roasted Pistachio Ice Cream:
1/2 cup unsalted pistachios, shelled
2 cups whole milk
11 tablespoon plus 1 teaspoon cornstarch
3 tablespoons cream cheese, softened
1/2 teaspoon fine sea salt
Preheat the oven to 350 degrees. Spread the pistachios in a single layer on a baking sheet. Toast for 10 to 12 minutes, until fragrant. Grind in a food processor until the form a smooth paste.
In a small bowl, mix the cornstarch and 2 tablespoons of the milk until smooth.
In a medium bowl, whisk the cream cheese, pistachio paste, and salt until smooth.
Fill a large bowl with ice and water.
Put the rest of the milk, cream, sugar, and corn syrup in a pot over medium-high heat. Bring to a rolling boil for 4 minutes. Take it off the heat and gradually whisk in the cornstarch mixture. Bring back to a boil and cook until slightly thickened, about 1 minute, stirring with a spatula.
Whisk the hot milk mixture with the cream cheese mixture until smooth. Pour into a 1-gallon Ziploc bag and place into the ice bowl. Let it cool down and become cold, about 30 minutes. You can also put the entire bowl into the fridge to speed up the cooling process.
Pour the ice cream into your ice cream maker. While it's on, add the almond extract. Freeze according to the manual. Pack the ice cream into pint containers or an airtight plastic container. Cut a piece of parchment paper a little bit larger than the container and place it directly on top of the ice cream mixture and cover with lid. This will seal out all the air. Freeze until firm.
Ingredients
Pistachio Macarons:
8 ounces (1 cup plus 2 tablespoons) unsalted shelled pistachios
2 1/2 cups powdered sugar
3/4 cup egg whites, from about 6 eggs
1/4 teaspoon fine sea salt
1/2 cup plus 2 tablespoons sugar
green food coloring (optional, I used neon)
Decide how many sandwiches you'd like. This recipe says it made 6 sandwiches, but I had enough batter to make many more, and decided to make mini ones. You're going to use a guide to create the large sandwiches, and for the smaller ones I freehanded them, about 1 inch wide.
Line several baking sheets with parchment paper. To make normal sized sandwiches, trace a glass with about a 3-inch opening onto the parchment paper, leaving about an inch between them. Make sure you trace an even number.
In a food processor, grind the nuts with 1/4 cup of powdered sugar until fine, like a flour. Add the rest of the powdered sugar (2 1/4 cups) and pulse until combined. If there are any chunks of nuts, strain the flour through a sieve to remove them.
Using a stand or electric mixer, whip the egg whites and salt until frothy. With the mixer still on, add the sugar 1 tablespoon at a time. Continue to whip the meringue for 5 minutes, until it's shiny. When the beaters are removed, medium-firm peaks should form.
With a rubber spatula, fold the nut flour into the egg whites, 1/3 at a time. Add the food coloring.
If you have them, use a 1/4 inch tip in a pastry bag. If not, use a plastic bag and snip off a tiny bit of one corner when you're ready to pipe. Fill the pastry bag. Starting in the center of the circles you traced, pipe in a spiral until you reach the edge (I think of snail shells).
The cookies need to air out for 30 minutes.
Preheat the oven to 300 degrees. Bake the cookies for 18 to 20 minutes. Halfway through, rotate them. When finished, they will rise a bit and look crisp. Cool the cookies completely, then freeze.
Assemble the sandwiches:
When the cookies are hard, pull the ice cream out of the freezer to soften, 5 to 10 minutes. Scoop as much ice cream as you'd like onto the bottom of one cookie, top with another cookie, and gently press to make a sandwich.
You can make these as needed, or make them all at once. Just wrap the big guys in some plastic wrap and then put them all in an airtight container back in the freezer.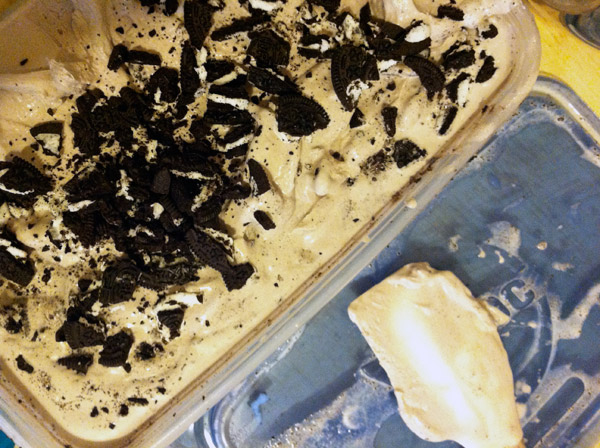 Note: This photo is actually the below recipe doubled. But you get the idea!
I've only had my ice cream maker attachment for a few months and I've already made this recipe several times. It's so simple and a definite crowd pleaser! Take it another step and sandwich it between some chocolate chip cookies or make a sundae! It'd also be great with the mint Oreos. Yum…
cookies and cream ice cream
makes 2 pints
Ingredients
2 cups heavy cream
1 cup whole milk
2/3 cup sugar
1 teaspoon vanilla extract
20 Reduced-Fat Oreos
Combine cream, milk, sugar, and vanilla in a saucepan, heat until sugar has dissolved.
Pour into a bowl and cover with plastic wrap. Chill in the fridge until completely cool.
Break cookies into pieces. I like mine fairly big!
When the milk mixture has cooled, pour it into your ice cream maker and freeze as directed by your ice cream maker manufacturer. When it's five minutes from being done, put in half of the cookie pieces.
Working quickly so the ice cream doesn't melt too much, pour it into your containers, adding in the remaining cookies in layers. Freeze!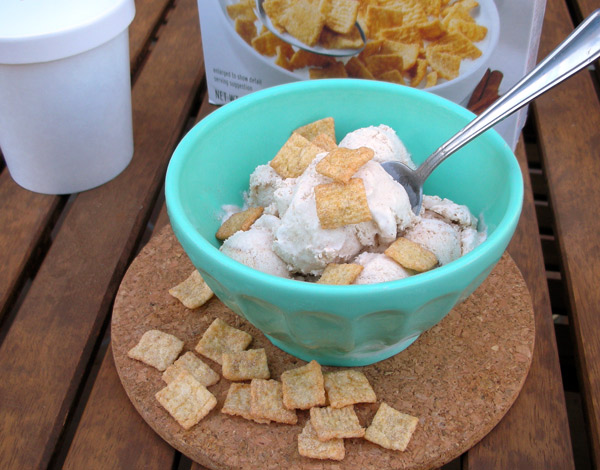 This weekend was scheduled to be lazy and unscheduled. My guy and I have both been going nonstop since Coachella. This weekend was to be filled with Marvel movies, eggs benedict, and ice cream. And that it was.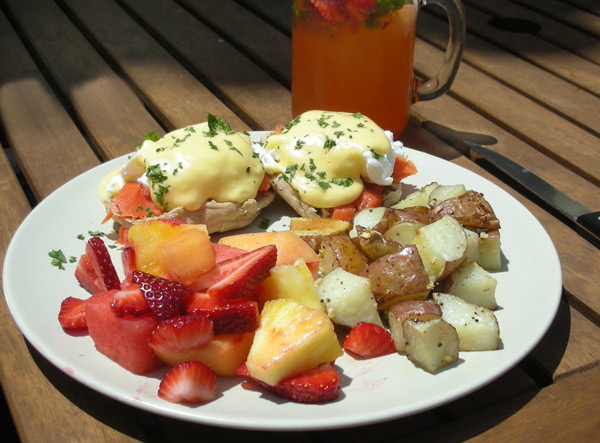 I'm officially obsessed with ice cream making. I've made 7 pints so far, and I would've had 9 had I remembered to put the freezing canister back into the freezer on Saturday (oops).
Right now I'm only playing around with the basics, but I've got my mind set on a fun ice cream + cookie recipe from Jeni's that's a tad bit more creative. That's the one I couldn't make because I left the canister out. But I'll make it soon!
Now… I know this blog is supposed to be about uncomplicated, unfussy recipes using healthful ingredients and minimal equipment, but… sometimes I will stray from that. Now, aside from splurging around $50 for a self-contained ice cream maker, basic ice cream recipes actually are uncomplicated and unfussy. But not exactly healthful (that's on my to do list!)… hey, everything in moderation!!
Over the past few years, the trend in food has been to take something classic, especially from childhood or a food thought to be All-American, and reinvent it. Well, one of my very favorite things when I was a teenager was breakfast cereal. I know I ate my fair share of it as a child, but as a teenager it became even more of a staple. Breakfast, dinner, after-school snack, midnight snack; they were all perfect times to eat cereal. I loved cereal so much that I think at one point my AOL Instant Messenger screenname was something like "cerealg0ddess." One of my most preferred varieties? Cinnamon Toast Crunch.
Milk + Cereal = Yum. Milk + Cereal + Heavy Cream + Ice Cream Maker = Cinnamon Toast Crunch Ice Cream!
I took a little hint from Momofuku Milk Bar's famed Cereal Milk, and "steeped" the milk with Cinnamon Toast Crunch to infuse cinnamon flavor. And I could've probably stopped there, but it seemed more appropriate to add a cinnamon syrup and cereal pieces.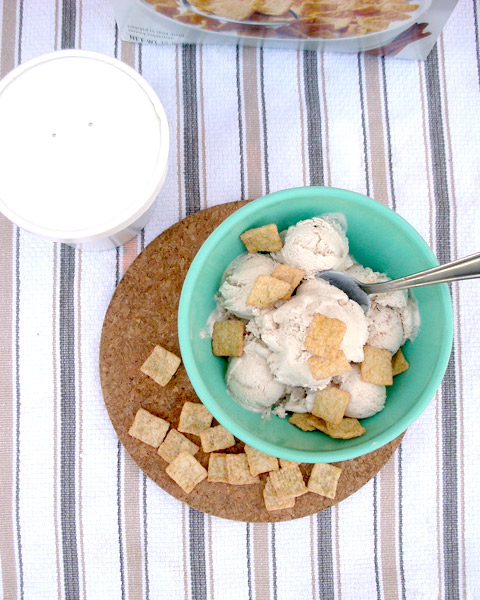 cinnamon toast crunch ice cream
makes 1 quart
Ingredients
Ice Cream:
1 cup whole milk
3/4 cup Cinnamon Toast Crunch Cereal, plus extra for layering into ice cream
2 cups heavy cream
2/3 cup sugar
1 teaspoon vanilla extract
Cinnamon Syrup:
1 cup water
1/2 cup sugar
1 tablespoon cornstarch
2 tablespoons cinnamon
1 teaspoon vanilla extract
Add the milk to a small bowl. Dump in 3/4 of a cup of Cinnamon Toast Crunch and stir into milk to saturate. Allow the cereal to "steep" for 20 minutes in the fridge. Stir occasionally.
Meanwhile, make the cinnamon syrup. In a small saucepan over medium-low heat, stir all ingredients together until thickened. Syrup should be slightly thicker than maple syrup. If it's too thick, add water in small amounts until it's thinned out. Cool completely in the fridge.
Drain the milk through a fine mesh sieve (or a strainer with small holes), into a saucepan. Press the cereal against the sieve with a spatula to get all the milk out of it, and be sure to scrape all the cinnamon-y milk from the bowl. Stir in the cream and sugar. Heat over medium until the sugar has completely dissolved.
Pour the mixture into a bowl and chill in the refrigerator until completely cool.
Freeze the milk mixture in an ice cream maker according to the manufacturer's instructions. In the last 5 minutes of freezing, add about 1/4 cup of the cinnamon syrup.
Pour a small amount of the syrup into the bottom of an airtight container. Sprinkle with cereal pieces. Pour half of the ice cream on top. Repeat the process once more. Lightly press a piece of parchment or wax paper into the surface of the ice cream. This will help prevent freezer burn. Cover with the lid and place in the refrigerator for a few hours until solid.
Let sit at room temperature for 2-3 minutes before serving. Sprinkle with additional Cinnamon Toast Crunch!
About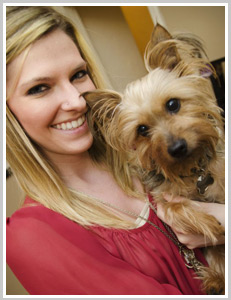 Healthful cooking can happen
to anyone. You don't have to know a lot about cooking or be a foodie to prepare and enjoy nutritious homecooked meals!
Read more...
FeastieBar