Soups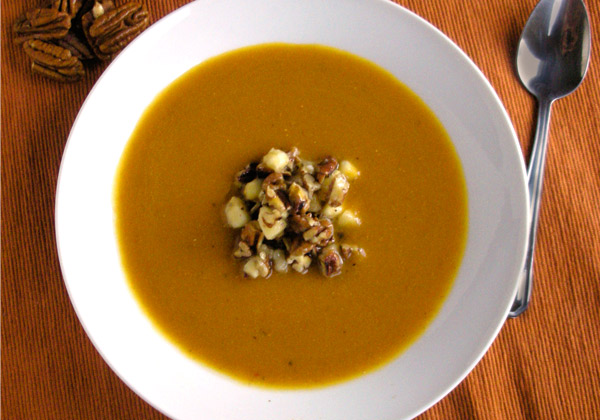 You guys, this week is my FAVORITE holiday, and I'm so excited. This Pumpkin Soup with Maple-Glazed Banana and Pecans is a non-traditional, but easy way to start off a Thanksgiving meal.
I usually host a Thanksgiving dinner for 40 people, but this year I'm taking it easy and letting my friend's aunt and uncle do all the work

Although, I'll absolutely be contributing my Mushroom Nut Roast with Mushroom Gravy (recipe to come next week!)
If you're not quite sure what to contribute this year to your Thanksgiving pot luck, or are looking for a fun addition to your usual menu, give this soup a try. It's both sweet and savory.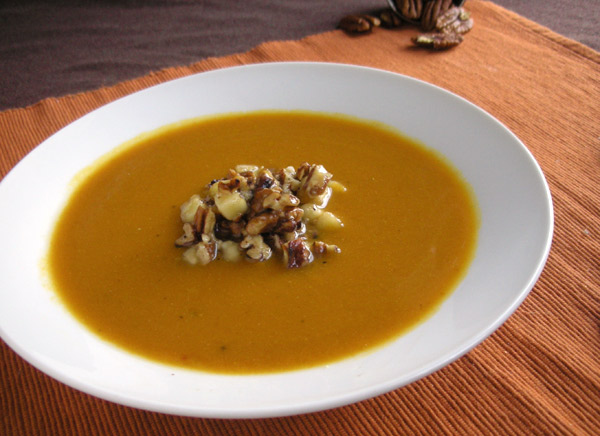 easy pumpkin soup with maple-glazed banana and pecans
makes 4 servings
Ingredients
1/4 cup pecans
2 teaspoons maple syrup or pancake syrup
1/2 banana, diced
1 cup pumpkin puree
1/2 cup water
1 cup vegetable stock
6 teaspoons light sour cream
Pinch of cinnamon
Preheat the oven to 375 degrees.
Spread the pecans in an even layer and toast for about 7 minutes, or until they're fragrant. Let cool and chop. Toss with the syrup and bananas.
In a medium saucepan, heat the pumpkin, water, and vegetable stock. Season to taste with salt and pepper. Heat until warm, then stir in the sour cream and cinnamon.
Ladle into bowls and top with a dollop of the pecan-banana mixture.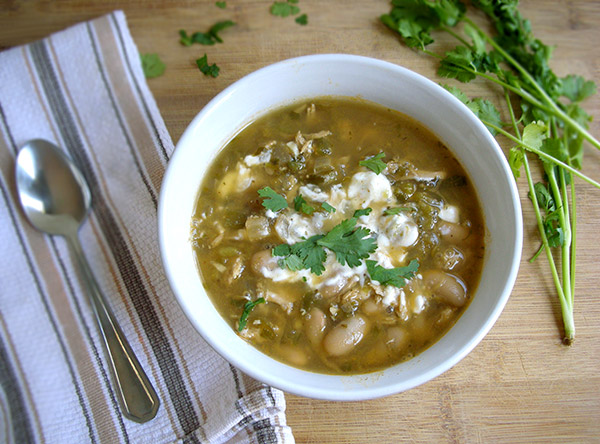 I've never been much of a chili fan. I don't know why. It just never floated my boat. Maybe it's because I'm not a fan of ground beef crumbles. I don't like the texture, which is a major reason why I was able to be a vegetarian for eight years and not miss beef at all.
I gravitate towards this delicious chili recipe because 1. It does not have ground beef, and 2. its flavor is completely different from traditional chili. The green chiles, oregano, cumin, and cilantro all come together for more of a Mexican feel. Great on its own and even better topped with light sour cream or chunks of avocado.
Tips: This can easily be made vegetarian. Just use vegetable broth and add in another type of bean (black beans would be great!) and even kale or spinach could be thrown in with the cilantro at the end. I like to double this recipe and freeze the leftovers in one or two serving containers for a quick dinner or lunch.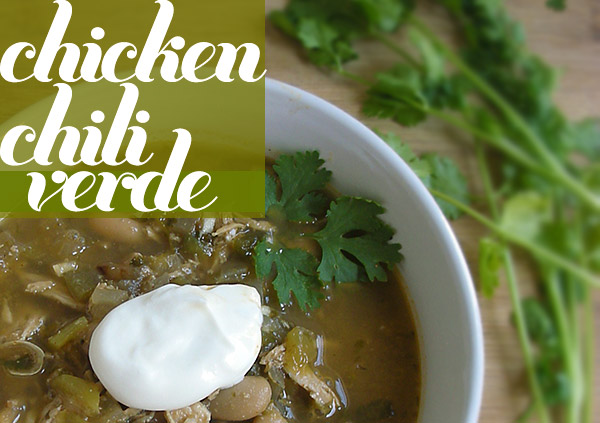 chicken chili verde
makes 4 servings
Ingredients
2 teaspoons olive oil
1 large yellow onion, chopped
4 oz green chile peppers
4 oz diced jalapenos
4 cloves garlic, minced
1 1/4 teaspoons oregano
2 teaspoons cumin
1 teaspoon chili powder
3 cups vegetable or chicken broth
2 – 15.5 ounce cans cannellini beans, not drained
2 cups cooked, shredded chicken breast
1/4 teaspoon black pepper
1/4 cup chopped fresh cilantro
Light sour cream, if desired
Heat 2 teaspoons of olive oil in a large pot. Add onion and cook until golden and soft, about 5 minutes. Add the chiles, jalapeno, garlic, oregano, cumin, and chili powder. Stir and cook for 3 minutes.
Add the broth, beans, and chicken. Simmer for 20 minutes.
Season with salt and pepper. Add the fresh cilantro and cook for another 5 minutes. Serve each portion topped with light sour cream, if you desire!
Per serving, with chicken: 350 calories, 6.5g fat, 1439mg sodium, 42g carbohydrates, 37g protein
Per serving, vegetarian with black beans: 337 calories, 4g fat, 1472mg sodium, 60g carbohydrates, 22g protein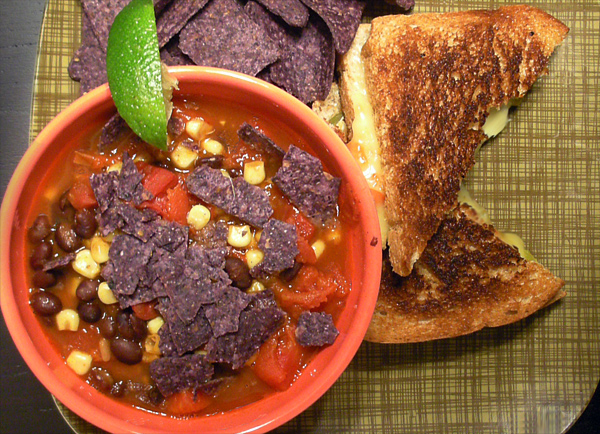 I used to work at a very small company. For over two years, I worked from home, however, when I finished college, I started going into our office (which was then an apartment). One of my coworkers, a new hire, was my age. Quickly, we realized we have a lot of the same values and views, and we now joke that we're "soul mates."

Well, naturally, as soul mates, we started going to lunch often. Carla is an interesting person. Rather than someone craving a burrito one day, a smoothie the next, and french fries the day after, her cravings are focused on one food item, are intense, and last a few days. One week it's carrots, the next it's blueberries, then Luna Bars. But one thing lasted for several weeks: Tortilla Soup.

I could never indulge in this. I rarely eat chicken and I even stay away from chicken broth and stock. But it had to be tasty if she's craving it several times a week, for several weeks…Right?

However, I continued to look on with desire. Those crispy strips of tortilla. That beautiful red color. I wasn't sure I'd taste tortilla soup unless I found a way to make it myself.

A few months later, Carla's obsession had subsided, and my lust for tortilla soup fell onto the backburner (ha!).

Then, I found it. In the pages of my January 2009 issue of Everyday Food. It just fell right onto my lap! This recipe originally called for chicken stock, but no shredded chicken. It's hearty enough that it doesn't need chicken to give the extra fullness. There's no doubt in my mind that since I've found this soup I'm not missing anything at a casual restaurant.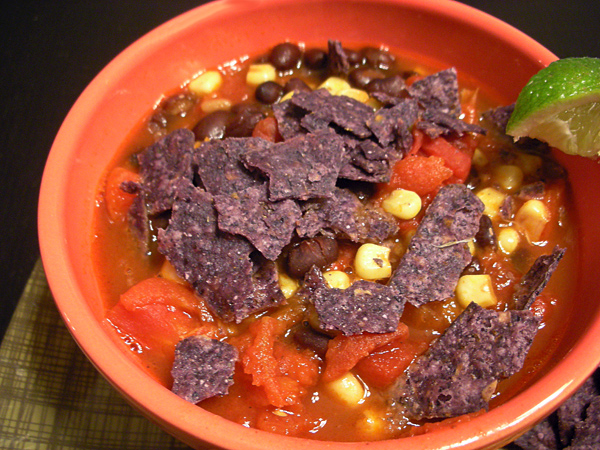 tortilla soup with black beans

from Everyday Food Magazine

serves 4

Ingredients
1 tablespoon olive oil
4 garlic cloves, minced
1 teaspoon chili powder
2 cans (14.5 ounces each) diced tomatoes in juice
2 cans (15 ounces each) low-sodium black beans, rinsed and drained
1 can (14.5 ounces) Swanson vegetable stock (Get Swanson!! Way better than other brands. No, this post is not sponsored.)
1 package (10 ounces) frozen corn
kosher salt and ground pepper
1 cup crushed tortilla chips
1 tablespoon fresh lime juice, plus lime wedges for serving


In a large saucepan, heat olive oil over medium. Add garlic and chili powder and cook until fragrant, about 1 minute. Add tomatoes and juice, beans, broth, corn, and 1 cup water. Season with salt and pepper.

Bring the mixture to a boil and then reduce heat to a simmer. Sprinkle in the tortilla chips and cook until softened, about 2 minutes. Remove from heat, stir in lime juice, and season to taste with salt and pepper. Serve with lime wedges and, if you like, additional chips. And that yummy looking sandwich is my Spicy Tex Mex Grilled Cheese!
About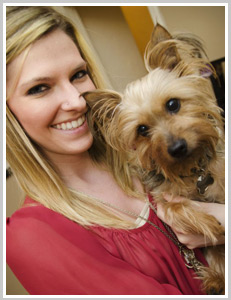 Healthful cooking can happen
to anyone. You don't have to know a lot about cooking or be a foodie to prepare and enjoy nutritious homecooked meals!
Read more...
FeastieBar