Browsing articles tagged with "beets Archives - Now You're Cookin'"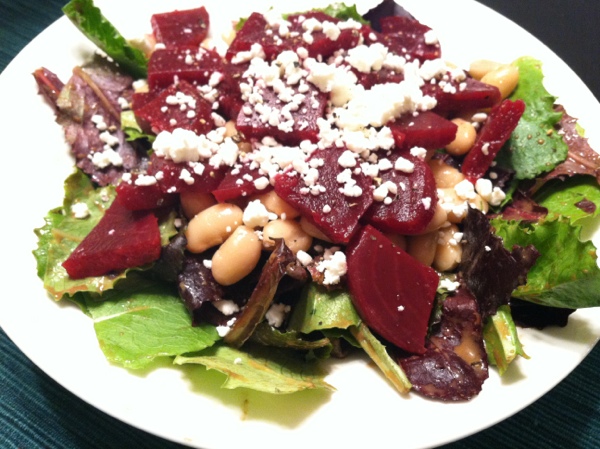 Making a salad at home, in theory, sounds like a great idea. After a weekend of indulging, by Sunday night I'm usually ready for something light and fresh. But I'm always stumped when it comes to add-ins. I have this mental roadblock that happens as soon as I get past the lettuce part. I come up with shredded carrots and tomatoes. Then it just stops. I think I've been traumatized by a childhood filled with the most boring salad ever of a bag of iceberg lettuce, shredded carrots and red cabbage, paired with ranch dressing. Shudder.
So after years of discouragement, I finally realized I should re-create restaurant salads at home. Duh. So I've been experimenting a little more. This recipe comes from a great restaurant in New York I went to over the holidays, UVA.
Salad doesn't get any easier than this. It basically boils down to dressing, beets, beans, cheese, greens. I always try to keep some form of beans on hand, as well as goat cheese and canned beets, so this comes together really quickly for me.
red beet and bean salad with goat cheese
makes 2 servings
Ingredients
2 tablespoons balsamic vinegar
1 tablespoon dijon mustard
1 tablespoon water
1/2 tablespoon olive oil
Dash honey
5 ounces mixed greens, baby romaine, or arugula
2/3 cup great northern or cannellini beans
10 slices canned red beets, quartered
2 tablespoons crumbled goat cheese
salt and pepper
In a small bowl, whisk together the balsamic, dijon, water, oil, and honey until uniform.
Place the greens in a medium bowl and drizzle the dressing on top. Toss to coat. Divide among two plates.
Top each plate of greens with half the beans, beets, and goat cheese. Season with salt and pepper and dig in!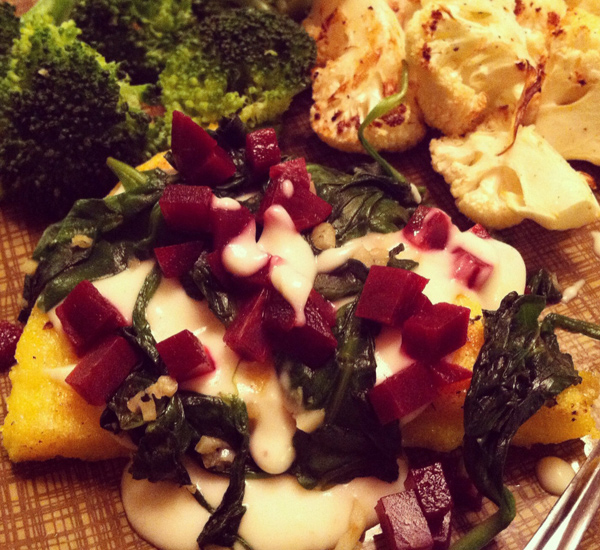 Oftentimes, recipes only look complicated. With the right staple ingredients, you can easily create something gourmet.
This recipe is made with items I always have on hand: garlic, olive oil, baby spinach, butter, flour, milk, and cornmeal.
Let's break it down a little — It's believed garlic can prevent cancer and heart disease and adds a ton of flavor that goes along with anything.
Olive oil is packed with antioxidants and heart-healthy monounsaturated fat. It adds a small amount of flavor, but more importantly keeps your food from sticking to pans!
Baby spinach is full of iron and calcium. I prefer the flavor, texture, and convenience of pre-washed bagged baby spinach. When sauteed with garlic and a tiny bit of olive oil, it makes a quick, easy, and healthy side dish.
I always keep butter, flour, and milk on hand, mostly for baking. Cornmeal isn't something I use often, but it keeps forever and is good to use in dishes like this and also to create a sturdy crust on homemade pizza.
All of these items deserve a solid spot in your pantry. They're versatile, beneficial, and inexpensive.
Back to this recipe. It basically melts in your mouth. The creamy polenta topped with creamy, tangy goat cheese, garlicky spinach, and sweet, earthy beets go really well together. I served mine with steamed broccoli and roasted cauliflower.
polenta wedges with spinach, beets, and goat cheese sauce
serves 4
Ingredients
extra-virgin olive oil
1 cup cornmeal
2 tablespoons parmesan cheese
1/2 tablespoon unsalted butter
1 tablespoon all-purpose flour
1/2 cup skim milk
Dash nutmeg
1 ounce goat cheese
2 large garlic cloves, minced
1 pound baby spinach
1/2 can sliced beets, diced
Spray a round cake pan with olive oil.
Boil 3 cups water in a medium sauce pan. Add the cornmeal, whisking constantly until the mixture is smooth and thick, about 5 minutes. Remove from heat. Add the parmesan cheese and season with salt and pepper.
Pour the mixture into the prepared cake pan and smooth out the top. Lightly press a piece of plastic wrap onto the surface and allow it to cool until set, about 25 minutes.
Meanwhile, prepare the sauce. In a small saucepan, melt the butter. While whisking, add the flour to form a paste. Continue whisking for another 30 seconds, then add a splash of the milk, whisking to form a thick sauce. Add the rest of the milk and dash of nutmeg and keep whisking until the mixture thickens, about 4 minutes. Remove the pan from the heat and add the goat cheese, stirring until melted and smooth.
Cut the polenta into eight wedges.
Spray a large skillet with olive oil and heat over medium. Add the minced garlic and heat until fragrant, 30 minutes. Add the spinach and stir and cook until wilted, 2-3 minutes. Season with salt and pepper and transfer to a plate.
Respray the pan and increase the heat to medium-high. Add the polenta wedges and heat them until they're golden brown on each side. Transfer to a plate.
Drizzle the wedges with the goat cheese sauce. Top with the wilted spinach and sprinkle with diced beets!
About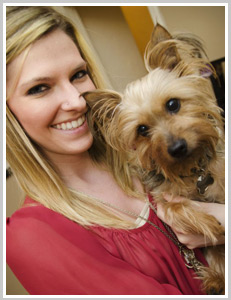 Healthful cooking can happen
to anyone. You don't have to know a lot about cooking or be a foodie to prepare and enjoy nutritious homecooked meals!
Read more...
FeastieBar