Browsing articles tagged with "cauliflower Archives - Now You're Cookin'"
featured on foodgawker and tastespotting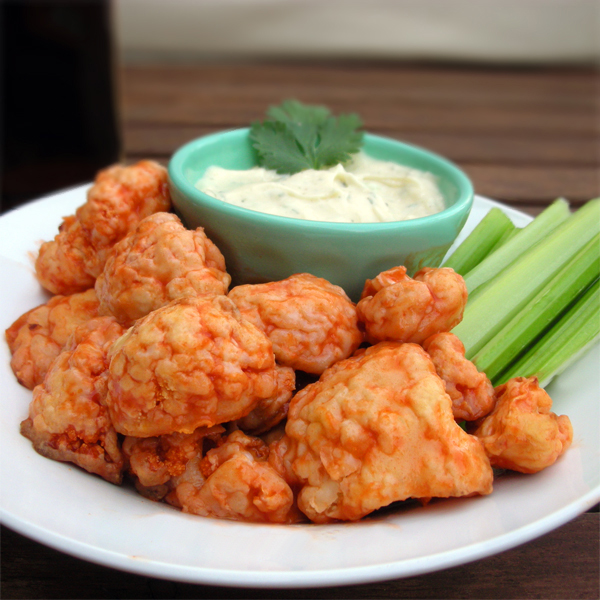 This buffalo cauliflower recipe was inspired by an incredible dish at a mostly vegan restaurant in Silver Lake, Mohawk Bend. Mohawk Bend is a great little spot with all local ingredients and offerings, including only beer, wine, and liquor produced in California. And a live jazz band on Sunday mornings!
We made our way over here before a Dodgers game one hot Sunday afternoon. Everyone on Yelp raves about the vegan buffalo cauliflower, so we knew we had to try it out. I've been trying to recreate it ever since!
Slightly crisp baked cauliflower is paired with the spicy buffalo goodness of Frank's Red Hot sauce to mimic buffalo wings. Mohawk Bend serves theirs with a homemade vegan blue cheese, but that's besides the point. you can make your own vegan blue cheese or pair this with your favorite blue cheese dressing (or ranch). This recipe is for the main star – buffalo cauliflower!
This is a fantastic recipe for Football Sundays, which makes it absolutely perfect for the Super Bowl this weekend!!
What are your plans this Sunday? Staying in? Party with friends? Heading to a bar? (or "Melissa I don't care about the Super Bowl!")
I'll be hanging out with my friends enjoying a keg of Lumen (hoppy Belgian-style pale ale with jasmine flowers) from Monkish Brewing!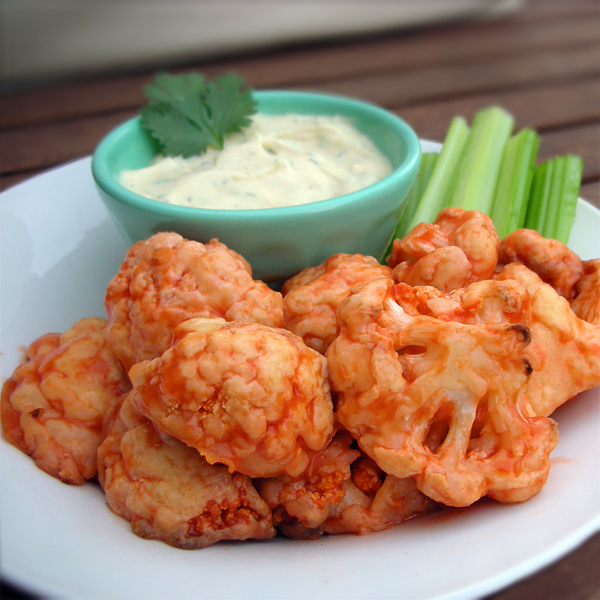 buffalo cauliflower
makes 2 servings
Ingredients
1/2 head of cauliflower
1/4 cup all-purpose flour
1/4 cup water
salt and pepper
1/4 cup Frank's Red Hot Sauce
Preheat the oven to 400 degrees.
Cut the cauliflower into florets, about bite-sized. You want to still be able to grab them up with your fingers (okay, I guess a fork is more civilized, but whatever…).
Stir the flour, water, salt, and pepper together until smooth. Toss the cauliflower in the flour mixture. Shake the excess batter off each piece of cauliflower and place in a single layer on a baking sheet.
Bake for 30 minutes, until golden brown on the edges. Remove the cauliflower from the pan with a spatula and place into a bowl. Toss with Frank's Red Hot and serve!
I'm moderately adventurous when it comes to trying new foods, however, I was always reluctant to try Indian cuisine. It all looked like reddish brown orange mush to me. Okay… it still kind of does. But it's tasty! Curry powder lends a nice warmth and spice to dishes. The only problem is, a lot of traditional Indian food is loaded with butter and oil. Below is a much lighter version. If you've never had curry, give this a try! I use a lot of curry powder for a bold flavor, but you can try 3-4 teaspoons of it if you're weary.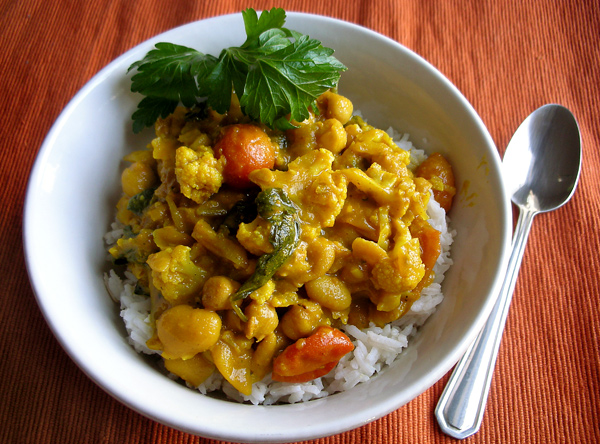 simple chickpea curry

adapted from Everyday Food Magazine

serves 4

Ingredients
1 pint cherry or grape tomatoes
1 cup chopped raw cauliflower
1 cup jasmine rice
2 teaspoons extra-virgin olive oil
1 large yellow onion, diced
4 garlic cloves, minced
1 tablespoon fresh ginger, peeled and minced
2 tablespoons curry powder (2-3 teaspoons if you'd like a milder taste)
2 15.5oz cans chickpeas (garbanzo beans), rinsed and drained
1 pint cherry or grape tomatoes
1 cup chopped raw cauliflower
2 1/2 cups baby spinach
1 tablespoon chopped fresh cilantro
Preheat the oven to 375 degrees.
Spray a rimmed baking sheet with olive oil. Arrange the tomatoes and cauliflower on the pan. Spray with olive oil, season with salt and pepper, and toss. Roast until the tomatoes collapse, about 25 minutes.
Cook the rice according to the package's instructions.
In a medium pot, heat the oil and onion over medium high until soft and golden brown, about 10 minutes. Add the garlic, ginger, and curry powder, stirring until fragrant, 30 seconds. Add the tomatoes, chickpeas, and 2 cups of water. Bring to a boil over high heat. Cover and reduce the heat to medium and simmer for 8 minutes.
Add the cauliflower and cook until warmed through, another 8 minutes. Lastly, add the spinach and cilantro, stirring until wilted.
Divide the rice into 4 portions and top with the curry. Eat!
It's been quite an indulgent holiday season. To say the least. I started out my holiday baking season by making a Cookies and Cream Cupcake recipe I'd been eyeing from Annie's Eats, then moved on to decorating traditional sugar and gingerbread cookies. There were my favorite coconut cookies I made for my roomie (and fellow coconut lover) to take on her three week vacation. Not to mention our second annual Christmas Cookie Baking Party, during which I made Cinnamon Chocolate Cookie Crisps and PB White Chocolate Chex Mix. Oh and then all the other sweet goodies received as gifts at work, the dozen cupcakes I got from Magnolia Bakery, and all the cookies waiting for me at home in PA…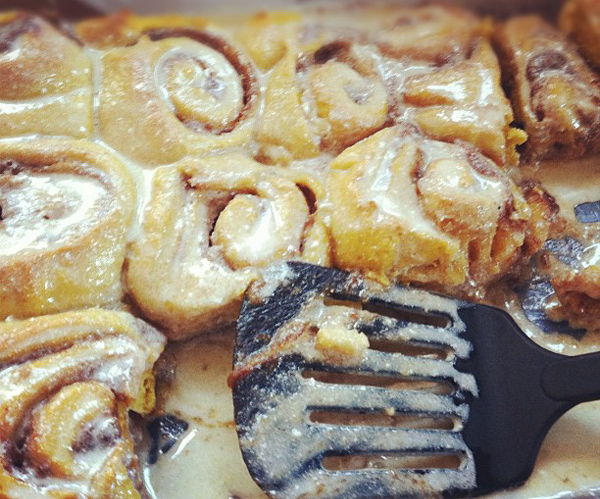 …and these Pumpkin Cinnamon Rolls I made on Christmas morning.
With that said, I've been more than ready to get back into the swing of healthier eating since I've been back in Los Angeles. The new issue of Everyday Food had arrived, and although I'm not a fan at all of the new logo (before and after), There are a lot of recipes I'm excited to try. Here's what I started with.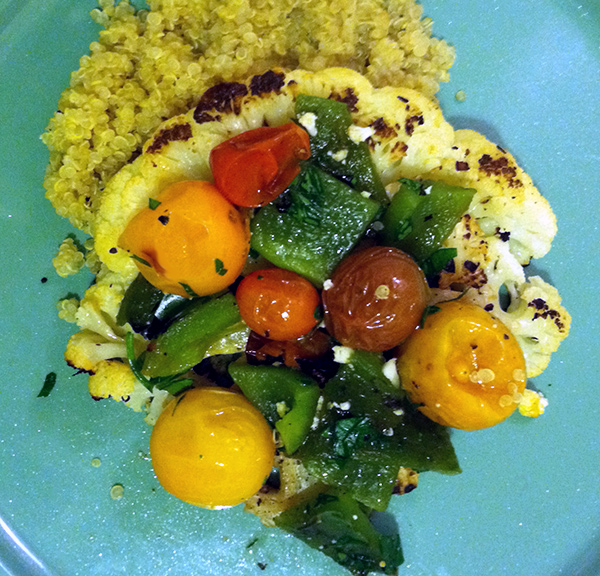 This is a nice, hearty recipe for dinner. I also spiced the leftovers up the next day by drizzling a little balsamic vinegar and sprinkling with a bit of parmagiano reggiano cheese.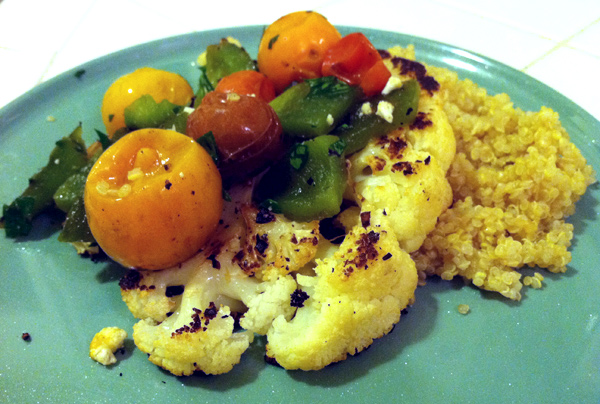 cauliflower steaks with roasted pepper and tomato salad
adapted from Everyday Food Magazine
serves 4
Ingredients
1 large head cauliflower, trimmed
3/4 pint mini heirloom tomatoes
2 large bell peppers (any color)
1 tablespoon white wine vinegar
1 tablespoons chopped fresh parsley
2 garlic cloves, minced
1 cup quinoa
Extra-virgin olive oil spray
Preheat the oven to 375 degrees.
With stem side up, cut the cauliflower into four 3/4-inch-thick "steaks." Cut the end pieces into florets and save for another use.
Spray a rimmed baking sheet with olive oil. Arrange the tomatoes on the pan. Spray with olive oil, season with salt and pepper, and toss. Roast until the tomatoes collapse, about 25 minutes. Transfer to a bowl.
Meanwhile, roast the peppers over a high gas flame. Use tongs to turn them until they're blistered and charred on all around, about 10 minutes. Put the pepper in a bowl and cover with plastic wrap. Allow to steam for 10 minutes, then rub with paper towels to remove the charred skin. Remove the stem and seeds, roughly chop, and add to the bowl with the tomatoes.
Toss tomatoes and peppers with vinegar, parsley, and a few sprays of olive oil. Season with salt and pepper.
Spray a large skillet with olive oil and heat over medium. Add the garlic and cook until fragrant, about 30 seconds. Place cauliflower steaks in the pan, two at a time. Cook for 5 minutes until golden brown, covered. Flip steaks over and cook for another 10 minutes, covered.
While cauliflower is cooking, prepare quinoa according to package instructions.
Plate the quinoa, top with a cauliflower steak, and spoon on roasted pepper and tomato salad.
About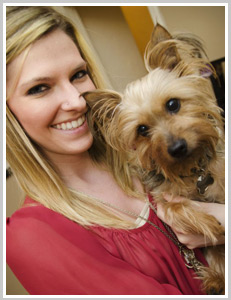 Healthful cooking can happen
to anyone. You don't have to know a lot about cooking or be a foodie to prepare and enjoy nutritious homecooked meals!
Read more...
FeastieBar