Browsing articles tagged with "cilantro Archives - Now You're Cookin'"
featured on foodgawker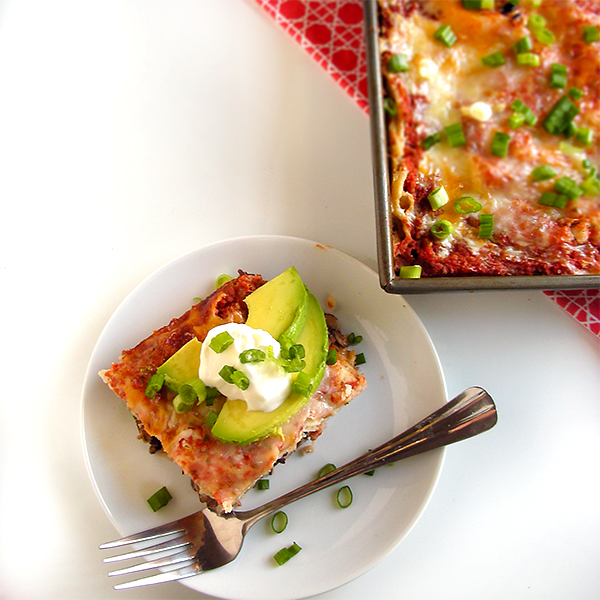 Sometimes you just need Mexican food. In the form of a bean and veggie tortilla casserole. Spicy, warm, and comforting.
I love Mexican food. It's one of those things that happens when you move to Southern California. Prior to moving here, Mexican to me was Taco Bell or Don Pablo's (which is, as I remember now, a not-very-good Mexican chain in the Northeast). I almost always ordered a quesadilla or enchiladas, which is kind of like the cheater "Mexican" food. "Give me a tortilla filled with greasy melted cheese and possibly covered with bland tomato sauce." Yuck.
Here in LA, thanks to the large Mexican population, you can get authentic Mexican food on nearly every corner. Burritos are my go to, with (soft) tacos a close second. Flour tortillas are smooth and buttery, chewy, sometimes a tiny bit crisp. Tacos from a street truck are just two small corn tortillas topped with the meat of your choice, and cilantro and onions if you'd like. Outside the truck is a table of assorted condiments – spicy pickled carrots and jalapeños, green, red, and orange salsas pureed to a smooth consistency. And since I love condiments, you can guess I load up on all of them.
Not to mention this wonderful thing called POTATO tacos and burritos (notably from one of my favorite Santa Monica spots, Tacos Por Favor). Soft potatoes with lettuce, guacamole, rice, beans. This is a really big thing, considering potatoes are one of my favorite food items. I've never seen anything potato related at Taco Bell or a chain Mexican-American restaurant, have you?
I usually need to have some sort of Mexican food at least once a week. Usually it's a burrito from my beloved Benito's around the corner, but they're not exactly the lightest thing to eat. So for those times when I shouldn't splurge, at-home-Mexican it is.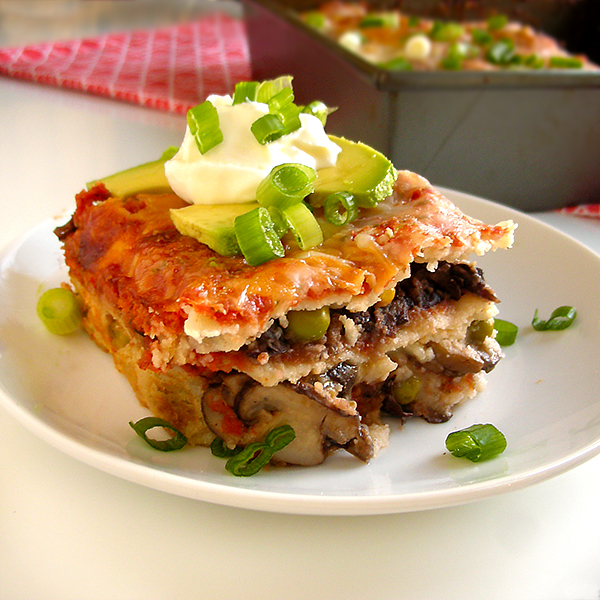 Enter black bean and veggie tortilla casserole. This is a nice twist on enchiladas. I'm not really a fan of enchiladas anymore because I feel like the corn flavor of the tortillas deepens when they're baked and ends up tasting weird. Here, in this casserole, the tortillas end up softening and practically melting into the rest of the ingredients. In a word, it's awesome.
This recipe was inspired by Everyday Food, but has been pumped up with the addition of veggies and mushrooms.
bean and veggie tortilla casserole
makes 6 servings
Ingredients
2 1/2 tablespoons olive oil
8 ounces crimini or white mushrooms, sliced
2 cloves garlic, minced
2 cans (15.5 ounces each), black beans, rinsed and drained
2 cans (14.5 ounces each) or 3 cans (10 ounces each) diced tomatoes with green chiles
1/2 cup fresh cilantro leaves
1/2 cup frozen corn
1/2 cup frozen peas
10 corn tortillas
6 ounces shredded cheese (Monterey Jack, Mexican blend, or Mozzarella)
Optional: reduced-fat or fat-free sour cream, sliced green onions, avocado, jalapenos for garnish
Preheat the oven to 450 degrees.
In a medium pot, heat 1/2 tablespoon olive oil and sliced mushrooms over medium heat, until softened, 3 – 4 minutes. Put the mushrooms in a bowl and toss with the frozen corn and peas. Return the pot to the heat.
Add the remaining 2 tablespoons of oil to the pot, as well as the garlic. Heat until fragrant, about 1 minute. Add the beans and 1/2 cup water. Bring to a simmer, about 5 minutes. Slightly mash some of the beans.
In a food processor or blender, puree the tomatoes (with juice) and cilantro. If you don't have one of those, finely chop the cilantro and mix it with the tomatoes.
Lay 4 tortillas in the bottom of an 8-inch square baking dish, overlapping a bit and slightly going up the sides of the dish. Spread 1/3 of the tomato mixture on top. Spoon 1/2 of the black beans in, then evenly distribute 1/2 of the veggies. Sprinkle with 1/3 of the cheese. Top with 3 tortillas and repeat the layering process. Finish it with the remaining 3 tortillas, last 1/3 of the tomato sauce, and last 1/3 of cheese.
Cover the dish with aluminum foil and bake for 15 minutes. Remove the foil and reduce the heat to 350 degrees. Bake for another 20 minutes.
To serve, top with sour cream, green onions, avocado, or jalapeno slices.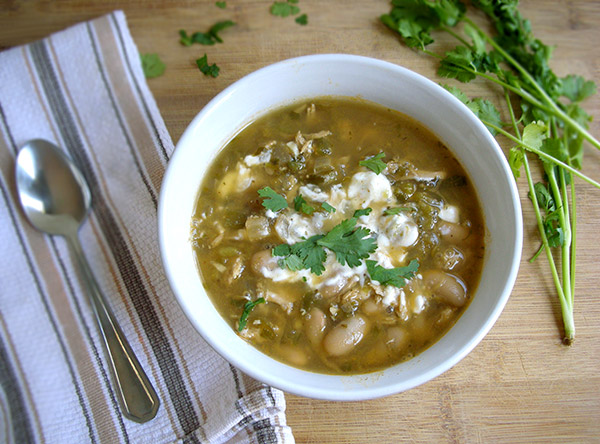 I've never been much of a chili fan. I don't know why. It just never floated my boat. Maybe it's because I'm not a fan of ground beef crumbles. I don't like the texture, which is a major reason why I was able to be a vegetarian for eight years and not miss beef at all.
I gravitate towards this delicious chili recipe because 1. It does not have ground beef, and 2. its flavor is completely different from traditional chili. The green chiles, oregano, cumin, and cilantro all come together for more of a Mexican feel. Great on its own and even better topped with light sour cream or chunks of avocado.
Tips: This can easily be made vegetarian. Just use vegetable broth and add in another type of bean (black beans would be great!) and even kale or spinach could be thrown in with the cilantro at the end. I like to double this recipe and freeze the leftovers in one or two serving containers for a quick dinner or lunch.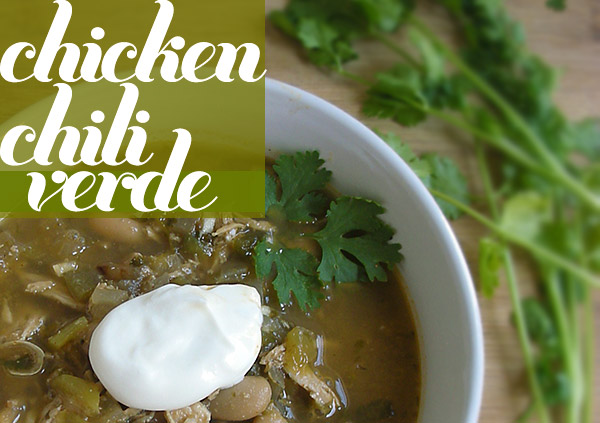 chicken chili verde
makes 4 servings
Ingredients
2 teaspoons olive oil
1 large yellow onion, chopped
4 oz green chile peppers
4 oz diced jalapenos
4 cloves garlic, minced
1 1/4 teaspoons oregano
2 teaspoons cumin
1 teaspoon chili powder
3 cups vegetable or chicken broth
2 – 15.5 ounce cans cannellini beans, not drained
2 cups cooked, shredded chicken breast
1/4 teaspoon black pepper
1/4 cup chopped fresh cilantro
Light sour cream, if desired
Heat 2 teaspoons of olive oil in a large pot. Add onion and cook until golden and soft, about 5 minutes. Add the chiles, jalapeno, garlic, oregano, cumin, and chili powder. Stir and cook for 3 minutes.
Add the broth, beans, and chicken. Simmer for 20 minutes.
Season with salt and pepper. Add the fresh cilantro and cook for another 5 minutes. Serve each portion topped with light sour cream, if you desire!
Per serving, with chicken: 350 calories, 6.5g fat, 1439mg sodium, 42g carbohydrates, 37g protein
Per serving, vegetarian with black beans: 337 calories, 4g fat, 1472mg sodium, 60g carbohydrates, 22g protein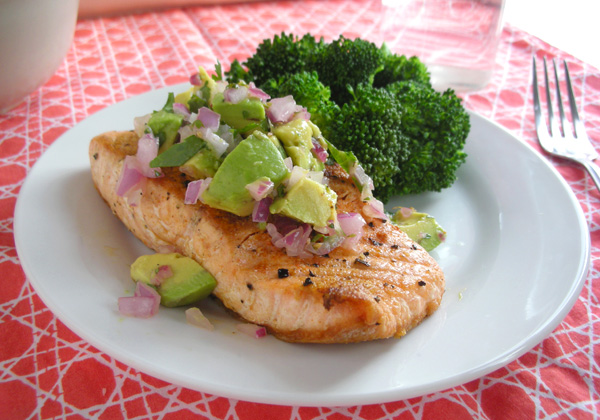 It's been a week filled with live music. Last week I was lucky enough to see Metric at the Greek Theatre and Bad Books at the Troubadour.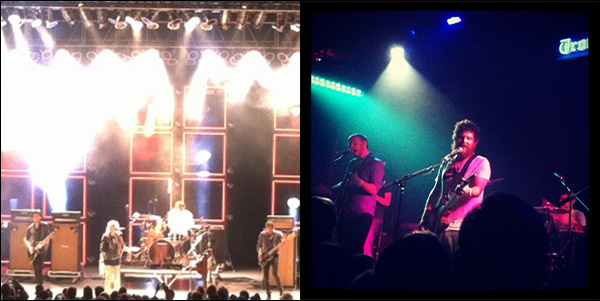 I love live music. Music in general is inspiring, but there's something incredible about live performances. It's transformative, motivating, captivating, uplifting. There are some days when I'm so tired and stressed that the last thing I want to really do is stand on my feet for three or four hours at the end of the day, but every single time it's so worth it. I walk out of the venue feeling spiritually invigorated (and then the physical high wears off and I'm physically tired again. But lets ignore that part).
I bought some salmon fillets on Saturday, intending to cook them on Monday, but was unable to. Come Tuesday (the night of the Metric concert) I needed to cook them before they spoiled. I threw this together, including clean up, in less than 30 minutes so we could run out the door to the show.
This is such a great, simple recipe. The spicy salmon goes so well with the buttery, cool avocado. It's very adaptable too.
Tips: Don't have cayenne pepper? Use chili powder instead. No onion, cilantro, or lime juice on hand? Just top the salmon with sliced avocado instead. Want a salsa that's a little more complicated? Add minced garlic, jalapeno, and corn.
cayenne-rubbed salmon with avocado salsa
makes 1 serving
Ingredients
1/2 small avocado, diced
1/2 small red onion, diced
1/4 cup cilantro, chopped
1/2 tablespoon lime juice
6 ounce salmon filet
1/4 teaspoon cayenne pepper
1/4 teaspoon black pepper
Gently toss the avocado, onion, cilantro, and lime juice. Season with salt and pepper.
Pat the salmon dry. In a tiny bowl, combine the cayenne and black pepper. Rub onto both sides of the salmon.
Spray a small pan with oil and heat over medium-high heat. Add the salmon, skin-side down, and cook for about 4 minutes. It's time to flip when the salmon looks 1/2 – 3/4 of the way cooked through on the sides. Flip and cook for another 3 minutes or so, until it's a nice golden brown color. Don't overcook it, or it will be dry and yucky.
Plate the salmon and top with the avocado salsa.
I'm moderately adventurous when it comes to trying new foods, however, I was always reluctant to try Indian cuisine. It all looked like reddish brown orange mush to me. Okay… it still kind of does. But it's tasty! Curry powder lends a nice warmth and spice to dishes. The only problem is, a lot of traditional Indian food is loaded with butter and oil. Below is a much lighter version. If you've never had curry, give this a try! I use a lot of curry powder for a bold flavor, but you can try 3-4 teaspoons of it if you're weary.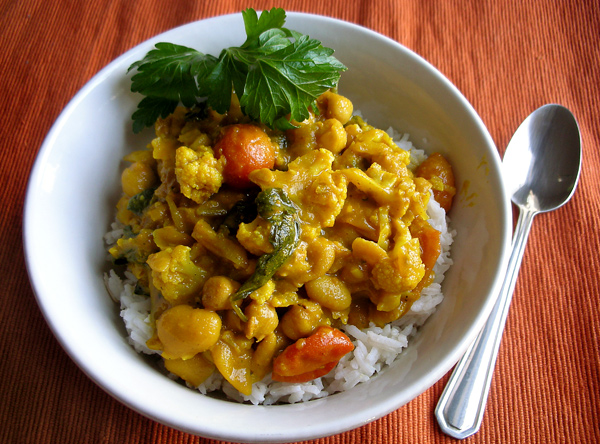 simple chickpea curry

adapted from Everyday Food Magazine

serves 4

Ingredients
1 pint cherry or grape tomatoes
1 cup chopped raw cauliflower
1 cup jasmine rice
2 teaspoons extra-virgin olive oil
1 large yellow onion, diced
4 garlic cloves, minced
1 tablespoon fresh ginger, peeled and minced
2 tablespoons curry powder (2-3 teaspoons if you'd like a milder taste)
2 15.5oz cans chickpeas (garbanzo beans), rinsed and drained
1 pint cherry or grape tomatoes
1 cup chopped raw cauliflower
2 1/2 cups baby spinach
1 tablespoon chopped fresh cilantro
Preheat the oven to 375 degrees.
Spray a rimmed baking sheet with olive oil. Arrange the tomatoes and cauliflower on the pan. Spray with olive oil, season with salt and pepper, and toss. Roast until the tomatoes collapse, about 25 minutes.
Cook the rice according to the package's instructions.
In a medium pot, heat the oil and onion over medium high until soft and golden brown, about 10 minutes. Add the garlic, ginger, and curry powder, stirring until fragrant, 30 seconds. Add the tomatoes, chickpeas, and 2 cups of water. Bring to a boil over high heat. Cover and reduce the heat to medium and simmer for 8 minutes.
Add the cauliflower and cook until warmed through, another 8 minutes. Lastly, add the spinach and cilantro, stirring until wilted.
Divide the rice into 4 portions and top with the curry. Eat!
About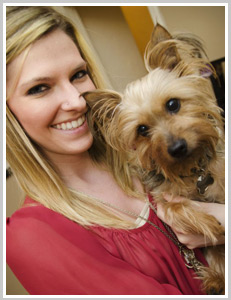 Healthful cooking can happen
to anyone. You don't have to know a lot about cooking or be a foodie to prepare and enjoy nutritious homecooked meals!
Read more...
FeastieBar