Browsing articles tagged with "corn Archives - Now You're Cookin'"
featured on foodgawker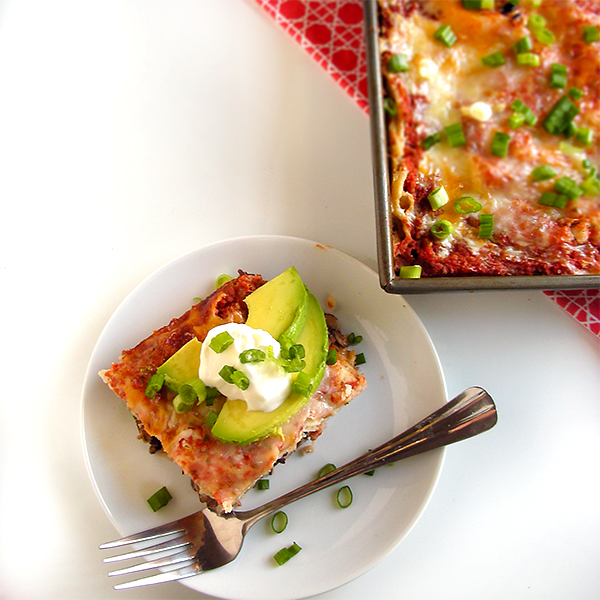 Sometimes you just need Mexican food. In the form of a bean and veggie tortilla casserole. Spicy, warm, and comforting.
I love Mexican food. It's one of those things that happens when you move to Southern California. Prior to moving here, Mexican to me was Taco Bell or Don Pablo's (which is, as I remember now, a not-very-good Mexican chain in the Northeast). I almost always ordered a quesadilla or enchiladas, which is kind of like the cheater "Mexican" food. "Give me a tortilla filled with greasy melted cheese and possibly covered with bland tomato sauce." Yuck.
Here in LA, thanks to the large Mexican population, you can get authentic Mexican food on nearly every corner. Burritos are my go to, with (soft) tacos a close second. Flour tortillas are smooth and buttery, chewy, sometimes a tiny bit crisp. Tacos from a street truck are just two small corn tortillas topped with the meat of your choice, and cilantro and onions if you'd like. Outside the truck is a table of assorted condiments – spicy pickled carrots and jalapeños, green, red, and orange salsas pureed to a smooth consistency. And since I love condiments, you can guess I load up on all of them.
Not to mention this wonderful thing called POTATO tacos and burritos (notably from one of my favorite Santa Monica spots, Tacos Por Favor). Soft potatoes with lettuce, guacamole, rice, beans. This is a really big thing, considering potatoes are one of my favorite food items. I've never seen anything potato related at Taco Bell or a chain Mexican-American restaurant, have you?
I usually need to have some sort of Mexican food at least once a week. Usually it's a burrito from my beloved Benito's around the corner, but they're not exactly the lightest thing to eat. So for those times when I shouldn't splurge, at-home-Mexican it is.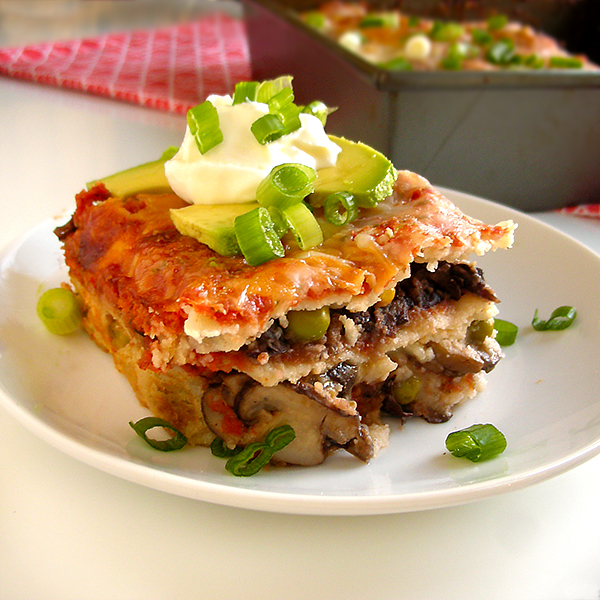 Enter black bean and veggie tortilla casserole. This is a nice twist on enchiladas. I'm not really a fan of enchiladas anymore because I feel like the corn flavor of the tortillas deepens when they're baked and ends up tasting weird. Here, in this casserole, the tortillas end up softening and practically melting into the rest of the ingredients. In a word, it's awesome.
This recipe was inspired by Everyday Food, but has been pumped up with the addition of veggies and mushrooms.
bean and veggie tortilla casserole
makes 6 servings
Ingredients
2 1/2 tablespoons olive oil
8 ounces crimini or white mushrooms, sliced
2 cloves garlic, minced
2 cans (15.5 ounces each), black beans, rinsed and drained
2 cans (14.5 ounces each) or 3 cans (10 ounces each) diced tomatoes with green chiles
1/2 cup fresh cilantro leaves
1/2 cup frozen corn
1/2 cup frozen peas
10 corn tortillas
6 ounces shredded cheese (Monterey Jack, Mexican blend, or Mozzarella)
Optional: reduced-fat or fat-free sour cream, sliced green onions, avocado, jalapenos for garnish
Preheat the oven to 450 degrees.
In a medium pot, heat 1/2 tablespoon olive oil and sliced mushrooms over medium heat, until softened, 3 – 4 minutes. Put the mushrooms in a bowl and toss with the frozen corn and peas. Return the pot to the heat.
Add the remaining 2 tablespoons of oil to the pot, as well as the garlic. Heat until fragrant, about 1 minute. Add the beans and 1/2 cup water. Bring to a simmer, about 5 minutes. Slightly mash some of the beans.
In a food processor or blender, puree the tomatoes (with juice) and cilantro. If you don't have one of those, finely chop the cilantro and mix it with the tomatoes.
Lay 4 tortillas in the bottom of an 8-inch square baking dish, overlapping a bit and slightly going up the sides of the dish. Spread 1/3 of the tomato mixture on top. Spoon 1/2 of the black beans in, then evenly distribute 1/2 of the veggies. Sprinkle with 1/3 of the cheese. Top with 3 tortillas and repeat the layering process. Finish it with the remaining 3 tortillas, last 1/3 of the tomato sauce, and last 1/3 of cheese.
Cover the dish with aluminum foil and bake for 15 minutes. Remove the foil and reduce the heat to 350 degrees. Bake for another 20 minutes.
To serve, top with sour cream, green onions, avocado, or jalapeno slices.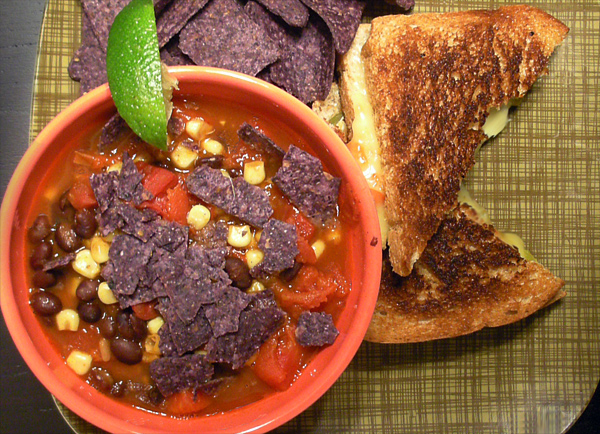 I used to work at a very small company. For over two years, I worked from home, however, when I finished college, I started going into our office (which was then an apartment). One of my coworkers, a new hire, was my age. Quickly, we realized we have a lot of the same values and views, and we now joke that we're "soul mates."

Well, naturally, as soul mates, we started going to lunch often. Carla is an interesting person. Rather than someone craving a burrito one day, a smoothie the next, and french fries the day after, her cravings are focused on one food item, are intense, and last a few days. One week it's carrots, the next it's blueberries, then Luna Bars. But one thing lasted for several weeks: Tortilla Soup.

I could never indulge in this. I rarely eat chicken and I even stay away from chicken broth and stock. But it had to be tasty if she's craving it several times a week, for several weeks…Right?

However, I continued to look on with desire. Those crispy strips of tortilla. That beautiful red color. I wasn't sure I'd taste tortilla soup unless I found a way to make it myself.

A few months later, Carla's obsession had subsided, and my lust for tortilla soup fell onto the backburner (ha!).

Then, I found it. In the pages of my January 2009 issue of Everyday Food. It just fell right onto my lap! This recipe originally called for chicken stock, but no shredded chicken. It's hearty enough that it doesn't need chicken to give the extra fullness. There's no doubt in my mind that since I've found this soup I'm not missing anything at a casual restaurant.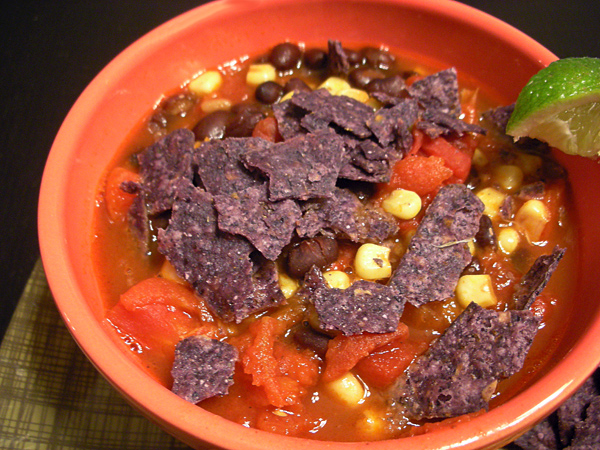 tortilla soup with black beans

from Everyday Food Magazine

serves 4

Ingredients
1 tablespoon olive oil
4 garlic cloves, minced
1 teaspoon chili powder
2 cans (14.5 ounces each) diced tomatoes in juice
2 cans (15 ounces each) low-sodium black beans, rinsed and drained
1 can (14.5 ounces) Swanson vegetable stock (Get Swanson!! Way better than other brands. No, this post is not sponsored.)
1 package (10 ounces) frozen corn
kosher salt and ground pepper
1 cup crushed tortilla chips
1 tablespoon fresh lime juice, plus lime wedges for serving


In a large saucepan, heat olive oil over medium. Add garlic and chili powder and cook until fragrant, about 1 minute. Add tomatoes and juice, beans, broth, corn, and 1 cup water. Season with salt and pepper.

Bring the mixture to a boil and then reduce heat to a simmer. Sprinkle in the tortilla chips and cook until softened, about 2 minutes. Remove from heat, stir in lime juice, and season to taste with salt and pepper. Serve with lime wedges and, if you like, additional chips. And that yummy looking sandwich is my Spicy Tex Mex Grilled Cheese!
About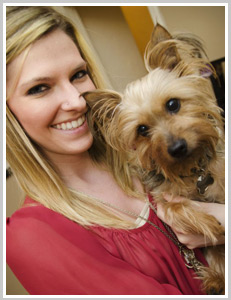 Healthful cooking can happen
to anyone. You don't have to know a lot about cooking or be a foodie to prepare and enjoy nutritious homecooked meals!
Read more...
FeastieBar