Browsing articles tagged with "strawberry Archives - Now You're Cookin'"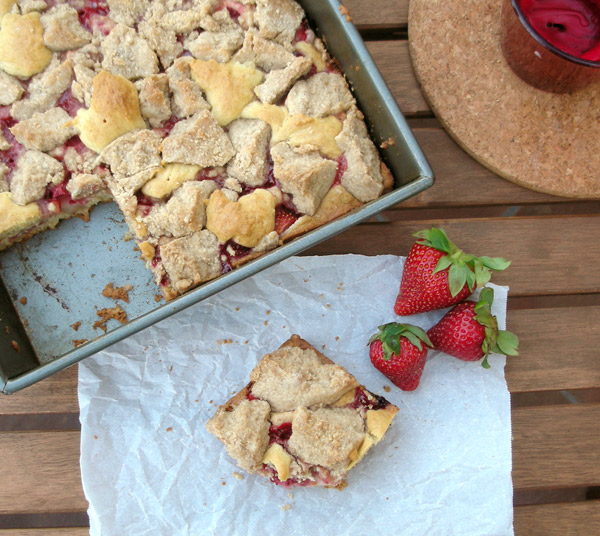 Crumb cake always reminds me of home (Northeastern PA). The population in our area used to be mostly German heritage, and that still permeates through many of the small towns. You can pretty much find some version of crumb cake at any diner, bakery, or convenience store.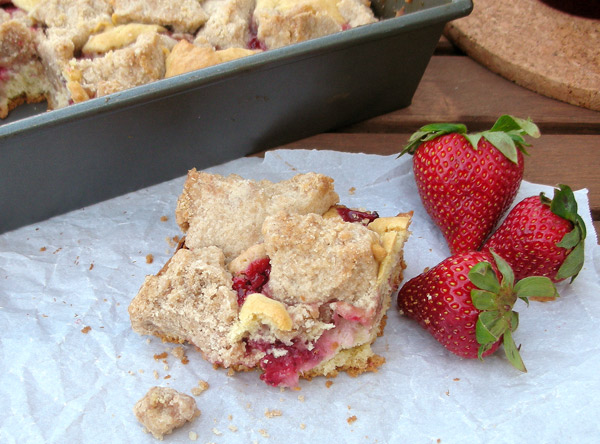 Although I really love trying new recipes all the time, so much so that I'd almost rather try something new every night before making a repeat, there are some recipes I make over and over. In the fall and winter, it's roasted winter vegetable pizza and in the spring it's this strawberry crumb cake. It's sweet and sugary with a slight tang from the berries.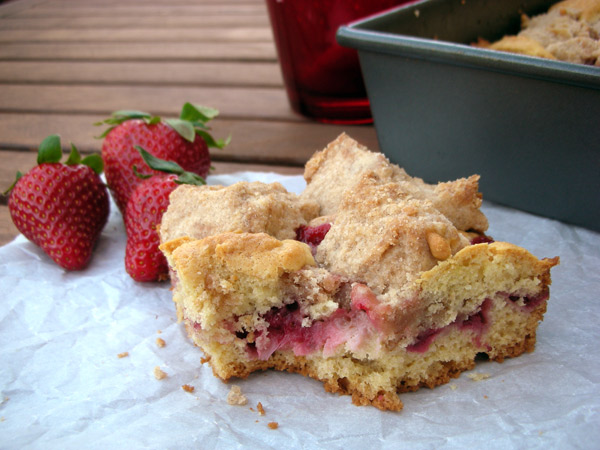 strawberry crumb cake
adapted from Smitten Kitchen
serves 12
Ingredients
Strawberry Filling:
1/2 pint (8 ounces) fresh strawberries
1/4 cup sugar
1 teaspoon cornstarch
1/4 teaspoon ground ginger
Crumbs:
1/3 cup dark brown sugar
1/3 cup granulated sugar
1 teaspoon cinnamon
1/4 teaspoon ground ginger
1/8 teaspoon salt
1/2 cup (1 stick) butter, melted
1 3/4 cups all-purpose flour
Cake:
1/3 cup fat-free sour cream
1 large egg
1 large egg yolk
2 teaspoons vanilla extract
1 cup all-purpose flour
1/4 cup sugar
1/2 teaspoon baking soda
1/2 teaspoon baking powder
1/4 teaspoon salt
6 tablespoons softened butter, cut into 8 pieces
Preheat oven to 325 degrees. Grease and flour an 8 x 8 baking pan.
Roughly chop the strawberries and place in a small bowl. Sprinkle with sugar, cornstarch, and ginger. Toss to mix.
In another bowl, whisk the sugars, spices, and salt. Add in the melted butter, whisking until smooth. With a spatula, stir in the flour. The mixture will be very thick, like a dough. Pat it into the bottom of the bowl.
In a small bowl, mix the sour cream, egg, yolk, and vanilla. In a mixer fitted with a paddle attachment (or a hand mixer), stir together the flour, sugar, baking soda, baking powder, and salt. Add a tablespoon or so of the sour cream mixture and the butter. Mix on medium until chunks form, about 20 seconds. Increase the speed to beat for 30 seconds. Add half the sour cream mixture and beat for 20 seconds, until fully incorporated. Add the rest of the mixture and beat for 20 more seconds until smooth. Important — Scoop out 1/2 cup of batter and reserve for topping berries.
Put the remaining batter into the baking pan. Smooth into an even layer. Using a slotted spoon to remove excess cornstarch mixture, spoon berries on top of batter. Dollop the reserved batter on top of berries.
Break the crumb topping into large pieces with your fingers. I make mine REALLY big, about 1.5 inches, but if you want a more traditional crumb topping, break them into pieces closer to 1/2 inch. Sprinkle them on top of the cake.
Bake for about 35 – 45 minutes, or until a toothpick inserted into the center comes out free of cake batter (although it may be red from the berries). Cool before eating.
About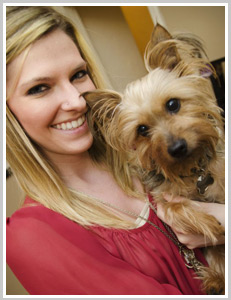 Healthful cooking can happen
to anyone. You don't have to know a lot about cooking or be a foodie to prepare and enjoy nutritious homecooked meals!
Read more...
FeastieBar