featured on foodgawker and tastespotting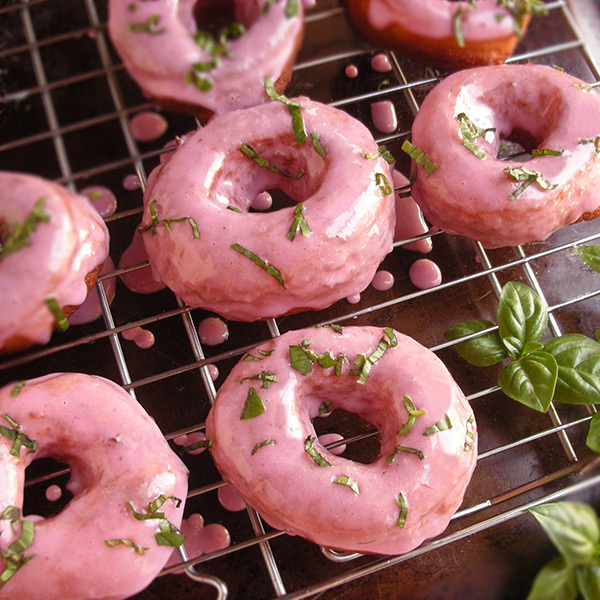 In a "celebration" of past Daring Baker and Daring Cook challenges, Lisa challenged all of us to search through the Daring Kitchen archives and pick any one we'd like! The REAL challenge was picking which delicious recipe(s) to try!
I made a promise to myself this year to set out to challenge myself and conquer my fears. The year prior (or maybe two years) I was a "yes" girl — rarely turning down an opportunity for happy hour drinks, trips, girl's nights, etc. All that social fun and excitement starts to wear on a girl in her late-twenties and it becomes time to focus.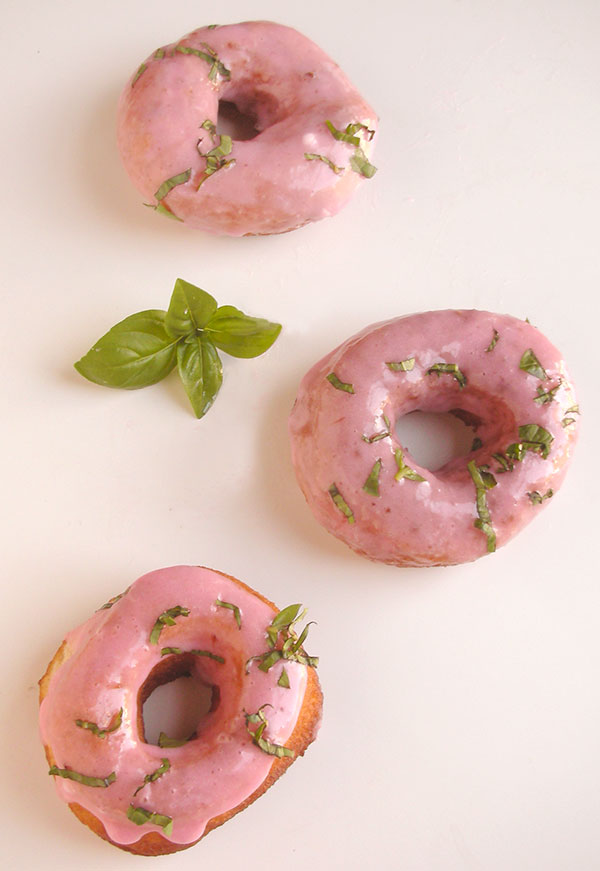 One of the things I didn't plan on doing at all this year has quickly become part of my routine. I started running a few months ago, just for "fun," to do something active since I hate the gym. And I hate(d) being active in general. I became more serious about it in May when I downloaded the C25k App. My goal was to run a 5k, 3.1 miles.
In March, when I casually started running, it was a struggle to run 1 mile without stopping (but I did it). Granted, I am thin, so I lucked out there I guess, but I'm not very athletic. I would've rated my endurance level at about a 4 on a scale of 1 – 10. So you can imagine my excitement when I realized Weeks 1 – 3 of the app were too easy. I vividly remember bragging to my friends "Yeah, I started this couch to 5k thing, but it was too easy so I had to skip ahead to Week 4." Let's ignore the fact that my friends regularly run anywhere from 3 miles to HALF MARATHONS and pretend that they were proud that I could jog for more than 3 minutes at a time (and not giggling behind my back).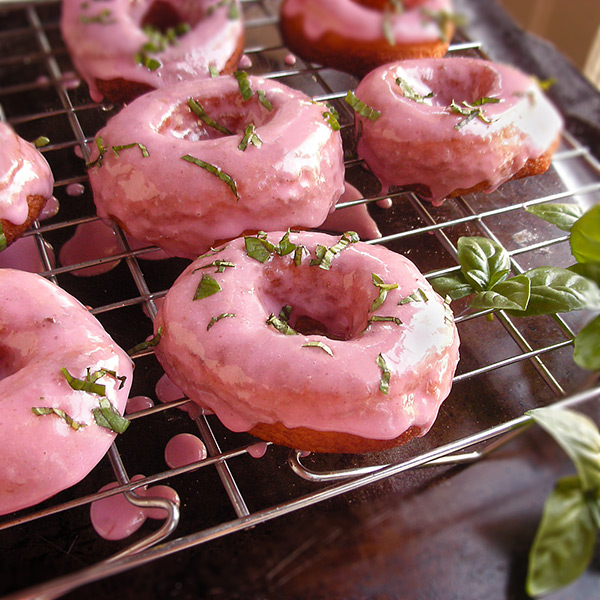 It took me 4 weeks to go from 1.5 miles to 3.1 miles in less than 30 minutes. I'm not sure if I had ever done runs of that length ever. Even when I was on the rowing team in college our runs were only about 2 miles. Accomplishing this goal, being able to consistently run a 5k, was what I'd wanted to do since March. And here we were at the end of June and I'd accomplished it and actually wanted to run MORE. Farther. Faster.
As I was about to download the C210k app I started thinking about my "athletic" history. I was usually one of the last picked in gym class (except floor hockey, I was good at that), which was even more upsetting because my best friends were in soccer/softball/gymnastics and got picked first. My childhood friends made fun of how I kicked the ball/ran/caught (er, more like didn't catch) a frisbee/etc. I've had a terrible, terrible boyfriend who consistently told me I needed to workout and was afraid I'd get fat because of my love of sweets, which of course caused me to send a big F YOU to him and not workout at all.
And here I am setting out to run 6.2 miles!?!?
My first day of 10k training was a dreary day, but I dragged myself out of bed and did it. The plan was to run 10 minutes, walk 1 minute, and repeat 4 times. When all was said and done, I'd completed 4.53 miles. For sure my longest run ever. And first to include blood soaked shoes.
The next week's training was to run 15 minutes, walk 1 minute, and repeat 3 times. I've found that I have more energy if I do my runs after work, but sometimes that conflicts with social plans, so I need to get up at 5:45 and be out the door by around 6 so I have time to shower, wash and dry my hair, get ready for work, walk the dog, and all the other fun little things one does before rushing out the door at 8:20 to be at work by 9am. This past Monday, I didn't quite schedule correctly and was going to have to skip my run to meet a friend for dinner.
Long story short, dinner ended up being canceled, so off on my run I went. First 15 minutes, not too bad, but I was looking forward to that 1 minute rest (and boy does that 1 minute go by FAST). Next 15 minutes, pretty good, except dodging all the people on Third St standing outside restaurants taking up the entire sidewalk. Just past The Grove was my next 1 minute rest and the 3 mile marker. At this point I knew I was about 2 miles away from home. In the next 15 minute interval, I would most likely hit at least 4.5 miles. If I've still got another 1/2 mile to get home, I figured I should push myself past the goal and run 5 miles.
Rounding the bend towards my apartment, but still several blocks away, I hit 5 miles. And I was completely in the zone. I wasn't ready to stop. I decided to keep going until 5.5 miles. Then, as I hit 5.3 I thought "If I'm this close to 6 miles and I've never ran 6 miles before in my life, I should just push myself to the max and hit 6 miles. But if I'm really going to run 6 miles, why in the world wouldn't I just go for the full 6.2 miles, a 10k!?!?"
I have no idea what came over me. I went from running 3 miles and feeling accomplished and satisfied 3 weeks ago, to doubling that and running 6 miles. 6.34 miles to be exact. I feel like I could have easily done 7 miles, had it not been nearly 9 o'clock and dark out and slightly unsafe.
This ends my cheesy personal story of how amazing the body and mind are when they're working in unison to achieve that which you didn't think was possible.
TIME TO MAKE THE DOUGHNUTS!
I couldn't help but think of this phrase my grandmother used to jokingly say when I was younger, which originated from these commercial campaigns for my beloved Dunkin' Donuts:
The July 2013 Daring Bakers' Challenge was freestyle: go back through the archives of past challenges, and choose one you'd like to do. I looked through a few pages and quickly settled on yeast doughnuts.
Yeast doughnuts are fluffy and light, compared to their denser cake donut counterpart. I've never made this type of doughnut before and it's my absolute favorite, so I gave it a go to challenge myself in the kitchen!
Early one Saturday morning, I made the dough, which is a fairly quick process, and set it aside to rise for an hour or so. I had to dash down to The Grove to pick up a doughnut cutter at Sur la Table (you can grab one here), and get my laptop checked out at the Apple Store (it's a giant silver paperweight). I took a little longer than an hour and came back to this beautiful blob: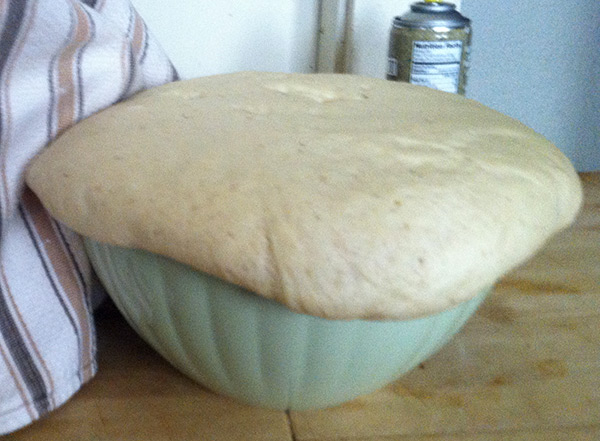 I figure rising too much is better than not rising enough, right?
Now, this is a really fun recipe and project to do on a weekend. The problem is, the recipe I used made a gazillion doughnuts. Way. Too. Many. Seriously it was like 3 dozen. Plus doughnut holes. Despite whatever the recipe said it was going to make. I think maybe I rolled them out too thin (even though I measured to the appropriate thickness) or something else went wrong.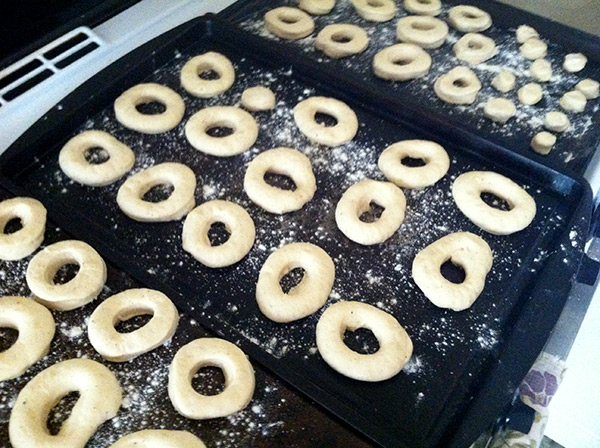 So this recipe is scaled down to half, which should still be more than enough. Be super duper careful when putting the doughnuts into the hot oil — it can easily splatter and burn, so slowly slide them into the oil and then get your hand outta there.
TIPS: You may need to add more flour to the dough if it's not pulling away from the bowl. At least that's what I, and many others who reviewed this recipe, did. Some also took it out of the bowl sticky and after it rose it dried out and was more workable.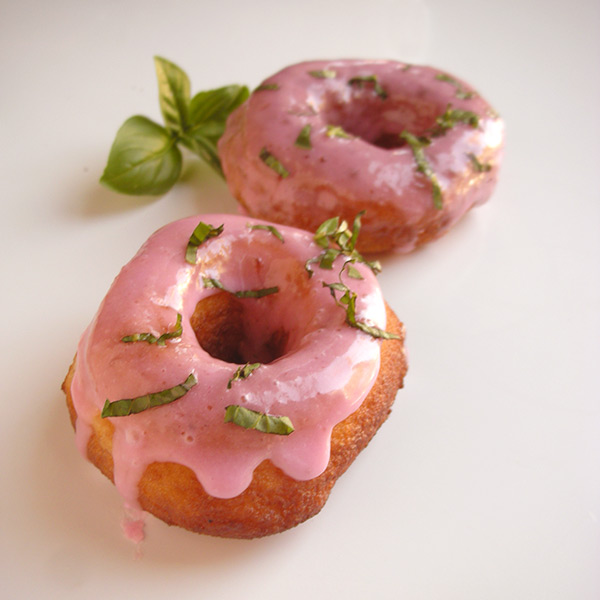 Because when you've just ran 4 or 5 or 6 miles, you've earned yourself a doughnut…
strawberry basil doughnuts
Airy yeast doughnuts topped with a strawberry glaze and fresh basil.
Ingredients
DOUGHNUTS
3/4 cups milk
5 tablespoons vegetable shortening
1 package instant yeast
5 tablespoons warm water (95 to 105 degrees F)
1 egg, beaten
4 tablespoons sugar
3/4 teaspoon salt
1/2 teaspoon nutmeg
16 ounces all-purpose flour, plus more for dusting surface
Peanut or vegetable oil, for frying

GLAZE
4 tablespoons whole milk
1/2 teaspoon vanilla extract
3 tablespoons strawberry preserves
1/2 cups confectioners' sugar
Pink food coloring (optional)
Handful of fresh basil, cut into ribbons and chopped
FOR THE DOUGHNUTS
Put the milk in a medium saucepan and heat over medium until just warm. Place the shortening in a bowl and pour the warm milk over, allowing the shortening to melt. Let cool to lukewarm.
In a small bowl, sprinkle the yeast over the warm water and let sit for 5 minutes.
Pour the yeast into the bowl of a stand mixer and add the milk and shortening. Add the eggs, sugar, salt, nutmeg, and half of the flour. Mix with the paddle attachment on low speed until incorporated. Turn the speed up to medium and beat until well combined. Add the remaining flour, combining on low speed at first, and then increase the speed to medium and beat well. Change to the dough hook attachment of the mixer and beat on medium until the dough pulls away from the bowl and becomes smooth, approximately 3 to 4 minutes. You may have to add a bit more flour to get this to happen. Transfer the dough to a well-oiled bowl, cover, and let rise 1 hour or until doubled in size.
On a floured surface, roll the dough to 3/8-inch thick. Cut out dough using a 2 1/2-inch doughnut cutter. Set on floured baking sheet, cover lightly with a tea towel, and let rise for 30 minutes.
Preheat the oil in a deep fryer, pot, or Dutch oven to 365 degrees F. Gently place the doughnuts into the oil, 3 to 4 at a time. Cook for about 30 seconds per side, until golden brown. Transfer to a cooling rack placed in baking pan. Allow to cool for 15 to 20 minutes before glazing.
FOR THE GLAZE
Warm the milk, vanilla, and strawberry preserves in a saucepan over low. Add the confectioner's sugar and whisk until smooth. Add the food coloring and mix thoroughly.
Dip the doughnuts into the glaze and twist as you pull it out of the glaze. Place on a cooling rack set in a baking sheet. Sprinkle some of the basil on top. Allow to set.
http://www.nowyourecook.in/2013/07/27/daring-bakers-challenge-july-2013-strawberry-basil-doughnuts/
©Melissa Klotz - www.NowYoureCook.in