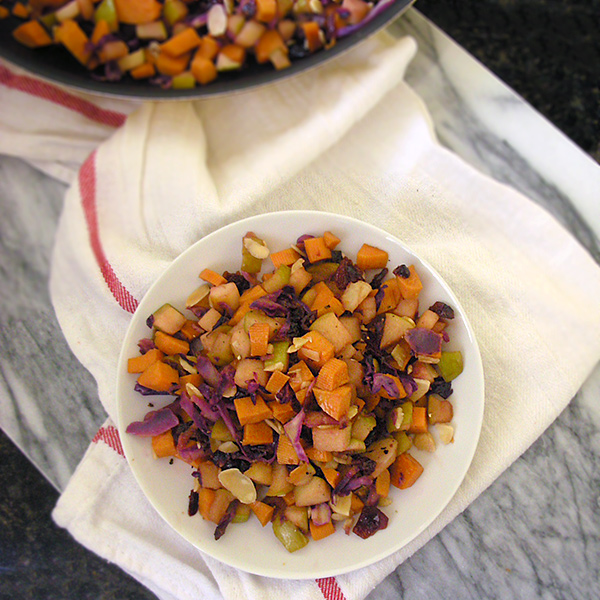 featured on foodgawker and tastespotting
This past weekend was so exciting!
I started running this year and was barely able to do 1 mile without stopping. I need to have a goal in mind, so I began using the C25k App (Free Couch to 5k app) as a way to motivate myself. Each week there was a different routine, but although the end goal was to be able to run 3.1 miles without stopping, I wasn't necessarily training to do an official 5k.
Once I'd achieved my goal, I set my sights higher, on a 10k, and on an evening that seemed magical, I ran more than a 10k, weeks ahead of my training.
At this point, I figured I could probably sign up for a 5k race and not embarrass myself by being a slow and tired mess while my friends zoomed past me.
I decided to do the Inaugural Hard Rock Cafe 5k Run — very close to where I live, easy course along the Walk of Fame, music-oriented, cute medal.
I hadn't really set a goal for my performance at the race. Really, when it comes down to it, signing up and participating is already a goal accomplished for me personally. I have to pay $40 for the opportunity to run down Hollywood Blvd? Shouldn't someone be paying ME $40 to get up at 5:30am on a Saturday and run 3 miles? I voluntarily signed up to do this? WHO AM I??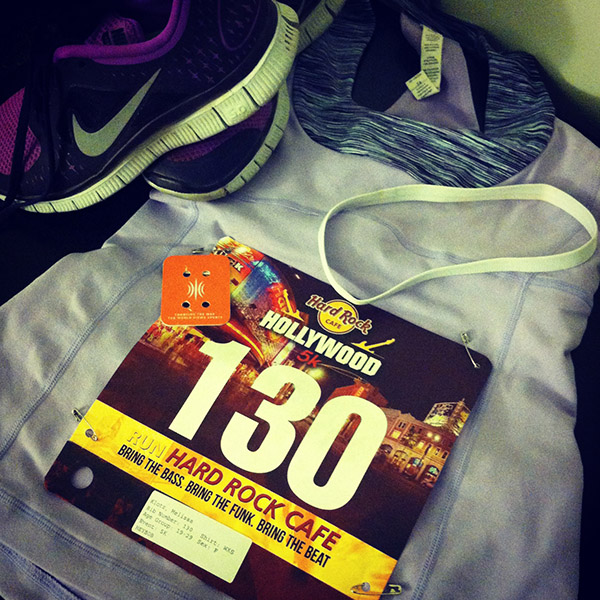 Saturday was the race and I'd decided I'd like to set a personal record (PR) for my fastest 5k. So I would need to beat 27 minutes 55 seconds.
My boyfriend and I lined up near the beginning of the finish line with the other runners that would be competitively running the race.
I'm competitive by nature, but when it comes to athletics, I have very low confidence. I was always picked last and teased about my lack of coordination and slowness. Another reason why this race was a huge deal for me! Not to mention why I joined the rowing team in college, it's pretty hard for clumsy limbs to flail around when your feet are locked into shoes and your hands are tightly gripping an oar.
This weekend I was running with my boyfriend and I already knew when it came down to it I would be running the course on my own — he's faster than me, and I knew in order to finish the race strong, i would need to keep a slow and steady pace so I wouldn't outdo myself in the first mile or so.
When the gun went off, we stayed together briefly, but I knew the pace was much too fast for me, so I began to slow and fall behind him. My Nike app was saying I was running at a pace of an 8:05 mile, my usual is around 9:00.
In my practice runs, I'd only been doing 2.5 – 2.75 miles. I set my goal up incorrectly in my Nike App, so when it began cheering me on saying I was almost at my goal, I was really still another 3/4 of a mile away from the finish. My boyfriend was a few lengths ahead of me.
I was tired. I started lifting weights 2 weeks prior to the race which was a bad idea because now my calves were throbbing, when I'd normally be okay. But my app said I was running almost 45 seconds faster per mile than I was used to, so I allowed myself to do something I normally associate with failure: I stopped and walked a few seconds.
And then again.
And again

My confidence was slipping fast, even though I had plenty of wiggle room to still be able to beat my PR.
I looked around me and saw a boy, maybe 10 years old, with his father, whizzing by me. In front of me was a large man, just chugging away. There were a few other girls near me, about my same age and build, a bit shorter.
I kind of snapped out of it and thought "What am I doing!? I've got this! I've been running 3.1 miles for months, I can't stop now."
The rest of the race I kept pace with two girls near me. I kept thinking, "They're struggling too. This is not a cakewalk for them. We're in this together."
When I finally crossed the finish line, I quickly fidgeted with my phone inside my armband to end the timer on my run and gleaming back at me was my time: 25:48.
25 minutes and 48 seconds.
I'd beat my previous record by over 2 minutes.
I'd even beat my fastest mile (7:57) and fastest 1k (4:57).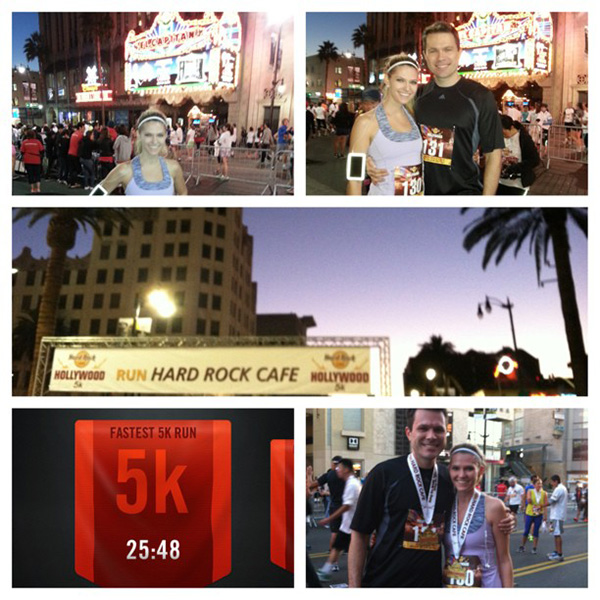 Three records broken.
Even though I walked.
Even though I thought I was "failing."
I left that race with a smile on my face, a cute medal, and the feeling that I did something athletic for the first time and actually nailed it.
Afterwards, I also found out that I placed 28th out of 206 girls in my division. I can't believe it.
So to all boys and girls throughout elementary, middle, and high school that didn't want me on their team, who are now overweight and lazy: take that.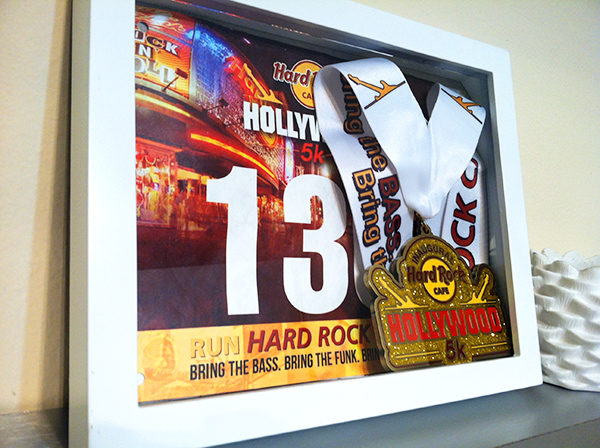 I don't have any plans at the moment to do another 5k or graduate on to a 10k, but I definitely want to. It's been really difficult getting up early in the morning for a run or going after work since it's dark out. I think I'm going to take it easy a bit and do some workouts at my boyfriend's gym throughout the holidays and reassess when the new year comes.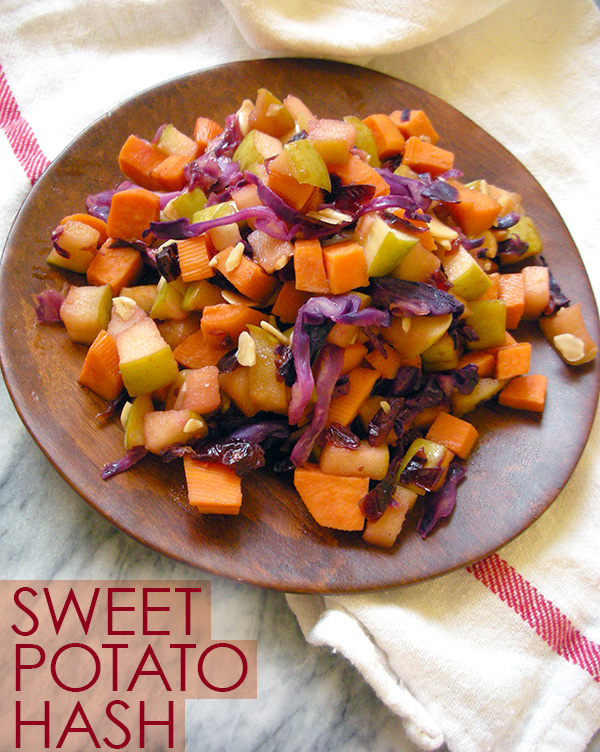 So far, one of the things on my mind for next year is that I'd really like to get more serious about eating "clean." It's kind of the basis of what this blog started out as in 2009, before I'd heard it described as "clean eating." Although it's debated over whether agave is clean, this recipe is pretty clean.
This Cranberry Apple Sweet Potato Hash is pulling in all different types of fall flavors: cranberries, nuts (almonds), sweet potatoes, apples, and maple. Is it sweet or savory? Well, both.
I remember a few years ago when I had a personal trainer to lose all the pounds I packed in during a month-long trip to Europe. I was on a super crazy strict diet. Once you cut most refined sugars out of your diet, real dessert becomes crazily sweet.
If you're restricting sugar, this recipe will be a dessert you can eat without feeling like you've cheated.
If you're not watching your sugar, throw some whipped cream and cinnamon on here and you've got yourself a dessert.
Want to make this work as a side dish with dinner? Serve it alongside pork chops, or perhaps on top of some quinoa or greens.
It's sweet in a gentle way.
This is a quick recipe (I made it, ate it, and cleaned up my mess, all during my hour lunch break, with time to spare) and uses inexpensive ingredients.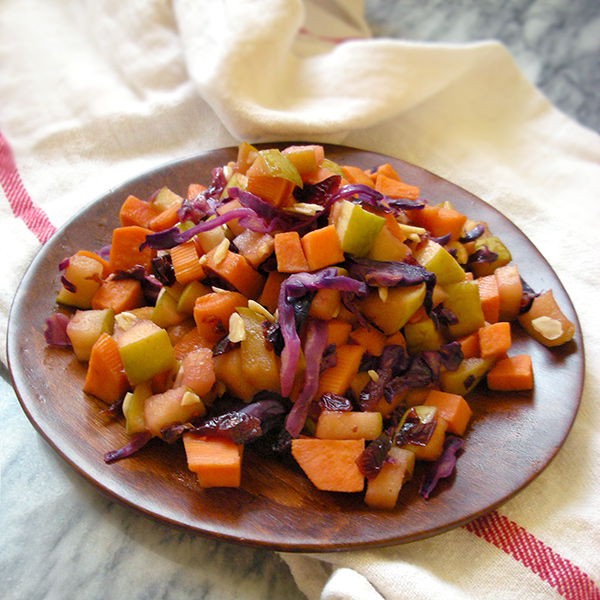 Cranberry Apple Sweet Potato Hash
Ingredients
1/2 cup apple cider
8 ounces sweet potatoes, cut into 1/4 inch cubes
1/4 cup dried cranberries, chopped
1 apple
3/4 cup shredded red cabbage
1 tablespoon maple syrup or maple agave syrup blend
2 tablespoons sliced almonds
Warm the cider in a skillet over medium heat. Add the sweet potatoes and cover. Sautee for 4 - 5 minutes. If you don't have a lid for your pan, a baking sheet placed on top works great!
Add the cranberries, apple, and cabbage, cook for 2 minutes. Add the syrup, stir to coat. Season with salt and pepper. Top with the sliced almonds.
http://www.nowyourecook.in/2013/11/04/cranberry-apple-sweet-potato-hash/
©Melissa Klotz - www.NowYoureCook.in