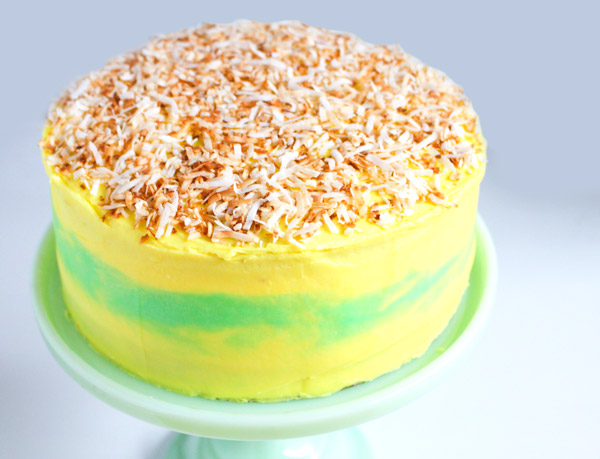 This Pina Colada cake is layers of sweet pineapple cake flavored with rum and brown sugar, slathered with creamy coconut frosting and topped with toasted coconut.
Yup… More birthday cake!
As previously mentioned, I made the birthday cake for my BFF Lauren's 30th birthday this past weekend.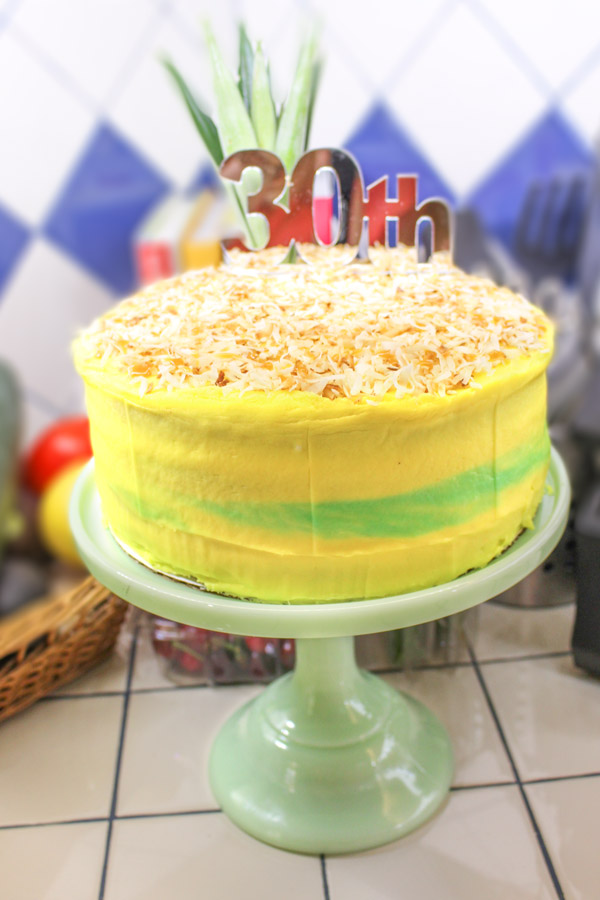 A few of Lauren's favorite things are coconut, coffee, pineapples, and palm trees. While the Coconut Cake with Passionfruit Filling I made for my own birthday would be right up her alley AND not to mention the fact she didn't get to try it (we cut the cake too late in the evening), I just can't make the same cake twice so soon. There are too many other cake combinations out there that need to be tried!
I knew I had to incorporate coconut. I thought about adding banana somehow, but nixed that because the last time I made a birthday cake for her I made a banana cake with honey cream cheese frosting (which you can see me making here). I considered coconut and lime, but that just wasn't really calling out to me.
So then I went with what was maybe an obvious choice and decided on a pineapple coconut cake. Which serves a double purpose since the hefty amount of rum in it reminds me of us drinking piña coladas underage!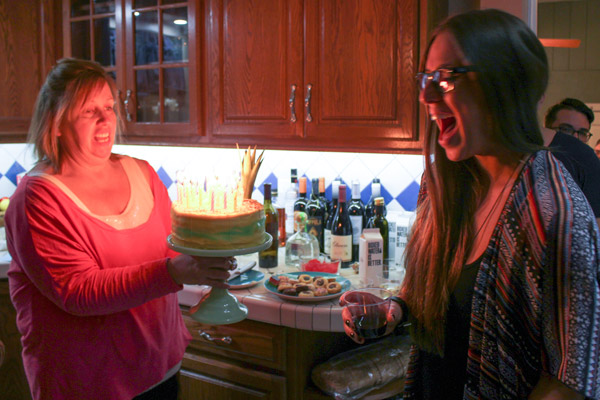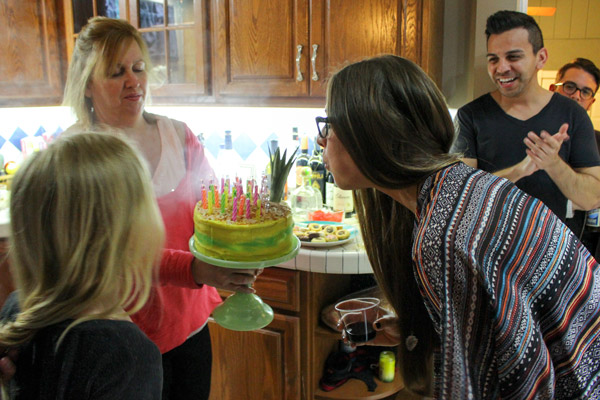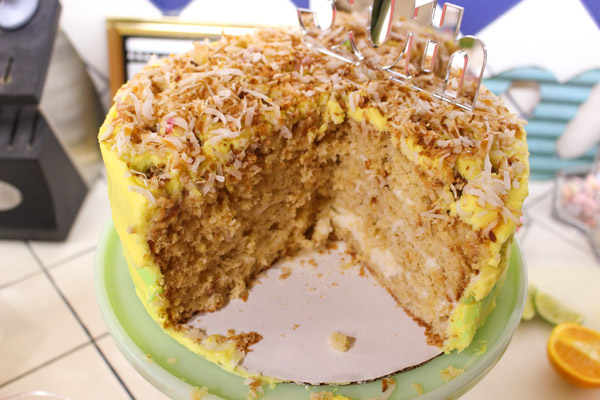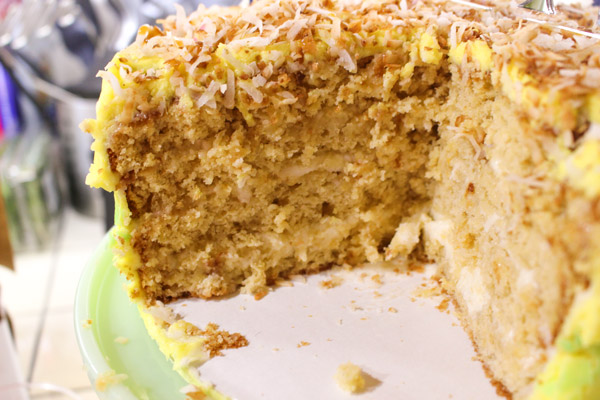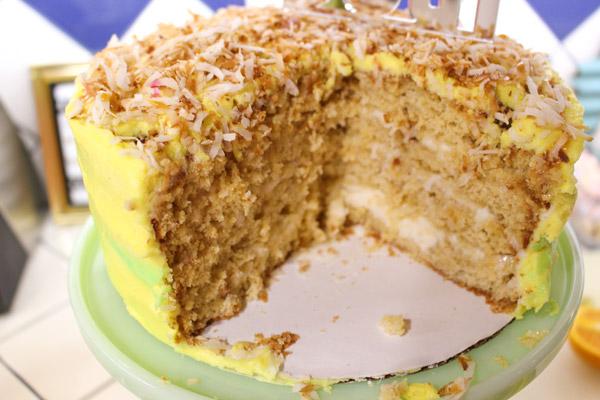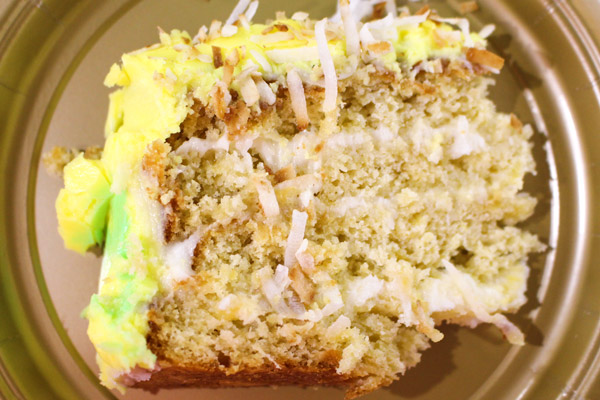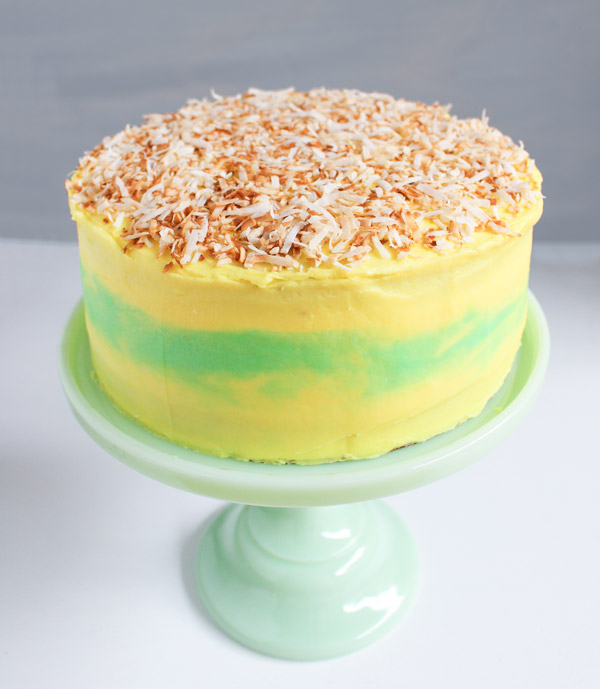 Piña Colada Cake with Toasted Coconut
Ingredients
Cake

4 eggs
1 cup granulated white sugar
1/2 cup brown sugar, firmly packed
1/2 cup + 2 tablespoons melted coconut oil
2 1/2 cups all-purpose flour
2 teaspoons baking powder
1/2 teaspoon baking soda
3/4 teaspoon salt
1/4 cup + 2 tablespoons dark rum
1/4 cup coconut milk
1 cup crushed pineapple, drained

Frosting

1 1/2 sticks unsalted butter, room temperature
8 ounces cream cheese, room temperature
6 cups powdered sugar, sifted
3 tablespoons coconut butter
1/2 teaspoon vanilla extract

Topping

1/2 cup shredded sweetened coconut

optional:

caramel sauce
Preheat the oven to 350 degrees. Grease and flour two 8-inch cake pans lined with parchment paper.
In a large bowl, whisk the eggs until uniform. Add the sugar and brown sugar and whisk until combined. Whisk in the coconut oil.
Sift the flour, baking powder, baking soda, and salt. Using a wooden spoon or spatula, stir half of the dry ingredients into the wet ingredients.
Stir in the rum and coconut milk. Add the remaining dry ingredients and stir until just combined. Fold in the pineapple.
Divide the batter into the two cake pans and smooth the tops. Bake until a toothpick comes out clean, about 25-28 minutes. Cool on a wire rack.
To assemble the cake, when the cake has completely cooled, cut the layers in half horizontally so you have 4 cake layers. Spread each layer with frosting and stack, being sure to leave about 1 1/2 - 2 cups of frosting for the outside. Coat the outside with a thin layer of frosting and chill in fridge for 30 minutes. Remove and finish frosting the cake. Sweetapolita has a great video on an ombré frosting technique I used as inspiration to add some green to the center of my cake.
To toast the coconut, heat a pan or saucepan over medium low heat. Add the coconut and stir occasionally until the coconut starts to become fragrant, then stir often until the coconut is light brown. Remove from heat and be careful not to leave it on the stove too long. It will continue cooking when it's taken off the heat. Allow to cool. Don't walk away while the coconut is toasting because it can burn easily.
Top the cake with the toasted coconut and drizzle with caramel sauce if using.
http://www.nowyourecook.in/2016/05/11/pina-colada-cake-with-toasted-coconut/
©Melissa Klotz - www.NowYoureCook.in