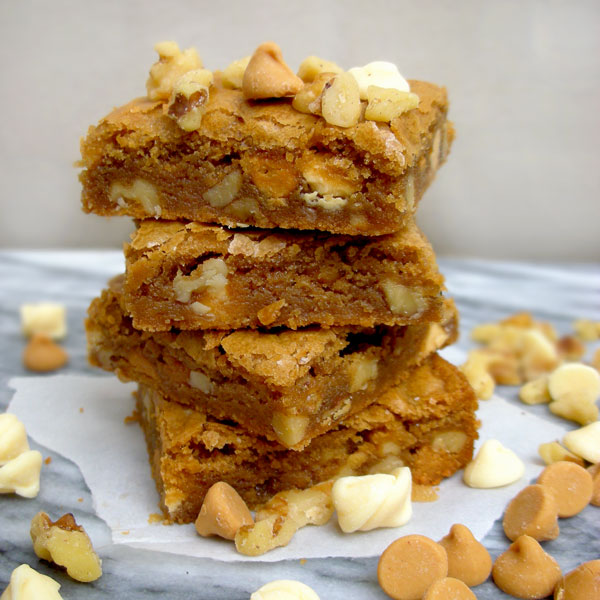 Traditional blondies turn luxurious with the addition of browned butter and are decadently studded with white chocolate, peanut butter chips, and walnuts.
It's my favorite time of year — Thanksgiving season!! So before we get into all these turkey, squash, pumpkin, and sweet potatoes, how about we just test out one last bar recipe. Because they'd be excellent to snack on while browsing Pinterest looking for Thanksgiving recipes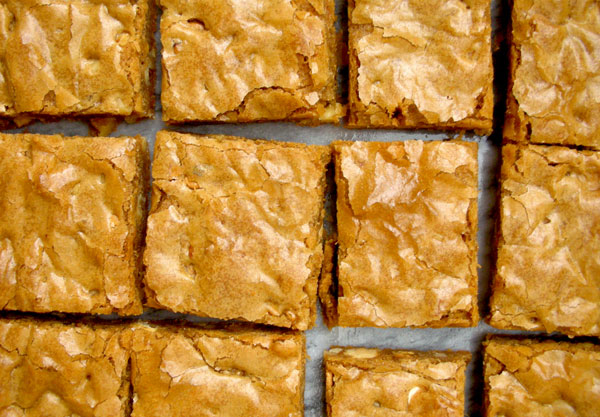 One day I was hungry for something chewy but more substantial than a cookie. I decided on doing a white chocolate chip blondie, but when the recipe called for melted butter, I wondered what would happen if I used browned butter? Probably good things. Only good things can come from adding browned butter to a dessert. Then, when I was grabbing the white chocolate chips from the cabinet I noticed peanut butter chips staring at me and thought "why not?" Because peanut butter usually isn't a bad idea either!
And some toasted walnuts never hurt anyone. Put those in there too.
I know some people prefer nutless treats, but I think they're nutty. Case in point: I made my absolute favorite chocolate chip cookies for my dad, which require toasted walnuts. He hates nuts in cookies, brownies, or much of anything for that matter. I fooled him by toasting the nuts and then grinding them up, so the flavor was there, but the tell-tale nut texture wasn't.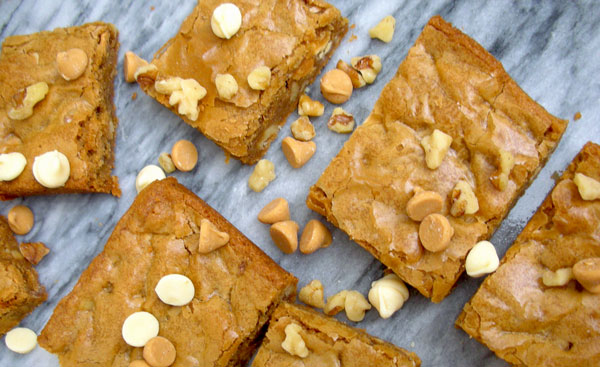 I won. He had no idea and loved the cookies.
The food industry is always trying to trick us by using cheaper ingredients to cut their costs. One way they do this: "white chips."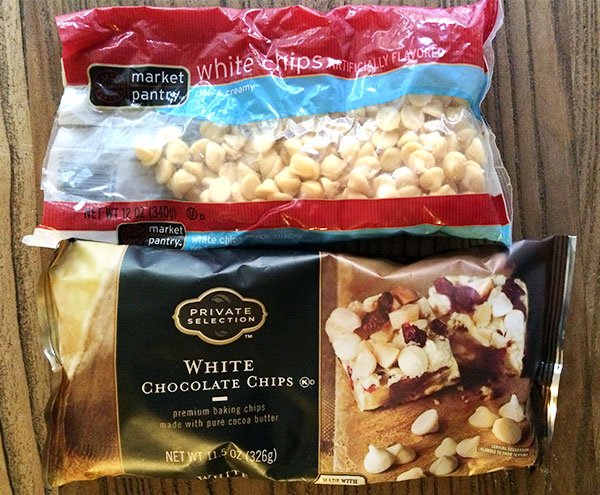 Take our beloved Nestle for example. Their "premier white morsels" aren't necessarily saying they're chocolate, but they're parading around as if they were. After all, they're right next to all the other baking chips, and they're white. You'd assume they're white chocolate. They're actually billed as "creamy, vanilla-flavored morsels."
Ok, so let's cut to the chase here. White chocolate = cocoa butter. A true white chocolate contains cocoa butter, otherwise it's a fake. The ingredient list is very similar, but "white morsels" use partially hydrogenated oils instead of cocoa butter because it's cheaper. This produces a chip that doesn't quite have the depth of flavor.
Partially hydrogenated oils also contain trace amounts of trans fats which are really not good for you. In 2013, the FDA said trans fats are no longer Generally Recognized As Safe (GRAS) and has given food manufacturers three years to cut out trans fats before the trans fat ban goes into effect. Trans fats are generally found in processed foods and have been linked to increased risk for heart disease.
But if white morsels contain trans fat, why does the nutrition label state "Trans Fat: 0"? That's another dirty little trick of the food industry. If a product contains 0.5g or less of a substance per serving, they're not required to list the amount on the label. So if you have two servings, you've just consumed 1 gram of trans fat.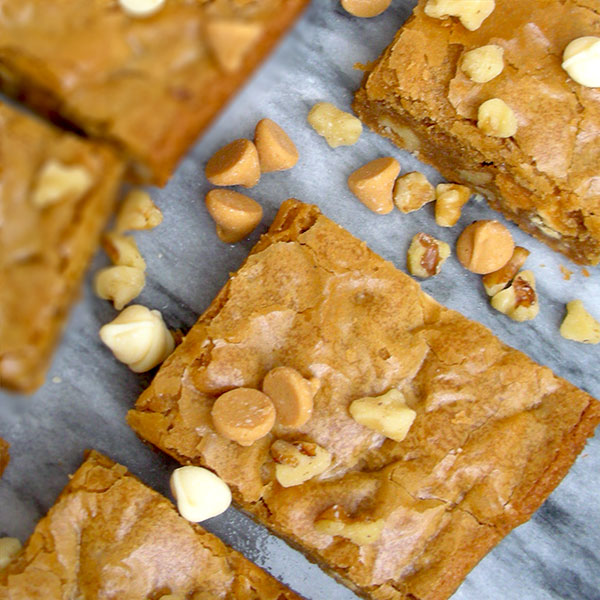 Of course, real white chocolate is a little bit more expensive, and if you're pinching every penny (been there, done that), go for what you're comfortable with.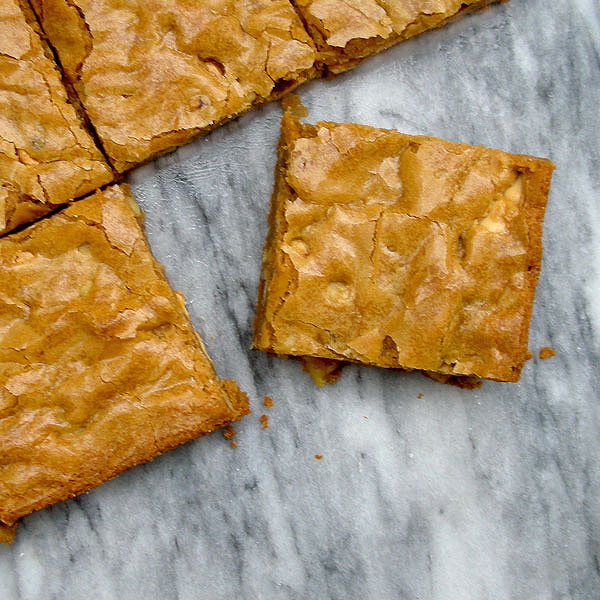 Browned Butter White Chocolate Peanut Butter Blondies
Ingredients
8 tablespoons (1 stick) butter
1 cup packed dark brown sugar
1 large egg
1 teaspoon vanilla extract
Pinch kosher salt
1 cup all-purpose flour
1/2 cup chopped walnuts, toasted
1/2 cup white chocolate chips
1/2 cup peanut butter chips
Preheat oven to 350 degrees.
Spray an 8x8 baking pan with nonstick spray. Line with parchment paper.
Make the browned butter. Be sure not to walk away, because browned butter can quickly become burnt butter. Add the butter to a small pan and melt over medium heat. Continue to heat the butter. It will begin to froth. Brown bits will begin to form at the bottom of the pan and the butter will begin to smell nutty. When the butter begins to turn light brown, remove it from the heat and allow it to cool.
Once the butter has cooled, scrape it into a mixing bowl with the brown sugar. Be sure to include the browned bits, because these are where the flavor is. Mix until smooth and then beat in the egg and vanilla. Next, carefully mix in the salt and flour. Fold in the walnuts, white chocolate chips, and peanut butter chips.
Pour the batter into the baking pan evenly. Bake for 20-25 minutes, until the center is set. Allow to cool before cutting into squares.
http://www.nowyourecook.in/2015/11/18/browned-butter-white-chocolate-peanut-butter-blondies/
©Melissa Klotz - www.NowYoureCook.in